ADVOCACY AND HUMANE EDUCATION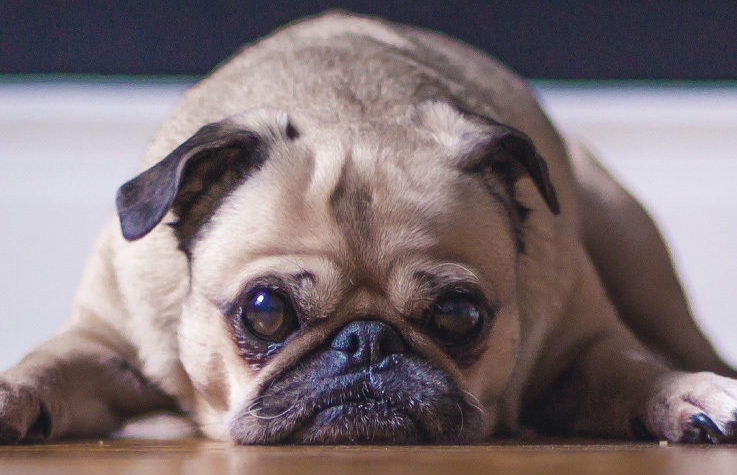 AnimalSmart™ fosters compassion in kids
It was a year of development, discovery and advancement for the Ontario SPCA and Humane Society's AnimalSmart™ humane education series.
AnimalSmart™ is designed to develop and maintain positive relationships with companion animals and help children learn how to live compassionately. The lesson plans for Grades 1-3, which were created in consultation with teachers, address a variety of Ontario curriculum expectations.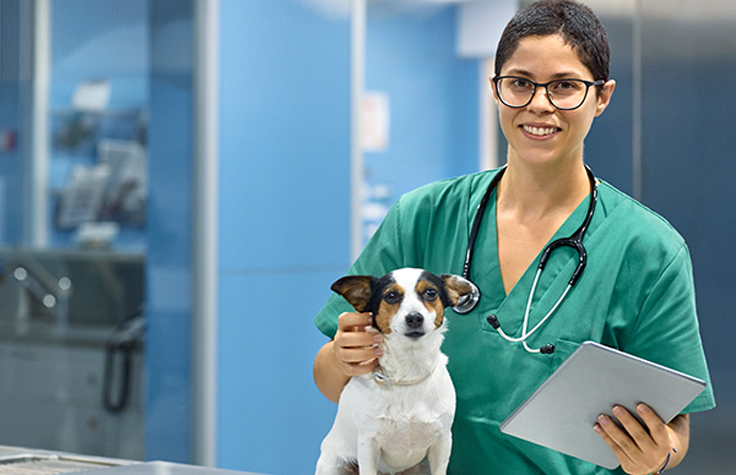 SAVING LIVES STARTS WITH VOLUNTEERS
Over 700 volunteers across the province help animals every year
In 2019….
Volunteers contributed over 28,500 HOURS
Volunteers drove over to 1,100 TRIPS to take animals to appointments, deliver critical supplies and support our animal centres
Volunteers logged 10,000 VISITS with cats awaiting adoption
Volunteers visited 1,400 TIMES with small animals waiting to find loving families
Volunteers went on 2,900 WALKS with dogs to keep them happy and exercised
Volunteers prepared and served over 83,000 POUNDS OF FOOD to animals in our care
CHANGE A LIFE WITH ADOPTION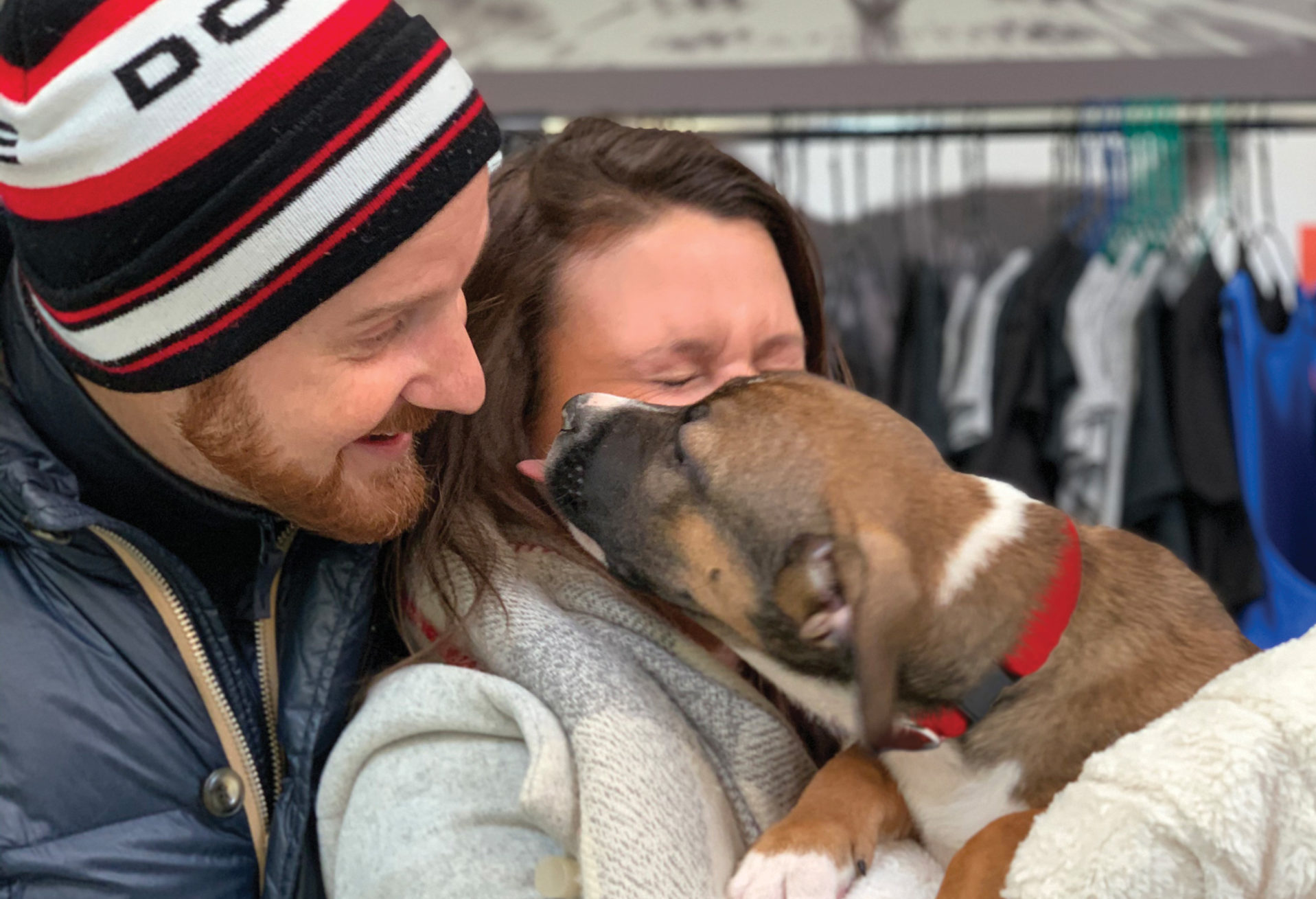 From uncertain fate to loving families
When we picked up Mocha from an overcrowded pound in Québec, we couldn't understand how the nine year-old German Shepherd-type dog could have ended up there, days away from being euthanized.
The pound where Mocha ended up was stretched to capacity when she arrived, with more dogs coming in every day.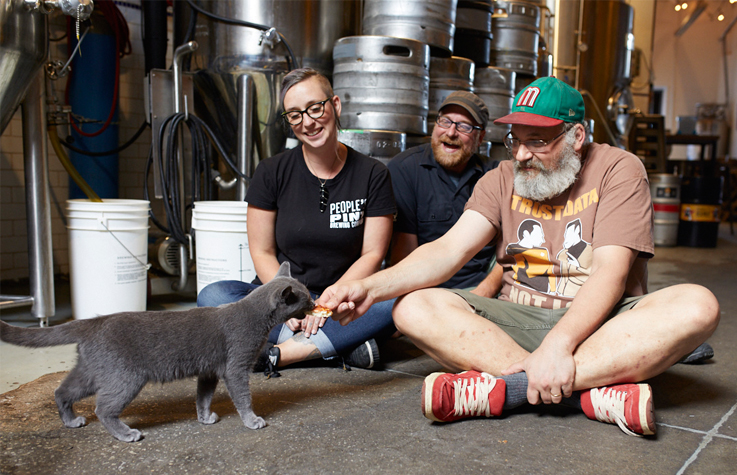 BUILDING HEALTHY COMMUNITIES
Breaking down barriers to help people and pets
Every day, pet parents in this province go without so they can afford to care for their animals. Many people struggle to provide the best care possible for their pets with limited resources.
The Ontario SPCA and Humane Society was able to help pet parents break down barriers like finances, transportation or proximity to resources like veterinary clinics and other wellness services thanks to a generous grant from PetSmart Charities of Canada®.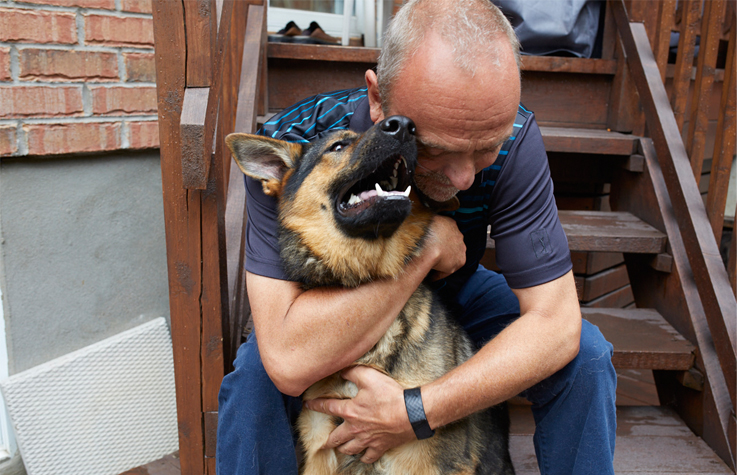 Working together to protect animals
The Cornwall Police Service showed its commitment to animals in 2019 by undergoing an intensive training course delivered by the Ontario SPCA and Humane Society. Notably, all members of the police service took part – an unprecedented move.
The training, which is part of a province-wide initiative open to all enforcement agencies, shared resources and knowledge of animal well-being and behaviour, as well as tips on navigating complex animal welfare legislation.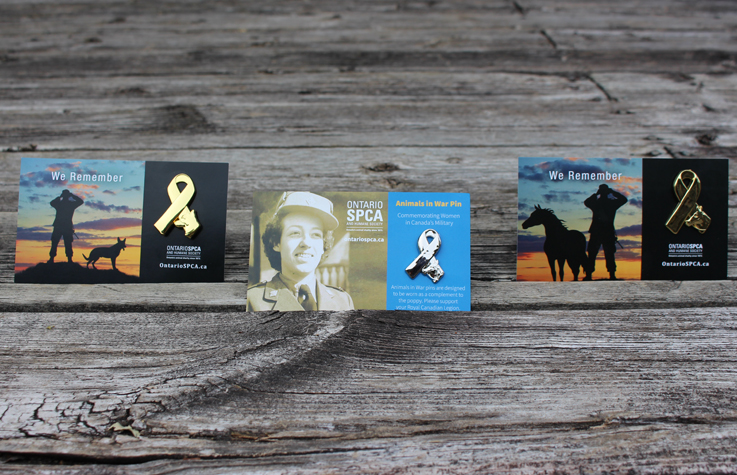 Six-year-old bakes a difference for animals
At only three years old, Mackenzie Lummiss knew she wanted to help animals. With the support of her family, she got involved with National Cupcake Day™.
Now six years old, Mackenzie has raised over $4,100. One of the Ontario SPCA and Humane Society's youngest philanthropists, she bakes her own cupcakes – vanilla, chocolate and rainbow are her specialties – for the annual fundraiser held every February. She then goes door-to-door in her neighbourhood or hosts cupcake parties to raise much-needed funds.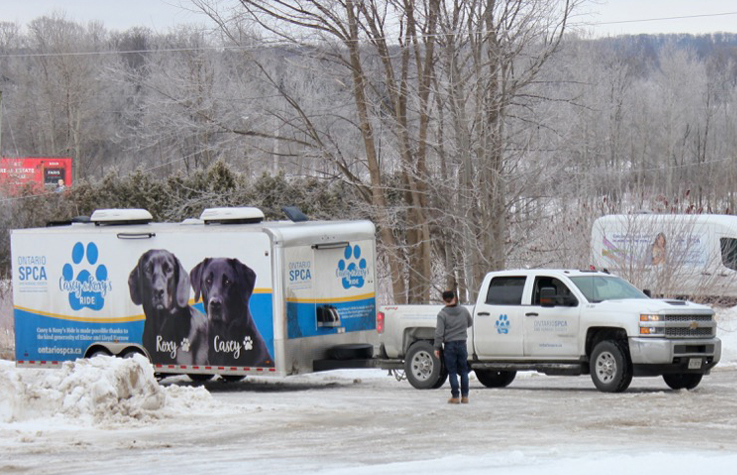 Tragedy brings team together for animals
When Jessica Tsoy passed away suddenly in 2017, her colleagues at TPS Promotions & Incentives in Markham were devastated. Jessica loved animals, so it seemed fitting for her colleagues to walk in her honour at the Ontario SPCA Friends for Life! Walk™.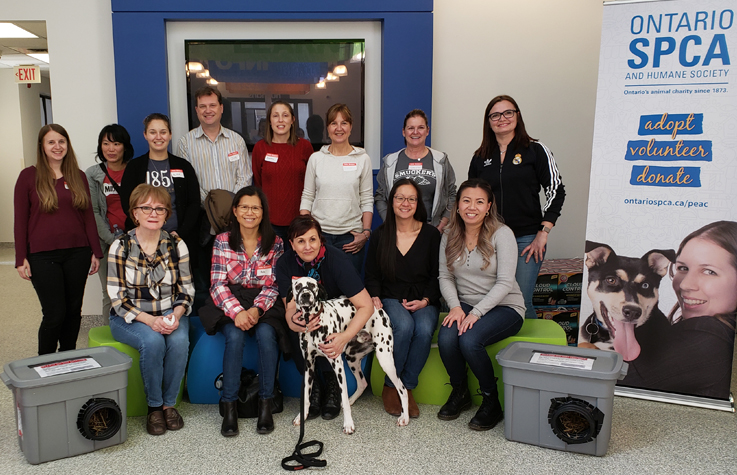 REDUCING PET OVERPOPULATION
2019 totals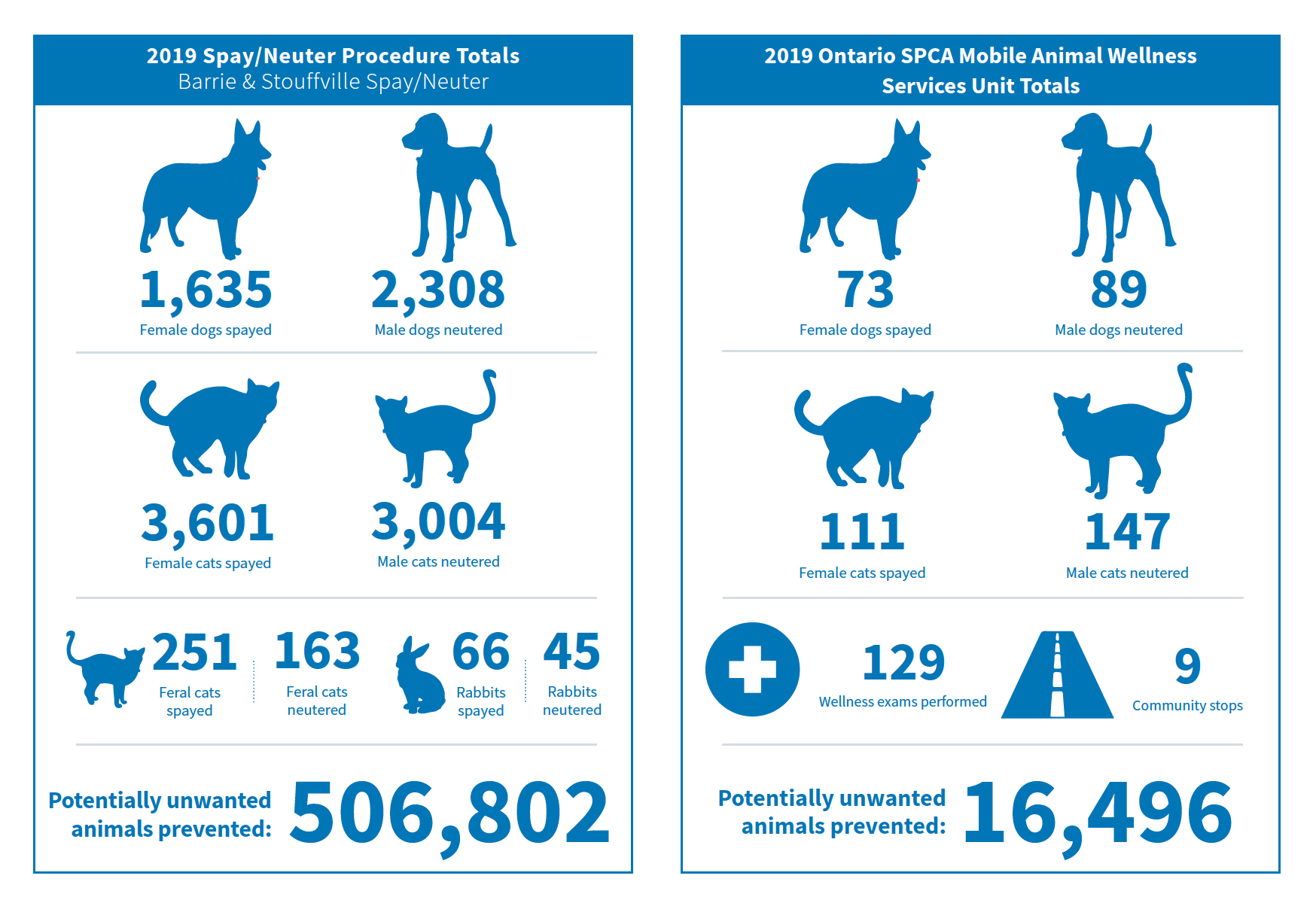 New mobile unit rolls into communities
The Ontario SPCA and Humane Society rolled out something big in 2019 – a 38-foot SPCA Mobile Animal Wellness Services Unit to give pet families in underserved areas access to critical resources like spay/neuter services.
The mobile unit, which was made possible thanks to a grant provided by the Pet Valu family of stores through its Giving Back Project, features two surgical tables where 20-30 spay/neuter procedures can be performed per day in addition to wellness services.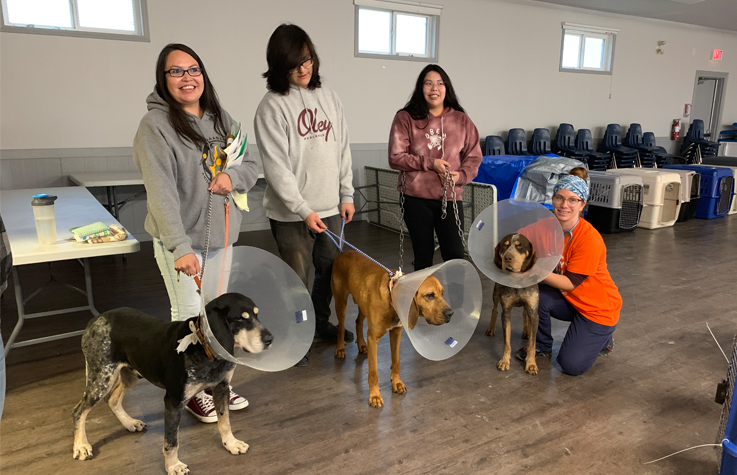 CHANGING LIVES IN THE NORTH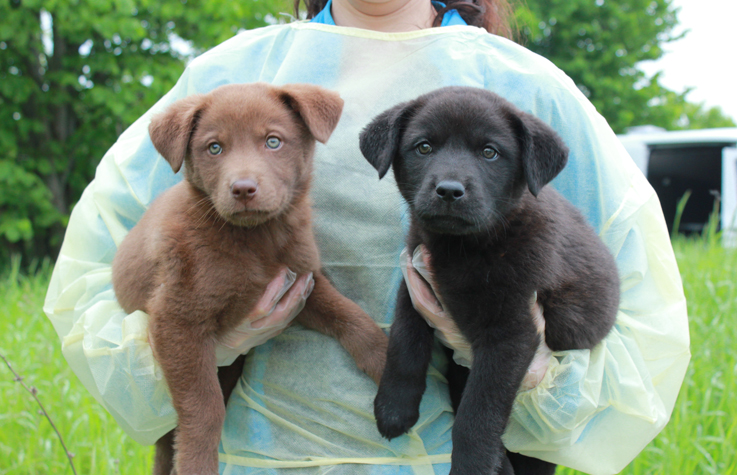 From homeless to service dog
When Sheeba rushed to Brianna Beck's aid as the young woman was suffering from a panic attack, Brianna knew her new best friend was also her protector. After going through training to hone her instincts, Sheeba is now Brianna's service dog.
One Health, One Welfare
Throughout everything that it does, the Ontario SPCA and Humane Society is guided by a "One Health, One Welfare model." It's a concept that recognizes the unity and interconnectedness of people and pet health as they relate to each other and the environment.
THANK YOU TO OUR 2019 AFFILIATE COMMUNITIES
Sign up for news and updates