Beautiful story of second chances from Sandy Lake, Ontario
by Ontario SPCA and Humane Society | Northern projects | September 27, 2018
The Year of the Northern Dog campaign works with a large number of incredible partners doing amazing work in Northern communities.
The following is a story from Ella, one of these amazing partners, who lives in Sandy Lake, Ontario.
Angel's Journey
My name is Ella Linklater and I'm from Sandy Lake, Ontario.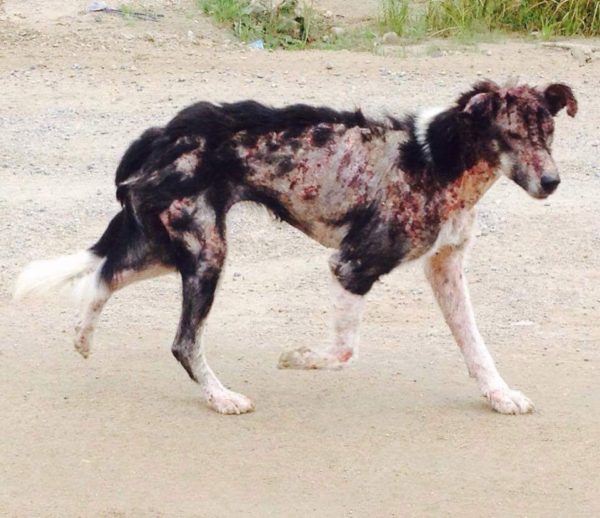 Sandy Lake is a fly in community. I have been doing the dog rescue for four years and have sent out 800 dogs, and puppies, along with lots of injured dogs. The dogs in our community roam free, so that can create problems with overpopulation because they aren't spayed or neutered. We have no vet services but I did get the spay and neuter clinic to come and fix the dogs back in 2016.
I would like to share a story about a dog we named Angel. She was the longest rescue we did. People in Sandy Lake called her the zombie dog, because you could see she had a bad case of mange.
When I first heard of her it was in the spring time, she didn't trust no one and didn't know where she stayed. So summer came and I thought she died, but then she was spotted again. I looked all over for her but then she disappeared again. Fall finally came and I found out where she had been hiding.
I started to feed her with milk,  and was doing what I could for her. She didn't let me touch her or get near enough to catch her. She was staying in a shed that was full of insulation at the lumber yard. I started going there every morning, feeding her, giving her medication and trying to get her trust.
Winter was coming soon and it was already very cold outside. I also wondered if the only option was to have her put down because winter was coming. Finally the lumber guys had trapped her inside but she found a small hole and she escaped. She did however come back because she knew I would bring food for her. The lumber guys covered the hole and after a couple weeks went by the lumber guys again trapped her inside and I was called. I got help from a friend of mine that helped me during all this time. We went inside the shed with the crate and coaxed her inside. Oh how I cried when we got her inside the crate.
Then I had to figure out how to get her to her waiting rescue in Thunder Bay Northern Lights. Me and my friend took her to the airport and found a plane that was going to Sioux Lookout. We begged and begged the pilot to take her. I had to cover the crate with a blanket because she smelled so bad. The pilots agreed but we had to find another ride from Sioux Lookout to Thunder Bay in the meantime.
I had people looking and they found out there was a plane going to Thunder Bay that day. After her plane landed, she was transferred to her rescue in Thunder Bay. She finally arrived to her rescue and she was seen by the vet right away, and then treatment started which was expensive and long. She is still at her rescue, she is happy, healed, loved and cared for. I will never forget Angel, the longest and hardest rescue I did. I have people that helped me and I'm grateful for them. I have yet to see her once again to see if she would recognize me, but I can't wait for that day.
Ella Linklater
Sandy Lake ON
Year of the Northern Dog
The Year of the Northern Dog is a program aimed at bringing awareness, attention and action to the escalating animal wellness issue in Canada – Northern dog overpopulation.
A lack of basic animal wellness services has created an abundance of dogs in the North who need resources, support and ultimately families.
The Year of the Northern Dog is a program aimed at bringing awareness, attention and action to dog overpopulation.
Many barriers exist in the North that do not exist in the South. Everyone has a role to play to create a healthy community for dogs and people. Northern Indigenous, urban and rural communities need your support!
You can help by donating much needed funds, supplies, and resources or sponsoring a dog. You can also visit our Amazon wishlist and donate much needed items to one of our partners.
Categories
Testimonial
Thank you so much for all you do
Thank you so much for all you do every day to rescue animals in need. I can't imagine the terrible situations that you see every day.  It is great that you have the heart to help. Keep up the good work.
-Betty
Sign up for news and updates
Thank you for joining our online community.