Blind and homeless, Duke found his second chance
by Emily Cook | Happy Tails Urgent Animal Care Fund | October 8, 2020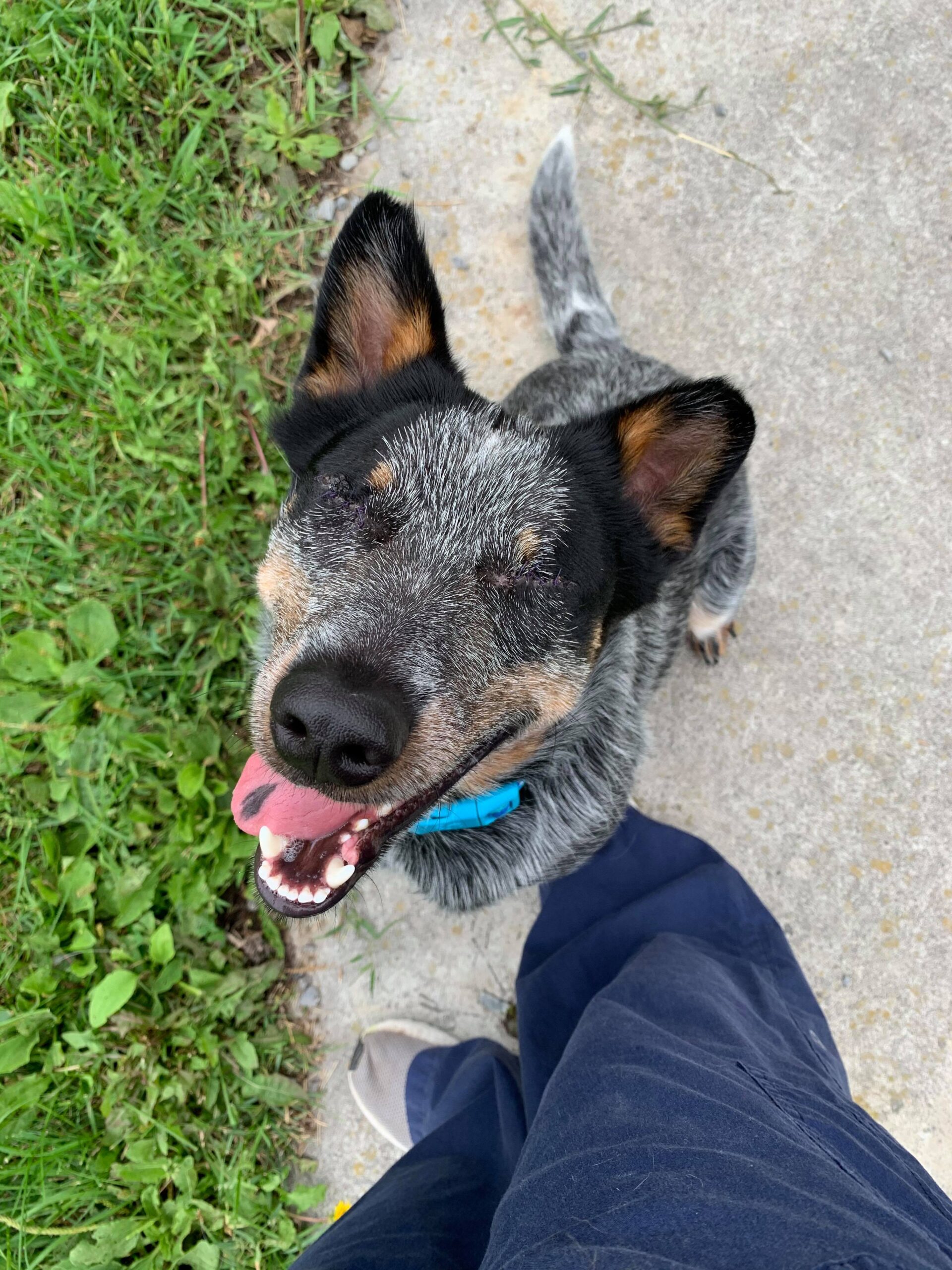 When Duke hears your voice, it's like he smiles.
Duke came to us blind, and in need of a home. Sadly, his family was unable to care for his special needs as a blind dog. Unable to see his surroundings, Duke was a bit nervous when he came to the Ontario SPCA Lennox & Addington Animal Centre in Napanee. We did our best to reassure him and make him feel safe.
A gentle touch and a warm bed to sleep in and Duke knew he was safe. Our team gave him plenty of one-on-one attention to gain his trust through patience and kindness. He quickly showed us that he's a happy boy who loves to play.
"Duke is the kind of dog who finds joy in everything," says Esther McCutcheon, Manager of the Lennox & Addington Animal Centre. "I think he knew we were there to help him."
When he came to us, Duke had been experiencing discomfort due to an untreatable eye condition. To give him the best chance possible at a comfortable life, the veterinary team at the Fairfield Pet Hospital recommended that both of Duke's eyes be removed. Through the Urgent Animal Care Fund, which helps the Ontario SPCA care for innocent animals in need and supports pet parents who are faced with animal care challenges, Duke was able to get the life-saving care he needed.
When Duke was ready to find his loving forever home, applications poured in from people willing to give the blind Blue Heeler the loving life he deserves. Michelle and her family were the best match for this special dog. The family lives on a 76-acre farm near Belleville that is home to a number of other animals, including horses, pigs and another dog named Marley.
"You should have seen him when they drove away!" McCutcheon recalls. "He had his head out the window listening to us say goodbye. No tears from us – but just barely."
Now Duke is living his best life, running through the fields with his new canine friend and snuggling up with his new family.
"Duke is loving his new life. His days consist of hours of wrestling with his new fur sister, long hikes and learning some new tricks!" his adopter reports. "He also loves spending the whole night in bed under the covers. We love him so much! Thanks for the great care he got and for giving him a chance."
Interested in adopting an animal in need of a loving home? Visit ontariospca.ca/adopt to find your next best friend and book an appointment with the animal centre to meet them.
Categories
Testimonial
Wish to thank everyone involved
I wish to thank everyone involved in the care and rescue of animals, especially volunteers.
Agnes
Sign up for news and updates
Thank you for joining our online community.