Judy from Whitefish Bay First Nation: Where is she now?
by Emily Cook | Interesting | November 3, 2016
At just three weeks old, Judy and her family were part of a very special journey. The Ontario SPCA was invited by a remote Northern community to assist in a community dog transfer and rehoming operation.
At the Ontario SPCA, Judy and her six siblings were welcomed into a temporary foster home to be nurtured until old enough to be adopted. The black Shepherd-Labrador mix and her siblings were all adopted and are very happy in their new forever homes.
Now, we catch up with the adorable girl, living the good life with her new family!
Judy's new life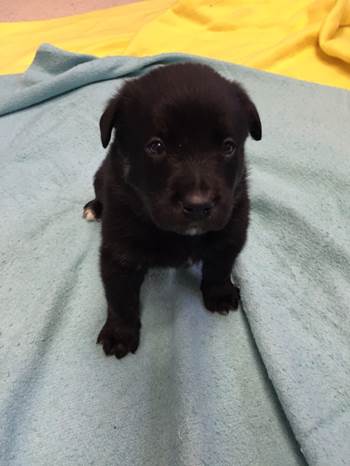 Judy was adopted by Joel and Brandi Del-Coi from the Barrie Animal Centre. Joel says when he met her she was calm and relaxed, but she soon made herself at home in their place.
"When we got her home she turned into a Tasmanian devil. She just knew she was home, so it was pretty cute," he says.
The only pet in the house, Joel says Judy seemed to adjust right away, even with a cone from her spay surgery hindering her movements.
Joel says Judy is incredibly smart, and persistent. He says she regularly watched him leaving the house through a gate that is pulled up by a string. One day, she chased him out of the house and he realized she had jumped up and pulled the string to follow him out.
"The sky is the limit with her, she's just so, so smart," Joel says.
Joel says Judy has lots of personality and is a lot of fun to be around. Though they adopted her in the winter, he says they had no trouble getting her outside to house train.
"I found myself having trouble getting her back in the house because she loves it outside," he says.
On Oct. 2, Judy turned one year old. Joel says she's starting to become calmer now, but they still have a lot of fun together.
Plush toy look-alike
This real-life Judy is the inspiration for the newest Rocky & Friends™ plush toy.
By bringing this sweet puppy into your life you will support the rescue and care of more animals like her. Consider "adopting" Judy's plush counterpart today! Visit pawsandgive.ca
Categories
Your dedication and support
It is with and because of your dedication and support that helpless animals are being saved. Thank you for everything.
-Wendy