Litter box best practices – Arm & Hammer™
by Emily Cook | Interesting | November 2, 2017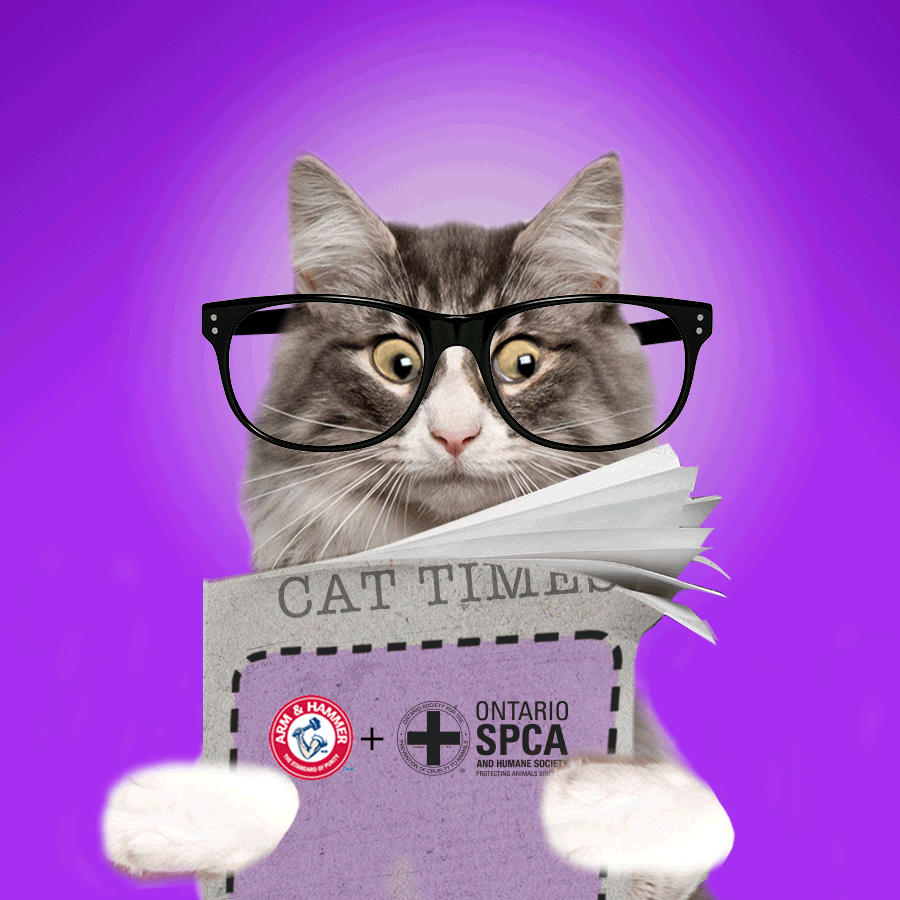 The Ontario SPCA launched their iAdopt for the Holidays campaign this week and as a part of the campaign, we have partnered with Arm & Hammer™ to help pet owners and adopters with litter box best practices.
Our goal is to find as many animals as possible forever homes the holiday. The most common reason cats are returned to our Animal Centres is litter box issues, and we want to combat those by providing tips and tricks to help keep your cat happy and healthy.
Litter Box Best Practices:
To help you raise happy, healthy, box-abiding cats, you must create an environment that falls in line with their natural instincts:
Uncovered versus covered litter boxes: Most owners believe cats prefer privacy and therefore have covered litter boxes. However, by keeping the box uncovered, you give your cat several ways to escape if it feels threatened, making it less likely to urinate where it feels safer, like your couch or under the dining room table.

ARM & HAMMER™ Slide kitty litter.

Odour-trapping litter: Cats are very sensitive to smell and texture. The new Arm & Hammer Slide™ Cat Litter has all the important elements to make cats happy about using their litter box. It traps odours with a 7-day odour-free guarantee, is dust-free and the soft texture is easy on their paws.

Number of litter boxes: Owners should have one box per cat plus one more.  For instance, two cats need three litter boxes. Tight on space? Multiple locations trumps number of boxes.
Amount of light: Contrary to belief, cats do need some light to see. Try placing a night light near their litter box and turning it on in the evenings so they feel safe and can navigate to their box easily.
Food and water location: Cats prefer their food and water away from where they urinate and defecate. Ensure they are in separate spaces to avoid accidents.
Frequency of changing litter: Cats will often stop covering urine or stool when finished if the cat litter hasn't been cleaned properly. It's recommended that the litter be scooped 1 to 2 times daily, and the litter be completely changed and the box cleaned thoroughly every 30 days, which is daunting for most cat owners. Try using Arm & Hammer Slide™ Cat Litter. Its' patented EZ Clean Technology* means used litter slides right out! No more scrubbing or scraping the bottom of the box, and no more lingering odour with a 7-day odour-free home guaranteed!
Right now, if you visit an Ontario SPCA Animal Centre and adopt a cat, you will receive a free box of the new Arm & Hammer Slide™ Cat Litter*, and a coupon, along with tips and tricks on litter box best practices to help transition your new cat into your home.
Here is a full list of the participating locations:
Leeds & Grenville Animal Centre
Lennox & Addington Animal Centre
Markham Cat Adoption & Education Centre
Midland & District Animal Centre
Sudbury & District Animal Centre
Stouffville (Provincial Education & Animal Centre)
Stormont, Dundas and Glengarry Animal Centre (Cornwall)
*While supplies last
Categories
I stand behind SPCA with my monthly gift
I stand behind SPCA with my monthly gift. I am so happy there are folks like you to care for those who can't help themselves.  My family and I have had animals all our lives and know what a comfort they are.  Thank you SPCA.
-Dorothy