Sight/Visual
Sight/Visual
How dogs see Colour: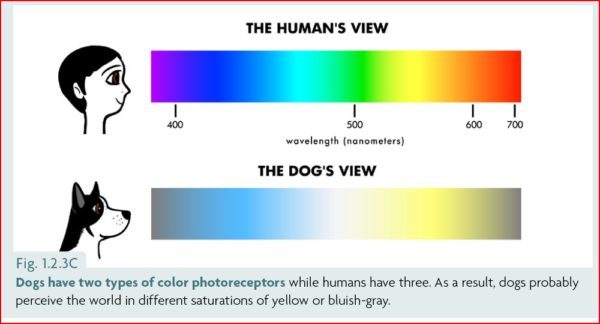 Dogs colour vision is similar to a person who is red-green colour blind. Overall, if we want dogs to distinguish between colours, the best colours to use are blue and yellow. This is important to consider when choosing a variety of toys or other visual stimulation for dogs.
In Kennel
Low walls or cage furniture give dogs a better vantage point to view the surrounding environment. The increased visual access is both physically and visually enriching
For some dogs, having visual access to the rest of the kennel environment is important because it provides a sense of security
Visually stimulating objects, such as a fan with streamers, or TV can also be placed outside the dog run to add interest
Access to a window for natural light
Bubbles
Bubbles are a fantastic and inexpensive way to entice your dogs to seek, chase and catch. You can use a handheld bubble blower, or invest in a bubble machine. Be sure to use non-toxic soap for the solution, bubble machine, or handheld bubble maker. There are flavoured bubble solutions available for dogs, such as peanut butter, or bacon that may be more enticing for the dog.
Games
When playing games there are many options to allow the dog to use their natural ability to track or find items.
The following information has been adapted from material on the Center for Shelter Dogs website.
Find It

Find It games can be done with very little interaction with the dog. This makes them very compatible for quality enrichment within the dog's enclosure. Examples of this include, but are not limited to, a stuffed KONG® or a muffin pan with a treat under a tennis ball in each cup, or toys hidden under a box.

To make these games even more interactive for those dogs that enjoy them, take the dog to a separate room, hide the food or toy, and then help him search it out.
Here are some easy examples:

Seek and Destroy: hide the food in an empty box
Treasure Hunt: make a trail of treats for the dog to follow
Shell Game: hide treats under paper cups or small bowls

Materials:

Food dispensing toy (KONG®) or a small cardboard box containing a tasty and easily accessible treat
Muffin pan with a treat under a tennis ball in each cup

What to Do:

Tether the dog to a sturdy object, or ask to sit and stay.
Show the dog the toy/box/muffin tin. Allow the dog to sniff it.
Place the object containing treat on the ground approximately 5 feet from the dog.
Go back to the dog and say 'Find it!'
When the dog gets to the object, praise, and allow the dog to eat the treat.
Repeat 5 times, gradually moving the object further from the dog, always keeping it within the dog's sight.
On the sixth time, do NOT put a treat in the object. Tell the dog to 'find it' and when the dog arrives at the object, praise and give a treat from your hand.
Repeat 4 times.  Note: If the dog's motivation decreases once a treat is no longer present, place a treat in the object 50% of the time.
End the session.
Repeat items #1-9 for the second session.
In the third session, repeat items 1-9, but start hiding the toy in a fairly easy to find location.
In the fourth and subsequent sessions, the toy should never have a treat in it. The reward will always come from you.
During this and subsequent sessions, (ideally) there should be a small partition or barrier between you and the dog so that the dog is blocked from seeing where you hide it, and must use its sense of smell to find the toy.
As the dog gets better and better at the game, hide the toy in more difficult to find locations and play the game in different locations (e.g. a larger room, a play yard, etc.)

To make these games even more interactive for those dogs that enjoy them, take the dog to a separate room, hide the toy or food, and then help him search it out.

Here are some easy examples:

Seek and Destroy: hide the food in an empty box
Treasure Hunt: make a trail of treats for the dog to follow
Shell Game: hide treats under paper cups or small bowls

Find a printable version of Find It Game
Chase It

Chase It is a great game for all dogs and is very easy for humans to play. This can be very useful for encouraging shy dogs and getting them to play, and stimulates them to use visual tracking to follow the object. It can also be a great energy burner for any dog who is into the game.

For handlers who are not comfortable playing tug or fetch, this game is a nice choice as it will allow them to engage with the dog with a little more space between them, the toy and the dog's mouth.

Materials:

KONG® Chase IT squirrel stick; or make your own using PVC pipe, rope, and a toy animal

What to Do:

Use the pole to move the toy animal on the ground using an erratic motion and a quick hop in the air.
Let the dog capture it occasionally.
 Release for treat (toss treat to free the squirrel).
Take breaks (toy stops moving).
Finally, the toy stops altogether and the game ends.
Finish the game before the dog loses interest.

Find a printable version of Chase-IT
The Toy Box

The following has been adapted from material on the ASPCApro website

A toy box provides the opportunity for dogs and puppies to engage their visual sense by exploring toys of various colours, shapes and sizes. The best colours to use are blue and yellow, but you will want other colours to mix it up. This is important to consider when choosing a variety of toys or other visual stimulation for dogs.

Rotating toys through the kennels is an easy way to make kennel life more interesting for animal centre dogs. You can provide even more interest and entertainment for dogs and puppies by offering them their own toy box to choose from.

Materials:

Plastic milk crate, cardboard box, or other container
A variety of dog toys, rubber bones, balls, plush toys, etc.
Other chewables, stuffed KONG®, or treat dispensing toys
A few treats

What to Do

Place toy box in the kennel with a range of toys and treats to choose from. The act of helping themselves to something in the toy box is in itself enriching.
Rotate toys once daily or more frequently if you have the time. For example, in addition to swapping toys during cleaning, you can replace the toys a second time when dogs leave their kennels for daily exercise. That way, when they return to the kennel, they find a surprise waiting for them.
Hide a treat under toys to make the experience more engaging for the dog.


An enrichment schedule can be very helpful! It allows you to:

Track the rotation of toys so that all dogs see a different toy each day. Staff or volunteers can swap out toy boxes as part of their daily kennel care and cleaning schedule
Record individual preferences and needs of each individual dog. Remember that it's not enrichment if the dog doesn't interact with the toy. If a dog doesn't show interest in a certain toy or type of toy, remove it and try a different one

Find a printable version of The Toy Box
---
Sign up for news and updates