Portraits for Paws
Got a dull wall? Purrfect the room with a portrait featuring your favorite fur face!
The Ontario SPCA and Humane Society presents Portraits for Paws – A virtual fundraising campaign to help animals in need!
We have recruited a roster of more than 85 volunteer artists of all skill to illustrate a pet photo of your choice. While we cannot guarantee the results will be above par, we can guarantee that each portrait is made with love and effort! The uncertainty is all part of the fun… you may receive an adorable depiction of your precious pet or an exact replica illustrated by a professional artist.
The process to participate is really quite simple! All you have to do is donate $20 or more and then upload the pet photo you would like illustrated and our artists will begin to create your one-of-a-kind portrait. Please be pawtient and we ask that you give our artists at most two weeks to complete their masterpiece.
Once the portrait is done, you will receive a digital copy by email. We will be posting all photos and their accompanying portraits in a gallery on Facebook! So please be sure to follow our official Ontario SPCA accounts.
LIMITED TIME OFFER: First 300 submissions will get their portraits drawn, so quit dillydallying and make your donation now!
If you have any questions, please email events@ontariospca.ca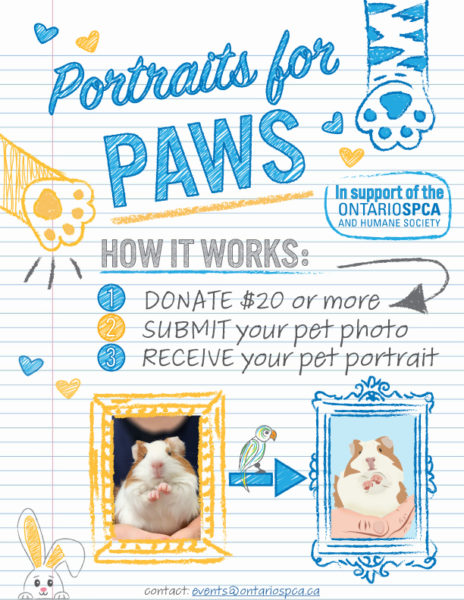 Sign up for news and updates