Wags to Riches Online Auction – Barrie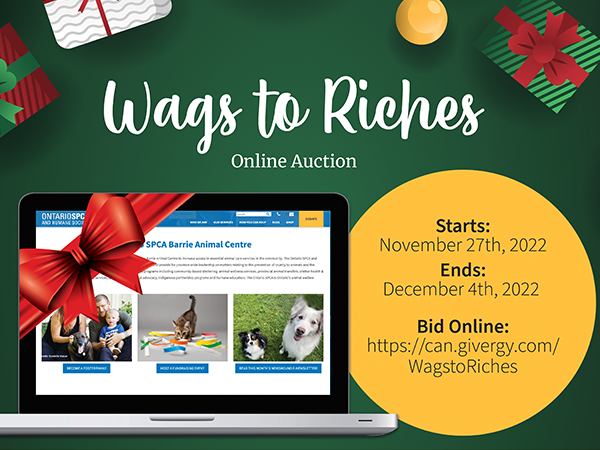 With the holidays around the corner, why not get a head start on your holiday shopping?
Support the Ontario SPCA Barrie Animal Centre as we host our Wags to Riches Online Auction!
The auction begins on November 27th, 2022 and runs until December 4th, 2022. All proceeds from the online auction will go back towards helping animals in need.
No matter who you're shopping for, we've got a gift they'll love. It's a WIN/WIN for animals in need in our community and the local businesses we all love to support!
The auction will include something for everyone, including gift cards, electronics and artisan products. We will also be selling Pet holiday baskets with three options to choose from: cats, small/medium dogs and large dogs.
---
As a registered charity that does not receive government funding, the Ontario SPCA depends on generous supporters to provide urgently needed care and shelter for homeless animals at our animal centres across the province. Your support also helps animals in communities across Ontario through programs and services such as the Ontario SPCA mobile spay/neuter programs, animal transfers, pet food distribution and humane education.
Sign up for news and updates