Pet Insurance
Get the pet insurance that's trusted by shelters and helps animals in need.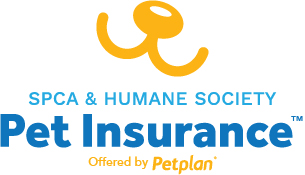 The Ontario SPCA and Humane Society believes animals deserve the best care possible. Like us, our pets can get injured or sick. Pet insurance can help cover those unforeseen veterinary bills and help your furry friends stay healthy. That's why we have joined paws with Petplan to offer you "SPCA & Humane Society Pet Insurance." Not only will pet owners enjoy the peace of mind that they're helping protect their four-legged friends, but they can also feel good knowing that a portion of proceeds goes back to SPCA's and Humane Societies, like the Ontario SPCA to help animals in need.
The coverage through the SPCA & Humane Society Pet Insurance offered by Petplan is as unique as adopters and their pets and can be customized to fit your needs and budget. It also offers one of the most comprehensive coverages and shortest waiting periods in the industry. SPCA & Humane Society Pet Insurance offered by Petplan covers:
accidents and illnesses, including cancer treatments*
hereditary and chronic conditions*
surgery and rehabilitation
prescription medications
diagnostic tests, including X-ray, MRI, CT scan and ultrasound
non-routine dental treatments
alternative and holistic therapies
referral visits and specialist treatments
Your plan covers you throughout North America. Exchange rates apply for expenses incurred outside of Canada. Protecting your furry friends is just a few clicks away.
Already have pet insurance? Click here!
---
*As long as the condition was not showing clinical signs prior to the effective date of the policy, or during the 15-day illness or five-day accident waiting period.
The information contained in this website is for illustrative purposes only and coverage under any pet insurance policy is expressly subject to the conditions, restrictions, limitations, exclusions and terms of the policy documentation issued by the insurer.
Petplan insurance policies are administered by Fetch Insurance Services, LLC (Fetch Insurance Agency, LLC in Michigan), d/b/a Petplan (Petplan Insurance Agency, LLC in California) and underwritten by XL Specialty Insurance Company-Canadian Branch, which carries the rating of A+ by S&P, and Allianz Global Risks US Insurance Company, a member of the Allianz Group, (rated A+ A.M. Best). Coverages may not be available in all jurisdictions. Information accurate as of [10/2017].
Copyright © 2017 Fetch, Inc. All rights reserved.
*Info from Datamonitor
Sign up for news and updates