A Day in the Life of an Ontario SPCA Registered Veterinary Technician
by Emily Cook | Interesting | August 29, 2019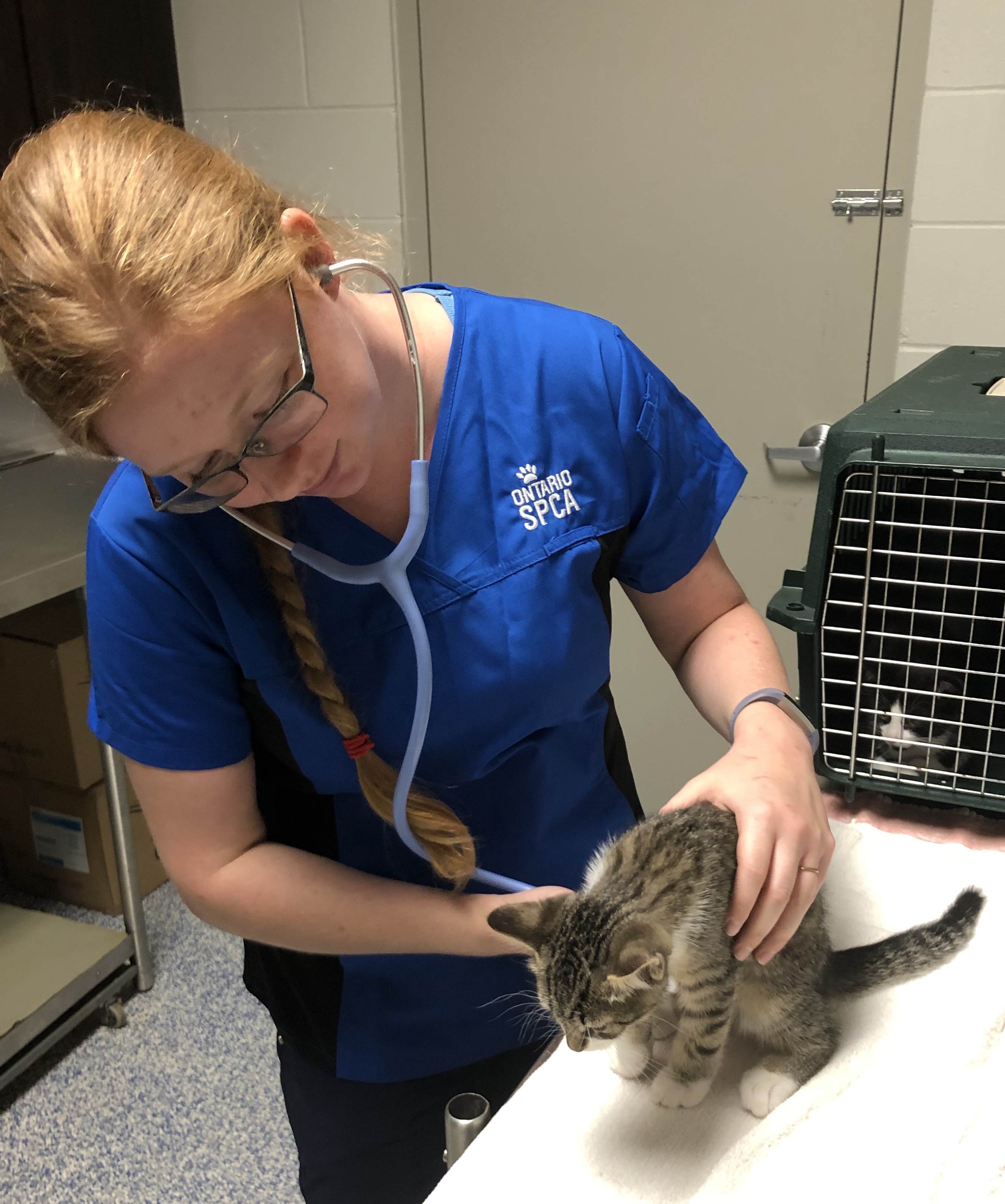 Jocelyn Rutgers is a Registered Veterinary Technician at the Ontario SPCA Midland & District Animal Centre. She says she loves her job because it's always changing. "There isn't really a typical day!" she says.
Here's a breakdown of a day in the life of a RVT at the Ontario SPCA and Humane Society:
10:00-10:15 – Rutgers' walks around the centre and checks in with all the animals in the Midland & District Animal Centre's care. She makes sure everyone looks healthy and happy.
10:15-10:30 – As the RVT, Rutgers administers medications and addresses any medical issues that might have come up during the morning. She then touches base with other staff, including the animal care attendants, who look after keeping things clean, to ensure everything is looking normal. She checks with them to make sure they haven't noticed anything unusual with the animals.
10:30-11:00 – Now it's time for daily rounds! Rutgers says, "A big part of my day is the daily rounds; myself and another staff member walk around and put hands on every animal and make sure they are doing well both physically and emotionally." The RVT makes a plan for every animal for the day to make sure they are getting the proper enrichment and socialization they require. For example, for shy cats that could mean getting a volunteer to sit with them during the day to help them get more comfortable with a companion.
11:00 – Lunch! "If everything is going well," laughs Rutgers. Sometimes, she notes, her break is delayed. "The day doesn't always go according to plan because someone will show up with a litter of stray kittens at the door, or a dog, and we need to deal with those situations as they arise," she says.
12:00-1:00 – RVTs conduct intake exams on animals booked for surrender appointments.
Rutgers says the intake exam provides a baseline from which to start a health care plan for the animal.
"It is a nose to tail exam to physically check over the entire animal. We look for any abnormalities, obvious injuries or health issues, and make a plan from there."
If anything seems off, Rutgers says she would then ensure that appropriate steps are followed to have them seen by a veterinarian and begin treatment.
The intake exam is also an opportunity for the RVT to start assessing the animal behaviorally to see if there are any areas that they need to work on!
"From there we can provide more tailored enrichment, socialization and stress-reducing opportunities for each animal to ensure that they are looked after not only physically, but mentally and emotionally as well," Rutgers says.
1:00-2:30 – During this time of day, Rutgers drives animals to appointments with local veterinarians.
2:30 – End of the day. Rutgers says she will do whatever needs to be done to care for the animals at the centre. This could include taking blood and urine samples, administrative work, or taking care of animals arriving for their appointment to be surrendered by owners who can no longer care for them.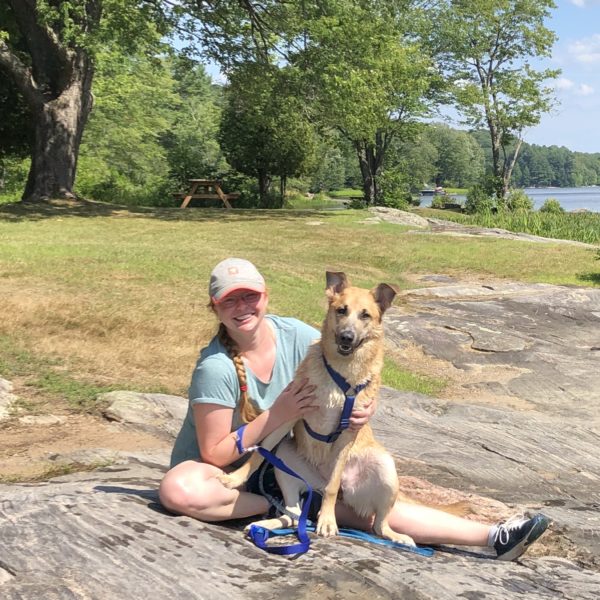 Rutgers says her favourite part of the job is rehoming pets. "You get to see animals who've had difficult starts or they've ended up here under unfortunate circumstances and it's incredible to watch them journey onto the next chapter of their lives with their new families," she says. "The excitement on the faces of their adopters makes it all worth it because you know the animals are going to be loved."
On the flip side, Rutgers says the most challenging aspect is knowing there are still animals out there in need of help.
One of Rutgers' most meaningful encounters took place in fall 2018 when a pregnant dog gave birth to nine puppies. Sadly, the mother passed away due to complications. Rutgers took on the role of foster mom to the pups. "It was a profound experience to watch them grow and to be such a big part of their growth and development," she says. "It was incredible."
Puppies are a common occupational "hazard" for RVTs, and Rutgers says she couldn't help herself and adopted one of the puppies – a German Shepherd-type puppy named Lucy.
Rutgers says her job teaches her a lot about life. "Every animal is so special. They all have a story and, just like people, you don't know what they've been through. It's so important to look for the good in them and to learn as much as you can. Some of the shyest animals that come into our care turn out to be the most loving pets."
Categories
Wish to thank everyone involved
I wish to thank everyone involved in the care and rescue of animals, especially volunteers.
Agnes
Sign up for news and updates
Thank you for joining our online community.