A guide to camping with pets
by Ontario SPCA and Humane Society | Dog Care General Pet Care | June 10, 2022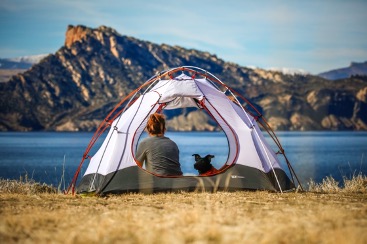 Camping is a fun summer activity you can do with your furry friend. You'll both enjoy the opportunity to explore the beautiful scenery in Ontario. Here is everything you need to know before you pack your tent and bring Fido along. 
Park Rules
Each park may have slightly different rules and some may not allow dogs to camp. So check park regulations before heading out to ensure everyone has a safe and happy trip. Here are some general guidelines from Ontario Parks: 
Dogs should be kept on a leash no longer than 2 metres.

 

Clean up after your companion animal. Parks will often have free dog waste bags and a designated disposal spot.

 

Unless stated otherwise, animals are not permitted in park buildings.

 

Respect wildlife. Keep your furry friend from interacting with wild animals in the park.

 

Restrict excessive noise such as barking.

 

Store pet food in an area – not in your tent! – where it won't attract wildlife.

 

See 

Helpful tips: Camping and respecting wildlife

 for more info on keeping your campsite running smoothly.

 
What to Pack
You want the trip to be enjoyable for all involved. Thus, packing a few extra things can make the camping trip easier for you and your companion animal.  Find our basic packing list below. 
Pet food and lots of water

 

Dog bowls

 

A blanket or towel for them to lay on

 

Extra leash to use as a tie-out

 

A camp tent with extra space

 

Dog-safe bug spray (check with your veterinarian)

 

A favourite toy

 

ID tag for their collar

 

Dog waste bags

 

Pet first aid kit

 
Above all, don't forget to make sure you have pet insurance. In the event of an emergency, it will give you peace of mind knowing you are covered.  
For a more detailed list check out hipcamp.com. 
Camping is a great way to get outdoors with your furry friend. Enjoy a safe and fun-filled camping season! 
Categories
Testimonial
Totally rock
All of your wonderful staff & volunteers totally rock. The amazing compassion and work you provide on a daily basis is incredible.
Laura
Sign up for news and updates
Thank you for joining our online community.