A service dog for Christmas: How Sheeba and Brianna found each other
by Ontario SPCA and Humane Society | Interesting Northern projects | December 27, 2019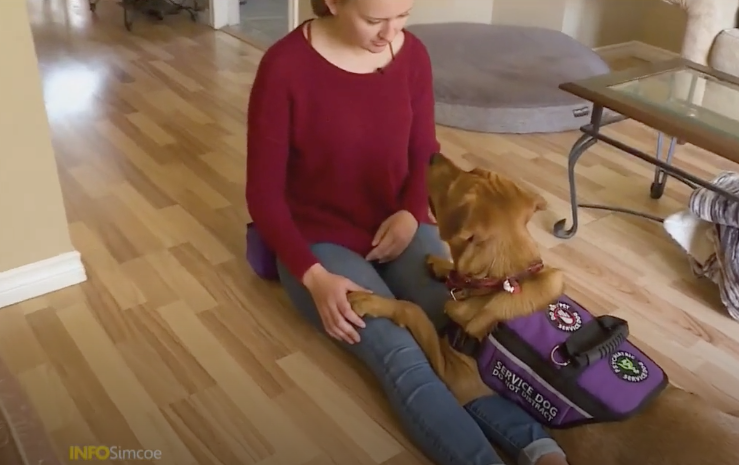 Sheeba needed a home. Brianna needed a friend to help her cope.
When Sheeba rushed to Brianna's aid when the young woman was suffering from a panic attack, Brianna knew her new best friend was also her protector. After going through training to hone her instincts, Sheeba is now Brianna's service dog.
Watch this video to see their incredible bond.
Sheeba was transported from a remote Northern community to find a new home in Central Ontario, where there is a greater demand for adoptable pets. A lack of basic animal wellness services, such as veterinarians and spay/neuter services, has led to uncontrolled growth of dog populations across Northern Canada.
Thanks to your support, dogs like Sheeba will spend the holidays, warm and comfortable, with a family to call their own. But adoption changes the lives of animals and people. Her happy story – and many more like it –  was made possible through community support, partners, tireless volunteers, dedicated staff and generous donors.
"I am so grateful for programs like this," says Brianna. "Because without them, I would not have my life saver here. She truly has, and is, saving my life every day."
From our family to yours, have a happy holiday season!
Interested in adopting a dog ? Here are some helpful tips on what to expect before adopting a puppy.
Categories
Testimonial
Speaking for the ones who can't speak for themselves
Keep up the good work speaking for the ones who can't speak for themselves. A society who cares for their animals is a better society.  Thanks for your good work!
-Suzali
Sign up for news and updates
Thank you for joining our online community.