Animals help boy find joy again after sudden loss of his father
by Emily Cook | Happy Tails | October 25, 2019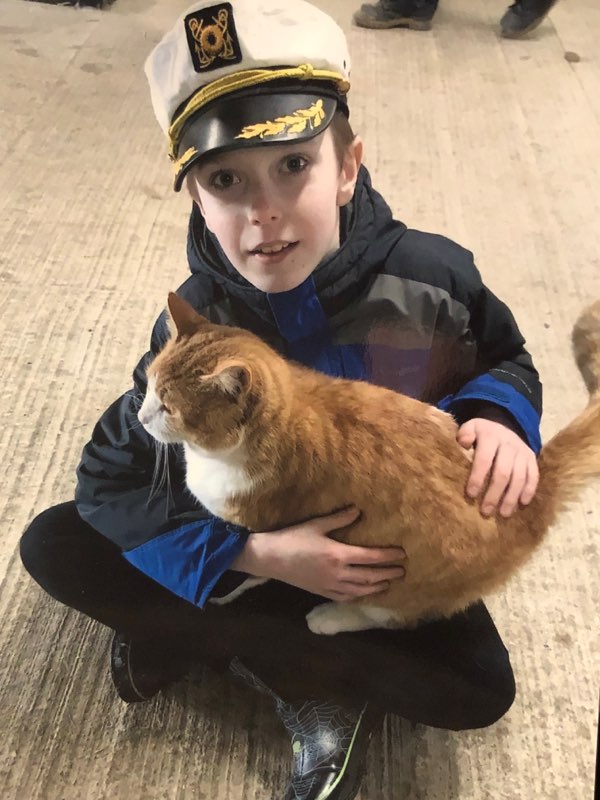 At only 10 years old, Colin's world was ripped apart by the sudden death of his father. School days became filled with outbursts, friends grew distant, and anger and panic became the only emotions he felt. No one seemed to understand him, or his struggle.
But someone noticed. His teacher, Mrs. Sima Craig, at Bishop Macdonnel Catholic School in Cornwall saw his daily struggle.
"You could see he was grieving. His behaviours in the classroom told me he was grieving," says Craig. "I ached for him to find solace somehow."
She pondered how to help him as she walked through the forest with dogs from the Ontario SPCA Stormont, Dundas & Glengarry Animal Centre where she has been a volunteer for about five years. She began walking dogs each week when her family adopted a Pug-Chihuahua mix named Star. How could she say no to her daughter, who is now 12, when she wanted a dog so badly that she would go so far as to write to the Easter bunny to ask for a furry friend?
Wanting to give back, Craig and her family began volunteering at the animal centre, walking the dogs.
An invitation
When Craig was speaking to Colin's mother after school one day, an invitation bubbled out of her mouth that neither of them knew at the time would have such a profound impact.
"On a whim I said, 'Do you think he would like to come and walk the dogs with me?'" Craig recalls. "For me, being in nature really helps. Being outside, being in the sunlight, seeing the trees; you kind of understand that you're part of something bigger in the universe. It's soothing. It doesn't fix all, but it soothes."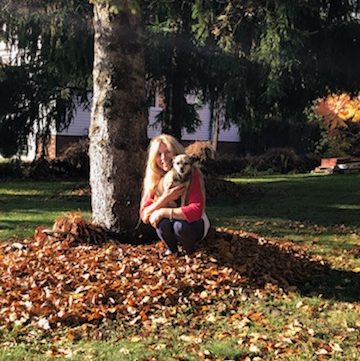 The next week, Colin's mother dropped him off after school at the Ontario SPCA where he would join Craig as she walked dogs awaiting adoption. It wasn't perfect, Craig admits. They sometimes walked silently, with only the occasional exchange of words and the rustle of the leaves overhead breaking the quiet. But slowly, like seasons changing, Colin began to find meaning in those walks. And joy – sometimes at the expense of his teacher, like when the mud sucked off her boot, leaving her standing in the rain in her sock while Colin snickered at her misfortune.
"I think what he learned – and maybe I transposed from what I learned – is that the goal isn't to seek happiness," she reflects. "The goal is to seek meaning and he understood that meaningful events in our lives can be happy and unhappy. Perfection is not what we seek; it's to accept what's in front of us – you know, the dog that doesn't want to get the leash on, the rainy day, the mud – and still find a way to live and be in the moment."
He also learned to trust again. His teacher and the dogs at the Ontario SPCA were always right by his side, never judging, always accepting him unconditionally.
"he discovered that those dogs, too, were abandoned."
"He will never have his father back in a physical sense and he was very, very angry. He felt abandoned," Craig says. "I was there every Tuesday, the dogs were there every Tuesday and he discovered that those dogs, too, were abandoned. They were rescued and they're still joyful. They want to go out for their walk. They want to be outside. They want to live."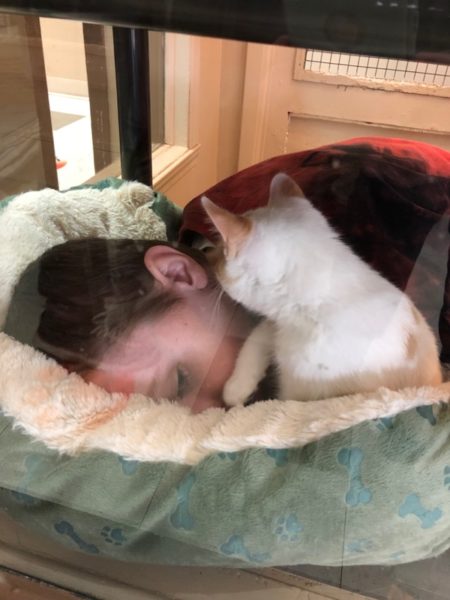 Before long, Colin was telling other kids at school of his adventures with the dogs. It wasn't long before other students were asking if they could come along. Many, she notes, were grasping to come to terms with their own life struggles.
In the woods with the dogs, the children quickly became good friends and anything seemed possible. Many didn't have pets, most had never volunteered before and few had the opportunity to just go outside and explore nature. They started dreaming of careers in conservation, forestry, advocacy and, in the case of Colin who inspired these transformative walks, veterinary medicine.
"Only when he was in nature with the dogs was his spirit at rest," Craig says. "It was the only time you could see he was not hyper vigilant. The rest of the time he was expecting someone to be hurt somehow."
Craig is a firm believer in the healing power of animals, and the transformative power of nature. Pairing them together helped Colin make sense of his life. No longer feeling isolated and marginalized, he has made new friends, discovered a love of animals and gained the self-respect that gave him the confidence to join a martial arts club.
"I don't know what track he's on, but he's unstuck," says Craig. "Stuck is worse than being on the wrong track. When we are stuck there are no alternatives – you're not living your life. It's the pause button on your player; there is no music."
Categories
Testimonial
Your dedication and support
It is with and because of your dedication and support that helpless animals are being saved. Thank you for everything.
-Wendy
Sign up for news and updates
Thank you for joining our online community.