Celebrating our amazing volunteers during National Volunteer Week 2023!
by Ontario SPCA and Humane Society | Interesting | April 17, 2023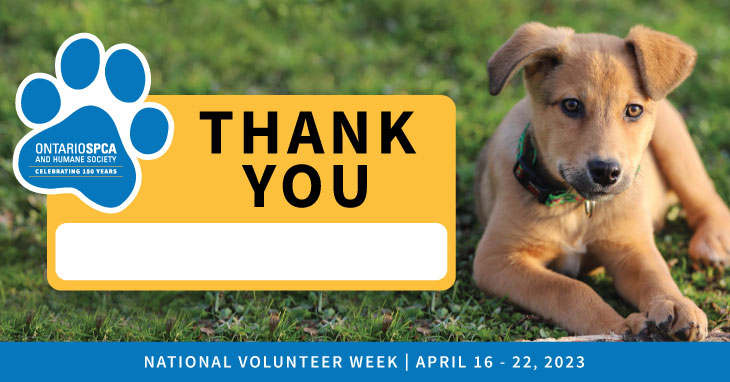 National Volunteer Week is April 16 –22, we at the Ontario SPCA celebrate our over 600 volunteers. Volunteers strengthen the fabric of our community by sharing time, talent and energy to support one another and the animals in our care. Volunteering at the Ontario SPCA and Humane Society connects people from all over the province through our shared goals and hard work.
Whether it's driving animals to veterinary appointments, socializing with the animals, bringing Humane Education to local schools and community groups, assisting with event coordination and everything in between. Sometimes, it's as simple as sitting with one of the animals to show them love and affection, and other times, volunteers take animals into their homes to foster and help rehabilitate them until they are ready to find loving homes. The Ontario SPCA is fortunate to have dedicated volunteers in a variety of different essential roles that all help change the lives of animals in need. 
Check out our available volunteer opportunities.
A spotlight on Sharlene
Take Sharlene Tracy for example. Sharlene has been a dedicated volunteer at the Ontario SPCA Renfrew County Animal Centre since 2019. After she retired, she wanted to help both people and animals, and felt the Ontario SPCA was the perfect place to do just that. She primarily helps the Renfrew County Animal Centre by providing administrative support, but she also donates her skills and passion to events and fundraising.
Roger's impact across the region
Roger Clark is another dedicated volunteer who is making an impact through the AnimalSmart™ program. AnimalSmart™ is the Ontario SPCA's humane education program for students in Grades 1 through Grade 8. It consists of a series of lessons developed to foster empathy, promote a sense of responsibility and inspire connection with animals and the environment. 
 Roger is enthusiastic about humane education and visits schools across the region to connect with students and teach them the importance of kindness to animals. His positive energy and appreciation for animals engages the next generation of leaders to treat animals and humans with compassion.
"I believe that, once exposed to how other creatures might think and feel, children will develop their own concept of benevolence, nurturing and empathy. It might also give them the opportunity to understand themselves a little better, too," says Roger.
"I believe in the Ontario SPCA's AnimalSmart™ program and understand its importance for not just the present, but for future generations. This is why I am very happy and proud to be part of it," adds Roger.
Join the volunteer team during National Volunteer Week
The AnimalSmart™ program is looking for volunteers to help introduce young minds to the world of humane education. If you are interested in helping bring education to schools in your local area, visit our Volunteer page and apply today.
There are also numerous other positions that need to be filled. From fostering animals to helping with fundraising events, the Ontario SPCA is always looking for passionate volunteers to make a difference in the lives of vulnerable animals across Ontario. Visit us online to see how you might be able to help and start the registration process today to join our volunteer team. 
Thank you to all our amazing volunteers! This week is all about you and we can't thank you enough for your contributions! 
Categories
Testimonial
As an animal lover all the work you do
As an animal lover all the work you do to help ensure that every dog and cat can find their forever home that is filled with love is greatly appreciated.
-Louie
Sign up for news and updates
Thank you for joining our online community.