Changing lives one foster animal at a time
by Ontario SPCA and Humane Society | Interesting | October 17, 2022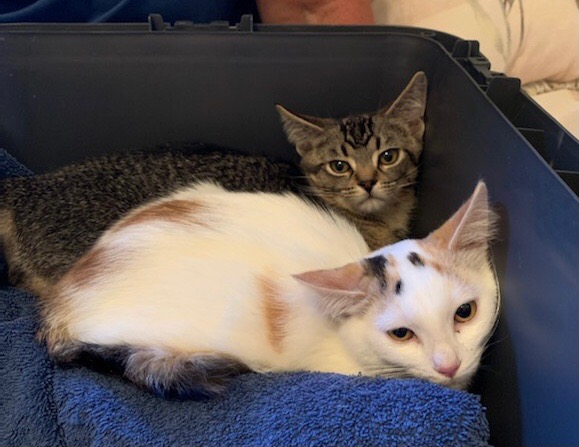 Vulnerable animals come through Ontario SPCA and Humane Society Animal Centre doors every single day. Some animals come into our care injured or pregnant and might have special needs, while others have been abandoned and need extra socialization. Caring for animals takes dedication and time. Thankfully, with the help of foster volunteers, every animal receives the love and support they need to thrive. 
Are you ready to change a life? 
Fostering can be one of the most rewarding and life-changing experiences for both you and the animal. As a foster volunteer, you'll be providing a vulnerable animal a temporary home and the necessary care to meet their social, emotional and physical needs.  
"There's no better feeling than knowing you helped these furry little creatures find their forever home," says Laura, a foster volunteer with the Ontario SPCA and Humane Society Orangeville Animal Centre. 
Laura and Tracy have been helping care for foster animals for the past three years and have even converted two rooms in their home to accommodate their furry visitors. The foster pair estimate taking in over 40 cats and kittens, all with varying degrees of need.  For Laura, caring for kittens in need of extra socialization is among her favourite foster experiences.   
"Working with kittens to overcome anxiety is extremely rewarding," says Laura. "They are often scared and don't know how to be around people. Socialization takes a little more time and patience, but it's truly amazing when you can turn behaviours around and they start getting excited to see people." 
Once the foster period is over, Laura and Tracy keep tabs on their little feline friends by checking the Ontario SPCA adoption page to see how quickly they get adopted. They are especially excited when they see furever home updates of the animals they've fostered thriving in their new homes. 
Join the foster volunteer family
The team at Ontario SPCA is thankful for the many foster volunteers, like Laura and Tracy, who open their homes to animals in need. We continue to look for individuals and families to join the Foster Program and make a difference in an animal's life.  
Learn more about becoming a foster volunteer by visit ontariospca.ca/foster and get started on a rewarding path of helping animals. 
Categories
Testimonial
Thank you for looking after these animals
Thank you for looking after these animals — I would love to have them all in my house!
Ulla
Sign up for news and updates
Thank you for joining our online community.