Cold weather fashions for your pets – Cozy, and safe!
by Emily Cook | Dog Care | December 6, 2017
The cold weather may have some of us concerned about taking our pets outside, but there are many options available to ensure your pets are warm (and look super cute) this winter!
Here is our list of some winter fashions that are available to make your pet's winter walks more comfortable.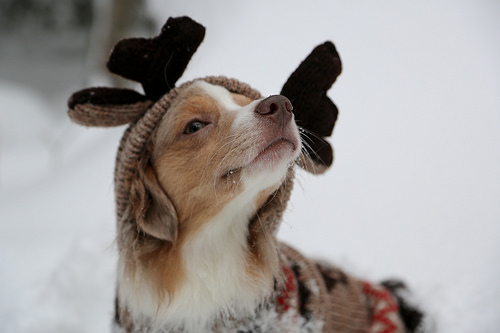 Boots
There are many options available for dog boots/shoes. Although it may take your pet time to get used to wearing them, a good pair of boots offers warmth, traction on ice and frozen surfaces and protection from salt on the roads or sidewalks.
Hats and Scarves
Some dogs can benefit from wearing hats in extreme winter weather. There are many different types of hats available as well as hats that double as a scarf (they slide over the dogs head and cover their ears and neck).
Sweaters, Coats and Vests
Cardigans, hoodies, festive sweaters, button-ups, zip-ups, pullovers, insulated, water/weather proof – the list is endless when it comes to options for your furry family member! Sweaters, coats or vests can be beneficial for shortcoated or hairless breeds. Keep in mind some of these items are only designed as fashion wear and some to keep your pet warm while out in the elements.
With any fashion accessories, it's important to ensure they fit your pet properly and are a safe option for them. A good practice is to research what items would benefit your pet and their needs. If you have any hesitation, consult your veterinarian.
While you may want to dress up your pet or use winter apparel to keep them comfortable and warm, please keep in mind that some pets do not like wearing clothes and may become stressed and visibly uncomfortable wearing them. Never force your pet to wear clothes if you can see signs of discomfort or stress. Introduce new clothing items slowly with lots of treats and positive reinforcement, and watch for signs throughout that your pet may not be enjoying the experience. It is also important to remember that dogs can overheat easily, so while you're outside, check frequently to ensure your pet is comfortable.
With these tips, you're ready to hit the dog park in style with your pet! Comment and tell us what accessories your pet likes during the winter months!
Guest blog written by Amber Ogle, Centre Coordinator for the Ontario SPCA Huron County Animal Centre.
Categories
Three cheers for the volunteers!
Three cheers for the volunteers! Keep doing wonderful work, thank you!
Doreen
Sign up for news and updates
Thank you for joining our online community.