Cones or onesies: What's the best post-surgical wear for your animal?
by Ontario SPCA and Humane Society | General Pet Care | November 26, 2021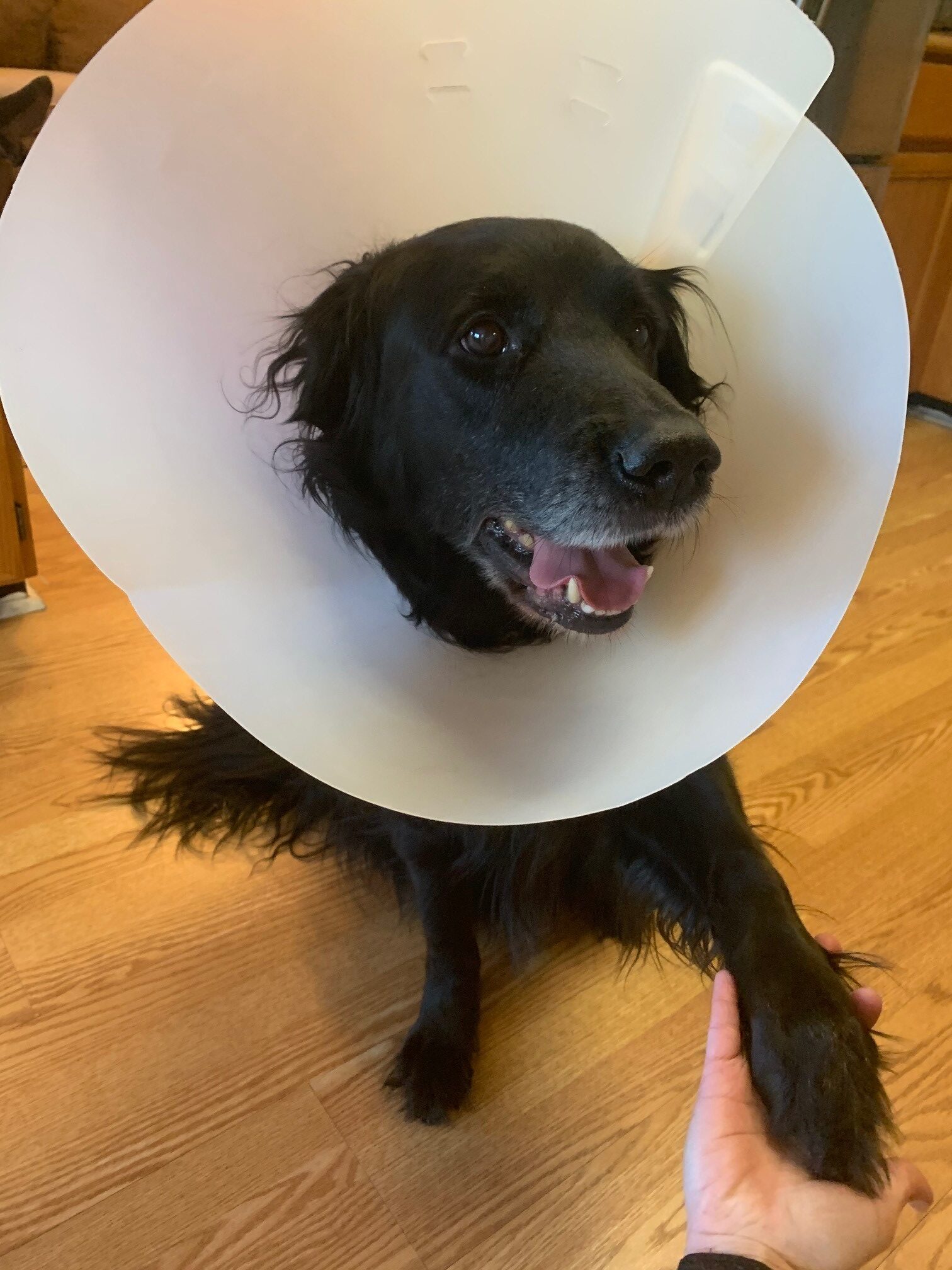 You may have heard of the "cone of shame" (or "fame" as we like to say!), but did you know there are other options for post-surgical wear for your animal? 
Post-surgical wear
After a surgical procedure , like spay/neuter, your animal may be tempted to scratch, bite, or lick their incision area. This can interrupt the healing process by irritating the stitches, introducing bacteria, or causing damage to the healing site.  
Choosing post-operative wear for your dog, cat, or small animal can depend on their breed, type, and personality. There are a variety of easy and affordable options to prevent medical complications and keep your best friend on the road to recovery! 
Bodysuit ("onesie")
If your furry companion is on the smaller side, a "onesie" may be a good choice. Made of soft, stretchy fabric, this bodysuit covers cats and dogs beginning at the neck, along the body and over the hindquarters. There are holes for the legs and tail to pass through. They are also specially designed to allow your pet to go to the bathroom with it on. It can be tricky to secure the fabric at the tail area, so this choice is best for animals with long tails.  
The onesie must be kept dry to prevent bacteria from accumulating. Always be sure to remove and wash the onesie regularly on the schedule that your veterinarian suggests. It is possible for animals to accidently bump or cause damage to the surgical site, so removing for a wash gives you the opportunity to look for this as well.  
The bodysuit is a great choice for both active and less active breeds.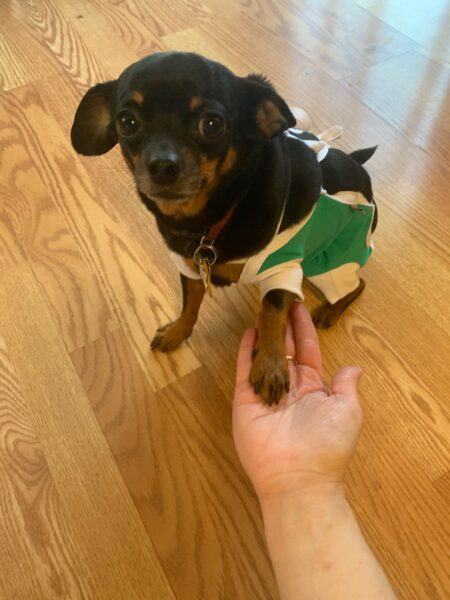 Elizabethan collar
This is easily the most recognizable post-surgical option, affectionately referred to as "the cone." You may also hear it referred to as an e-collar. Traditionally designed with hard plastic, the Elizabethan collar is secured at the base of the neck and extends outwards in a large cone shape several inches past the tip of the nose. Animals such as dogs, cats, and rabbits can all use this option.  
While it prevents your animal from turning around to bite or lick their surgical site, it may be cumbersome for some animals. The shape of the collar means your furry friend may knock into their food or water bowls, or bump into walls. This may be unsettling for some animals, such as senior cats or dogs, who may already be experiencing spatial or vision problems. Newer versions of the Elizabethan collar exist in the same shape but with a durable, softer nylon fabric.   
Inflatable collars 
Also known as "doughnuts," these big inflatable collars are an excellent option for brachycephalic (short-nosed) breeds such as Bulldogs, Pugs, French Bulldogs, and Persian cats. The thick, lightweight collar resembles a doughnut in shape, and is fastened around the neck. This enables animals to eat, drink and play with ease.  
Some animals may be able to remove their inflatable collar with their hind legs, so talk with your veterinarian about other options if your animal is frequently removing it.  
Tips for post-surgical success
While there are many options for your best friend's post-surgical wear, caring for the incision site is the best way to ensure a smooth recovery. Inspect the incision site twice daily and be on alert for any inflammation, redness, unusual odors, or discharge. Follow the instructions provided by your veterinarian or veterinary technician on cleaning and care, and always notify them if you notice any changes in your animal's personality or habits.  
If you've made an appointment at one of the Ontario SPCA spay/neuter services locations, onesies and e-collars can be purchased (and fitted) at our clinics. Both are also available at most pet stores. The collar or onesie should remain on your pet until new (pink) tissue appears at the incision site (7-10 days). for 7-10 days until the incision site has healed completely. If there are questions or concerns about the healing process be sure to contact your veterinary team right away 
Learn more about post-surgical wear and care for your animal! 
Categories
Testimonial
We have supported the OSPCA since 1951
We have supported OSPCA since our arrival in Canada in 1951.  Keep up the greatest  T.L.C. for animals.
-Paul & Des
Sign up for news and updates
Thank you for joining our online community.