COVID-19 litter can pose a dangerous threat to animal safety   
by Ontario SPCA and Humane Society | General Pet Care Interesting | May 21, 2021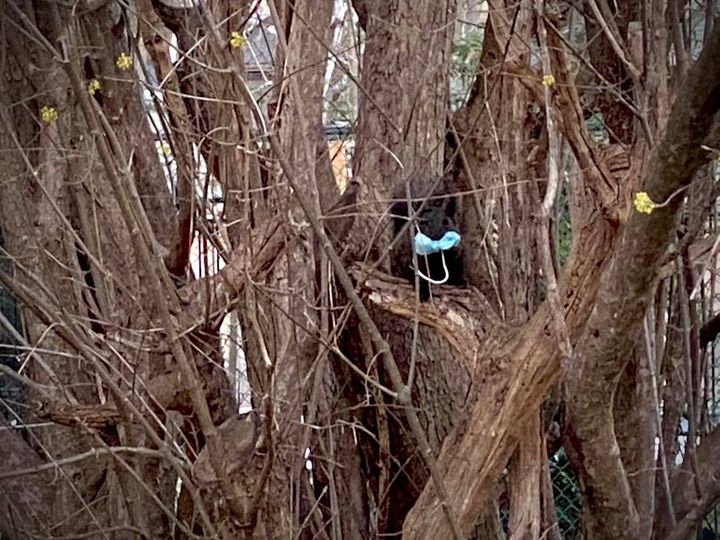 Face masks, gloves and cleaning wipes have become a part of our routines, but they shouldn't be a part of the routine for wildlife or our furry friends at home. 
Littering has unfortunately been a problem in outdoor spaces for quite some time, but now with COVID-19 personal protection items showing up in our forests, lakes and rivers, litter has become an even more threatening issue. 
Dangers of COVID Litter
For wildlife, spring is a time of nesting and gathering supplies. Birds are seeing disposable masks as materials for their nests and experiencing the sometimes deadly consequences.  
"The elastics that hold the mask to our face are the biggest danger," says Brian Salt, Director at Salthaven Wildlife Centre in London. "There doesn't seem to be any ends to the calls of birds getting hung from their nests. We've seen Ospreys, Sparrows, Robins and more that go to leave their nest and they can't." 
With so many littering dangers like dental floss, fishing line, plastic bags and more, the COVID-19 litter is severely adding to the problem for wildlife. 
It's also become a dangerous problem for our furry friends on walks. Dogs are known to be curious about all the items they encounter on a walk, and now masks and other COVID-19 items are becoming a part of those walks.  
"The biggest concern right now for our companion animals is the ingestion of foreign objects like cloth and disposable masks and gloves," says Dr. Clifford Redford, Veterinarian at Wellington Veterinary Hospital in Markham. "Face masks with strings attached to them can pose serious risks if consumed and cleaning wipes carry chemicals that should not be ingested." 
What can we do?
To help prevent these tragic situations with all animals, we need to be taking our garbage with us when we leave a park or trail rather than littering or risk our garbage being blown away.  
As animal parents, we need to be on the lookout for potential hazards while enjoying the outdoors.  
"You have to keep your head on a swivel," says Dr. Redford. "Always look ahead of you to assess what your animal is about to encounter. If you see a pattern of certain areas being more polluted than others, consider altering your route." 
For every piece of garbage left behind, there is at least one animal at risk for being hurt by the litter.  
"If you see a piece of litter that doesn't belong, pick it up," says Salt. "It is my belief that for every piece of trash that gets picked up and put in the garbage, you're probably going to save (an animal's) life. You may never see the life that you're saving, but you are saving it."  
We encourage you to contact your veterinarian right away if your companion animal ingests something they shouldn't have. If you see injured wildlife, please contact your closest wildlife rehabilitation centre. 
Categories
Testimonial
Your dedication and support
It is with and because of your dedication and support that helpless animals are being saved. Thank you for everything.
-Wendy
Sign up for news and updates
Thank you for joining our online community.