Did you say it's National Chocolate CAKE day today?!?
by Ontario SPCA and Humane Society | Campaigns | January 27, 2020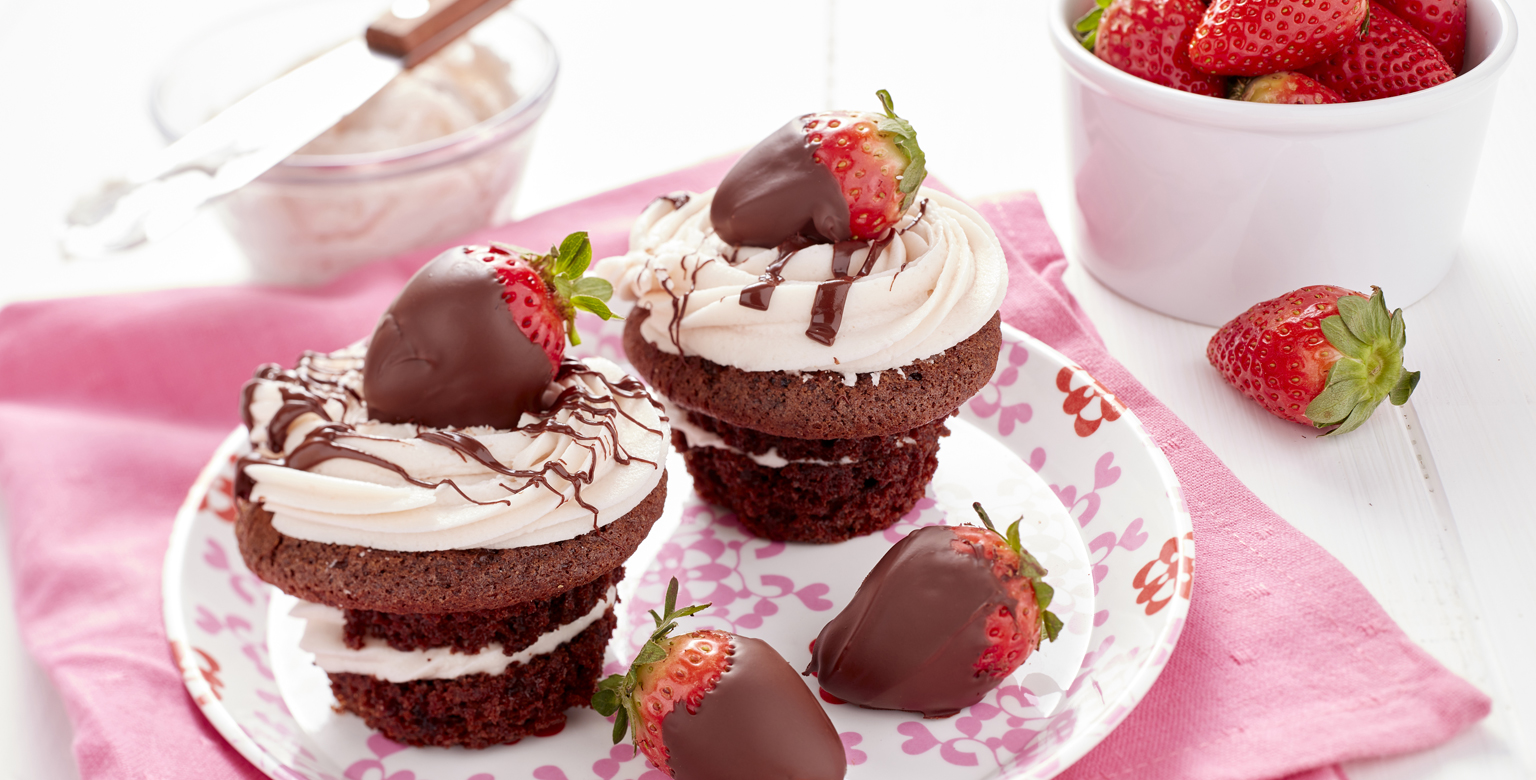 *Sponsored by our friends at Smuckers!
What sweeter way to celebrate National Chocolate Cupcake Day than with a decadent chocolate cupcake oozing with fruity goodness?
National Chocolate Cupcake Day is here!  It's the perfect day to bake a difference for animals in need by whipping up some chocolate cupcakes. Your friends and family are certain to support your fundraising efforts with this delicious recipe.
ROBINHOOD'S STUFFED CHOCOLATE CUPCAKES
CUPCAKES
1/3 cup (78 mL) cocoa
1 cup (240 mL) + 2 tbsp (15 mL) Robin Hood® Original All Purpose Flour
1 cup (240 mL) sugar
3/4 tsp (3.75 mL) baking powder
3/4 tsp (3.75 mL) baking soda
1/4 tsp (1.25 mL) salt
1 tsp (5 mL) Folgers® Instant Coffee Crystals
3/4 cup (180 mL) Carnation® Evaporated Milk, Regular, 2% or Fat Free
1 egg
1/2 cup (120 mL) Crisco® Canola or Vegetable Oil
ICING
1/4 cup (60 mL) Crisco® All Vegetable Shortening
2 cups (475 mL) icing sugar
1/4 cup (60 mL) Carnation® Evaporated Milk, Regular, 2% or Fat Free
1/2 tsp (2.5 mL) vanilla extract
2 tbsp (30 mL) Smucker's® Pure Strawberry Jam
Garnish: chocolate covered strawberries, chocolate drizzle, optional
DIRECTIONS
Preheat oven to 350°F (180°C). Line 10 muffin tins with liners.
Combine dry ingredients in bowl of electric mixer. Beat in milk, egg and oil and continue beating until batter is smooth, about 1 minute. Pour into prepared pans.
Bake in preheated oven 20-25 minutes or until toothpick inserted in centre comes out clean. Cool to room temperature.
ICING
Beat shortening on high speed of electric mixer until fluffy, about 30 seconds. Add icing sugar, milk and vanilla and beat until smooth. Mix in strawberry jam.
ASSEMBLY
Remove cupcakes from liners and slice in half to make two layers. Spread bottom layer with about 1 tbsp (15 mL) icing. Cover with remaining layer and ice and decorate top. Garnish if desired.
If your mouth isn't watering just reading this recipe, be sure to check out more National Cupcake Day recipes on our website! Haven't registered for National Cupcake Day yet?  No problem!  Registration is easy (and free)- head on over to nationalcupcakeday.ca to get started!
Categories
Testimonial
As an animal lover all the work you do
As an animal lover all the work you do to help ensure that every dog and cat can find their forever home that is filled with love is greatly appreciated.
-Louie
Sign up for news and updates
Thank you for joining our online community.