Dr. Dave Wilson Memorial Award recipient: Keisha Harris
by Ontario SPCA and Humane Society | Interesting | August 29, 2023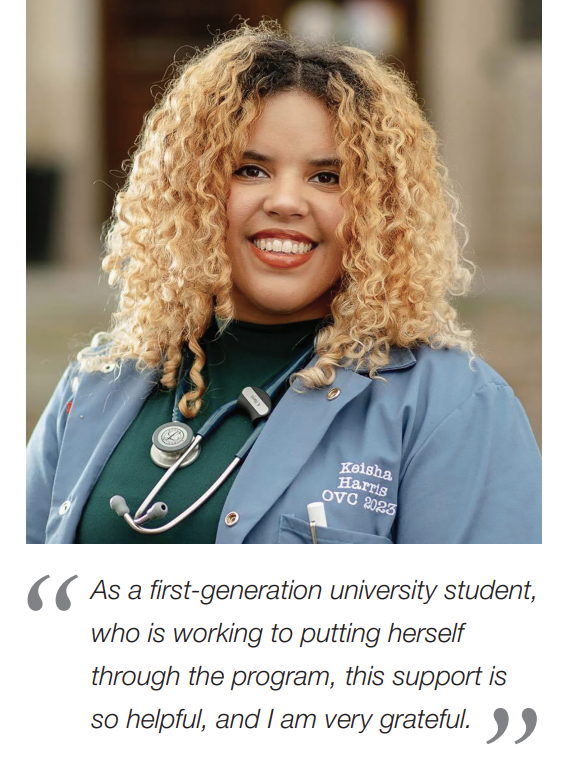 In 2021 we unexpectedly lost a friend, colleague, and champion for animal well-being with the passing of Dr. Dave Wilson. The Ontario SPCA and Humane Society created the Dr. Dave Wilson Memorial Award at the University of Guelph in his honour. This year, the scholarship recipient is Keisha Harris. 
"As a first-generation university student, who is working to put herself through the program, this support is so helpful, and I am very grateful," says Harris. 
A legacy of love for animals
The award in memory of Dr. Dave Wilson is presented each year to an Ontario student who has successfully completed Phase 3 of the Doctor of Veterinary Medicine program at the Ontario Veterinary College and has been selected by classmates as showing exceptional compassion toward, and interest, in animals.   
Harris has demonstrated all of these qualities! She is a member of the Animal Welfare Club and spent a summer with the Canadian Food Inspection Agency's Veterinary Student Internship Program in their policy department, working on a project for humane animal transport. 
Access to veterinary care is another one of Harris's passions. She served at the Toronto Humane Society in the public veterinary services department and plans to volunteer with community medicine programs post-graduation. 
"I want to help ensure all patients have access to adequate veterinary care," says Harris. 
Harris hopes to complete the combined DVM/MPH program and pursue a career in One Health with a focus on wildlife, conservation and disease management. 
Read more about the Dr. Dave Wilson Memorial Award.   
About Dr. Dave Wilson
Dr. Dave Wilson graduated from the Ontario Veterinary College with a Doctor of Veterinary Medicine and MSc. in Clinical Toxicology. He started his career working in small animal/mixed private practice before joining the Ontario SPCA where he spent the last 18 years of his career. He'd worked through the ranks within the Society, managing an animal centre before eventually becoming the Senior Director of Shelter Health & Wellness.  
Categories
Testimonial
We have supported the OSPCA since 1951
We have supported OSPCA since our arrival in Canada in 1951.  Keep up the greatest  T.L.C. for animals.
-Paul & Des
Sign up for news and updates
Thank you for joining our online community.