Eight Northern puppies born in our care find new homes
by Ontario SPCA and Humane Society | Northern projects | December 14, 2018
Eight bounding, adorable puppies from Northern Ontario headed out the door this week to find loving homes as part of the centre's iAdopt for the Holidays campaign.
The puppies were born only days after their mother, Dixie, arrived in Sudbury from a community near the Manitoba border as part of a transfer of close to 50 dogs in need of new homes. To bring awareness, attention and action to Northern dog overpopulation, the Ontario SPCA declared 2018 the Year of the Northern Dog. To date, the Ontario SPCA has delivered animal wellness services and transferred over 400 animals from close to 30 Northern communities this year.
The transfer was made possible thanks to the vision and leadership of the communities, as well as a partnership with Northern Reach Rescue Network, Second Chance Pet Network, the Peterborough Humane Society, Brant County SPCA and Northern Legacy Horse Farm, which transported the dogs aboard its "Bark Bus" and has been fostering Dixie and her puppies.
These puppies were just some of the animals patiently waiting for loving homes this holiday season as part of the Ontario SPCA's iAdopt for the Holidays campaign. Supported by Royal Canin, iAdopt for the Holidays runs until Dec. 31 at participating SPCAs, Humane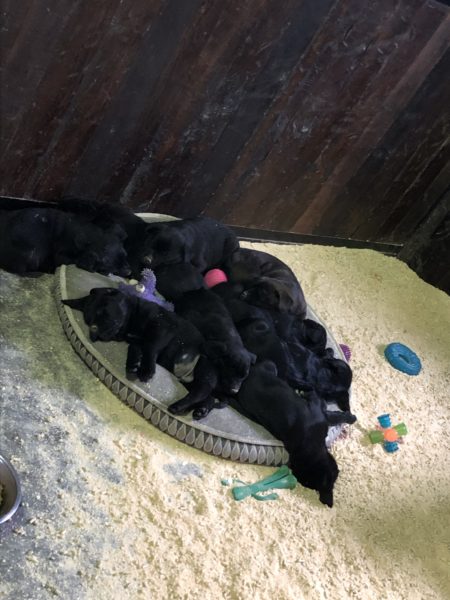 Societies and rescue groups nation wide, including the Sudbury & District Animal Centre. The goal is to get as many animals as possible placed into loving homes during the holiday season. Last year, over 4,000 animals from across Canada found their forever homes during the iAdopt for the Holidays campaign.
"This holiday season, give a homeless animal the gift of a loving family to call their own," says Jennifer Hughes, Manager, Sudbury & District Animal Centre. "With people having time off from work and being home together as a family, the holidays are a great time to welcome a new furry companion and help them get settled."
To learn more about iAdopt for the Holidays, including contests and adoption opportunities, visit iadopt.ca.
Categories
Testimonial
I stand behind SPCA with my monthly gift
I stand behind SPCA with my monthly gift. I am so happy there are folks like you to care for those who can't help themselves.  My family and I have had animals all our lives and know what a comfort they are.  Thank you SPCA.
-Dorothy
Sign up for news and updates
Thank you for joining our online community.