Feline asthma isn't keeping Leo from loving life
by Ontario SPCA and Humane Society | Happy Tails | March 27, 2023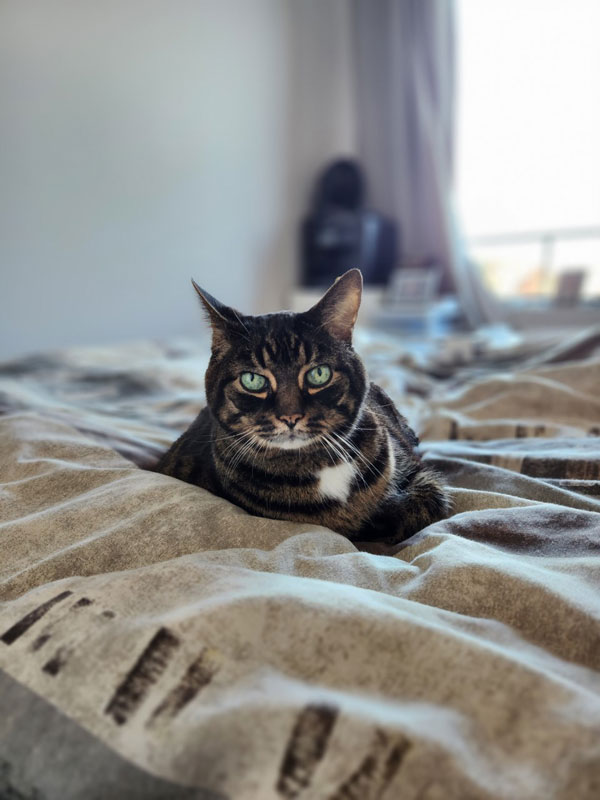 When Leo, an 11-year-old cat, arrived at the Ontario SPCA Lennox & Addington Animal Centre in Napanee, the animal care team could tell that Leo was not in the greatest shape. His gums showed signs of inflammation and the poor cat had a persistent cough.
Leo's Dental Disease and Feline Asthma
After a thorough veterinary examination and tests, Leo's dental disease and feline asthma were confirmed. In addition, his bloodwork showed that Leo was in early stages of kidney disease. Leo required a special diet to help keep his kidneys healthy and would need a special foster family to help control his feline asthma.
Feline asthma results in the inflammation of a cat's airways and reduced air passage. This means that asthmatic cats have difficulty taking deep, full breaths and can result in coughing, wheezing and exercise intolerance. A chronic cough similar to coughing up a hairball may be seen. Feline asthma may be triggered spontaneously or may develop in response to an allergic response to an environmental factor. Overweight and obese cats are at greater risk of developing chronic respiratory disease. Feline asthma can be life threatening. Read our blog Healthy habits, healthy cats: This is not a hairball! to learn more. Always consult your local veterinarian if you have any concerns.
Lucky for Leo, a wonderful foster family was able to take him in and tend to his medical needs. There was no stopping Leo once he was in a home setting. He didn't let his feline asthma get in the way of having fun. His family ensured that Leo was being well taken care of both physically and emotionally, providing him with enrichment activities and love while he waited to find his forever home.
While Leo was being cared for by his foster family, the animal centre team worked diligently to find the perfect adopter for this sweet boy. They knew it might take some time, but the wait was worth it. The team was contacted by a veterinarian who heard Leo's story and knew she could provide him with the care he needed to remain healthy and comfortable into his golden years.
Leo is now living his best life
"He really does fit in perfectly here!", says Blossom, Leo's adopter. "I love him so much already. He likes to be involved in everything!"
Blossom reports that Leo is a curious little feline who likes to be part of the action. He is also receiving dental treatment at his mom's clinic to maintain his oral health and ensure his long-term comfort.
It is thanks to the dedication of our amazing fosters families and the adopters that animals like Leo are able to get a second chance. If you are able to help an animal in need, please talk to us about fostering or visit our adoption page to see about bringing an animal into your family.
Categories
Testimonial
Your dedication and support
It is with and because of your dedication and support that helpless animals are being saved. Thank you for everything.
-Wendy
Sign up for news and updates
Thank you for joining our online community.