Five ways to spend Valentine's Day with your dog
by Ontario SPCA and Humane Society | Campaigns Interesting | February 14, 2020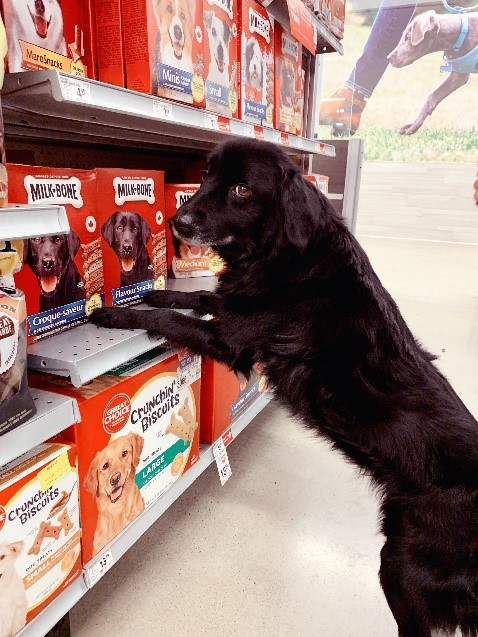 February is one of the sweetest months of the year. Not only do we have National Cupcake Day™ for SPCAs and Humane Societies on February 24th, we also have today… February 14th, aka the day millions of heart shaped boxes of chocolates are bought across the country.
Valentine's Day is typically celebrated by showing that special someone in your life just how much you care for them. Over the years, Valentine's Day has progressed to be about more than just celebrating your partner, but rather celebrating all the individuals in your life that you hold close to your heart, including friends and family. Hence, there are no rules in the Valentine's Day handbook that declare your Valentine can't have four legs and a furry tail!
So, why not spend your Valentine's Day pampering your pup and showering them with affection, treats and love. Here are five ways to spend Valentine's Day with your dog:
1.Take a trip to the pet store 
Start the day off with a nice car ride and a stop at your local pet store. Let your pup's nose go wild and sniff out their favourite treat or toy. Maybe stop by the pet 'spaw' for a quick freshen up, and to finish off the make-over – try on some new bandanas!
Watching your pup frolic around like a kid in a candy shop, will be a fun-filled trip for both of you.
2. Cuddle up on the couch and watch a movie
Grab all your blankets and make a little nest. Cuddle up on the couch or in your bed and flip on your favourite movie. If you haven't seen Marley & Me, this might just be the perfect movie to really make you appreciate your pup. (WARNING: you will cry).
3.Bake some pupcakes
The sweetest day of the year is almost here, National Cupcake Day! Today is the perfect opportunity to bake your pup a treat while also baking a difference for animals in need. Visit nationalcupcakeday.ca to register and start sprinkling the love! Robin Hood® & Milk-Bone have shared a super yummy pet-friendly pupcake recipe to help kickstart your fundraising. Check it out here!
4. Donate to your favourite animal welfare organization in your dog's name
Your dog already has the best gift ever – YOU! But other pups are still waiting to find their forever homes. Click here to make a gift to the Ontario SPCA and Humane Society in honour of your furry best friend.
5. Set-up a V-Day photoshoot
Take a quick trip to the dollar store and grab some fun Valentine's Day décor. Set up a little studio in your home against some wallpaper or Bristol board and let the glam begin. If you plan on using any props, make sure you're mindful of what your pet is or isn't comfortable with. Don't forget to share your final shots on social media!
Happy Valentine's Day to all our four-legged friends <3 We 'wuv' you!
– The Ontario SPCA Family xoxo
Categories
Testimonial
Your dedication and support
It is with and because of your dedication and support that helpless animals are being saved. Thank you for everything.
-Wendy
Sign up for news and updates
Thank you for joining our online community.