From stray to working cat Ritchie is living his best life
by Ontario SPCA and Humane Society | Happy Tails | April 24, 2023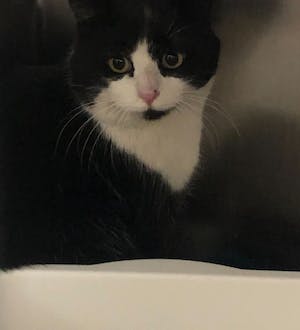 Ritchie the cat is now living his best life, thanks to some thoughtful intervention from his finder, Kimberly. No longer a stray, he now has a job to do. Ritchie is a working cat on a rural property near Ottawa.
For many months, Ritchie, a stray adult cat was frequenting Kimberly's property. She had been feeding him on and off and attempting to gain his trust. After several failed attempts to trap him, she enlisted the aid of Pembroke Animal Services. He was live trapped and came into the care of the Ontario SPCA Renfrew County Animal Centre in Pembroke.
Kate Graham, Animal Care Coordinator at the Ontario SPCA and Humane Society recalls Ritchie's arrival at the centre. "From attempts to do our normal intake exam to ensure the health of the animal arriving, as well as give the standard preventative treatments (vaccine, dewormer, flea/tick prevention), Ritchie's behaviour indicated that he likely hadn't met many humans before and his stress levels were very high." 
"We sometimes see cats come in demonstrating this behaviour, and we can see that these aren't typical house cats," says Graham.
Food yes, people, not so much
Kimberly was concerned about Ritchie's well-being and was hoping he would be adoptable and could enjoy a life inside with a family. She even made a donation to cover the cost of his adoption. Ritchie loved the food he got while at the Ontario SPCA, but even after several weeks in care, he wasn't warming up to any humans.
"Ritchie had trouble building a bond with our staff throughout his stay and it became clear he had no desire to be a lap cat," said Graham.
 Before his placement, Ritchie was neutered and had a full examination with a local veterinary clinic. At that time, he was given his rabies vaccine, core cat vaccine and flea/tick prevention. During his recovery, his finder, Kimberly came to visit, to offer reassurance. She continued to hope he might respond to her voice.
Promoted to working cat
Since Ritchie had been living an outdoor life, and seemed to lack the social skills with humans, it was determined a working cat home would be best for Ritchie, Graham explained. Kimberly was happy there were meaningful options for Ritchie.
The Ontario SPCA's working cats program recognizes that not all cats, particularly community and some stray cats, can adapt to a traditional home. It is our goal to find the right home for all animals in our care. Many lack the socialization to adapt; they need a different environment to thrive. Some cats are happier when they have their own space, minimal human interaction and can do what they do naturally. The working cat program spays/neuters cats in this program and they are given all their vaccinations to keep them healthy.
Once adopted as working cats, they have their own safe space or shelter, food and water and a "job" where they get to use their instinctive behaviours for controlling rodents.
A family from the Ottawa region who had heard about the working cat program reached out to the Ontario SPCA Renfrew County Animal Centre. Living in a rural area and having multiple outbuildings on their property, it seemed like Ritchie could be a good fit.
Ritchie's adopter, Dylan, recently reported that Ritchie was doing his job well. "I spotted Ritchie through my window," said Dylan. "He's looking healthy, and I noticed he's definitely been hunting. I watched him go to the chicken coop and in like five minutes he was out of there with a big rat."
For cats like Ritchie, becoming a working cat can provide a humane option for them to live their best lives.
For more information on the working cat program, click here.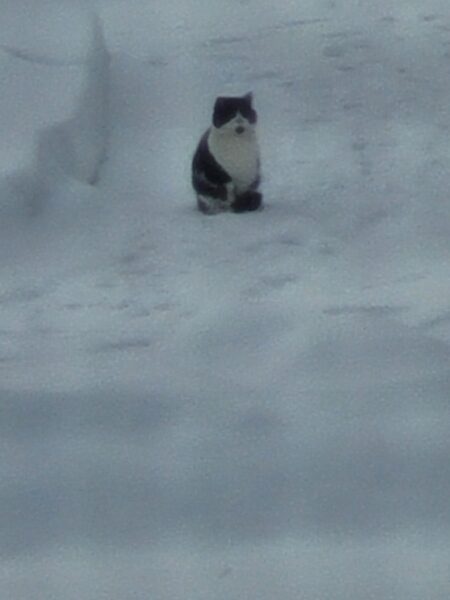 Categories
Testimonial
Wish to thank everyone involved
I wish to thank everyone involved in the care and rescue of animals, especially volunteers.
Agnes
Sign up for news and updates
Thank you for joining our online community.