Georgie the Kitten found badly injured at the side of the road
by Ontario SPCA and Humane Society | Interesting | December 9, 2022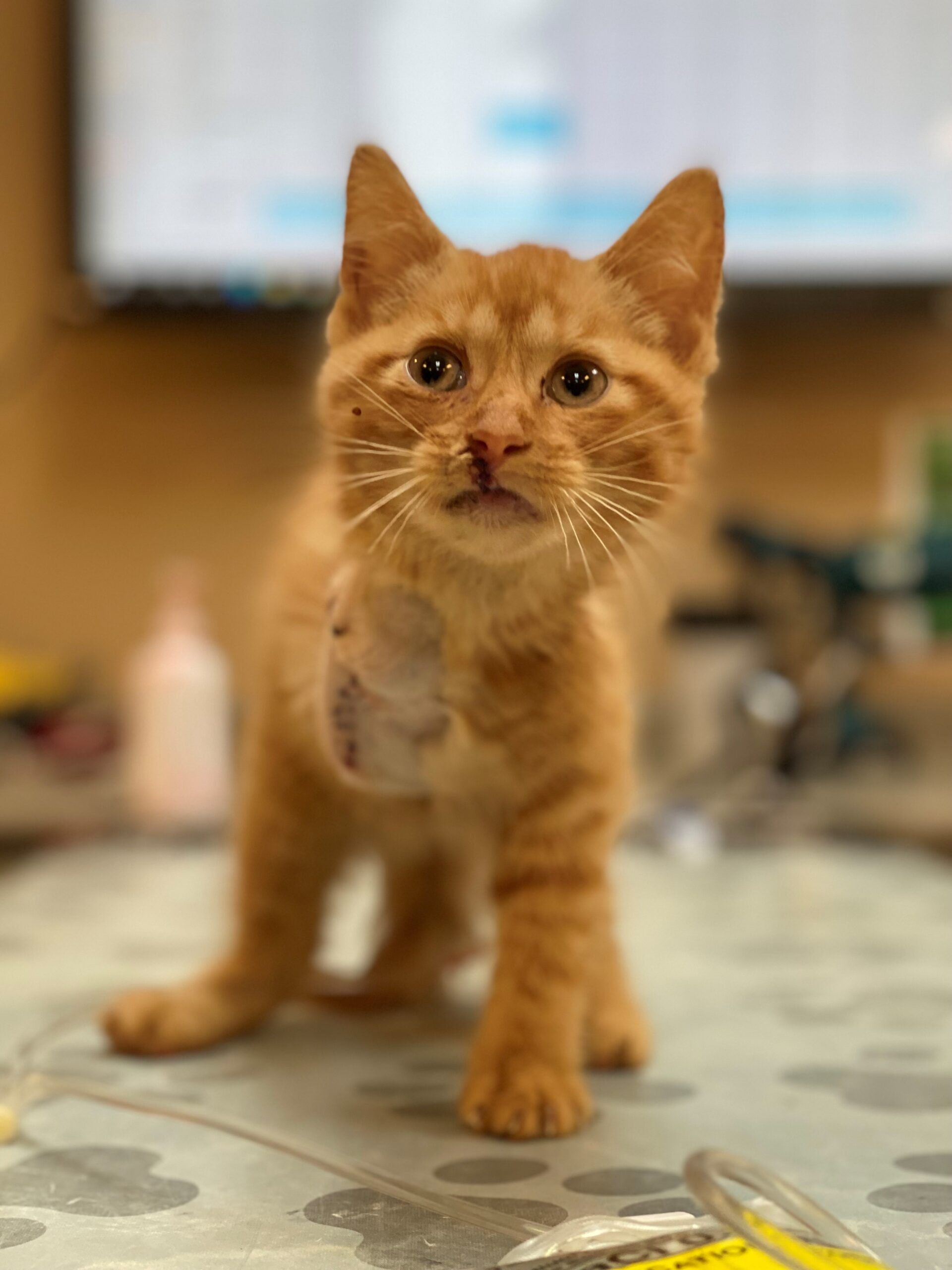 A small, orange kitten was found on the side of Highway 12 in Orillia by a concerned passerby who stopped to help after seeing him wobbling around on the shoulder of the road. She took him to the nearby OPP station and an officer rushed the kitten to the Mariposa Veterinary Hospital in Orillia. He was found to have suffered extreme nerve damage to his right front leg. He had also lost the skin on his chin and abdomen area.  
Giving Georgie a fresh start
To give Georgie, as he became known, the best chance at a pain-free life, amputation of his leg was recommended. He also needed extensive stitches to try to reattach the skin around his chin and abdomen. He was transferred to the Allandale Veterinary Hospital in Barrie for surgery. After his recovery, Georgie was placed into foster care where he continued his post-operative healing until he was ready to find his furever home. 
"Georgie has had a very rough start to life, but thanks to our supporters and partners in the community who rallied together to save this kitten's life, he will grow up to live out his days with a family who will love him and keep him safe," says Caytlynn Croisier, Manager, Ontario SPCA Midland & District Animal Centre. "The Ontario SPCA is here to help vulnerable animals in their time of need, but we can't do this work alone. If you are able, please consider making a donation to help ensure we can help the next animal like Georgie who needs us." 
Healing in his new home
Georgie has since been adopted into his new home and hasn't let his rough start hold him back in life. "Georgie was brought into my friend's work, tiny and injured. I had been hoping to adopt a cat for a while, originally intending on adopting an older cat but when my friend sent a picture of him, so small and fuzzy but so hurt, my heart just melted, and I wanted to keep him safe," says Georgie's adopter. 
"Helping those who are vulnerable, frightened or hurt is always the right thing to do. It's no different with animals. They have feelings, experience pain and provide the world with so much love and warmth. They deserve our love and warmth in return. 
Georgie is doing very well in his new home, using his energy to play with his toys, run and climb around the house, and cuddle his 90-lb. Bernese Mountain dog sister, Bellatrix.  
"I'm not sure he even remembers his other leg, and not having it certainly doesn't keep him out of trouble; Georgie is rambunctious, adorable, hilarious and an absolute sweetheart. He makes me laugh out loud several times a day just from being so silly. And when he runs out of energy, his cuddles are the best," says his adopter. 
"I'm so grateful for the woman who found him, those who transported him to the Midland SPCA, those who donated to the SPCA to help cover his extensive medical costs, those who cared for him and made sure he'd make a great recovery and of course my friend for sending me his picture. I've only had him for a few months, but I couldn't imagine life without him now," says Georgie's adopter.
 
iAdopt for the Holidays
You can change the life of an animal like Georgie this holiday season.
The Ontario SPCA and Humane Society is celebrating adoption with its iAdopt for the Holidays campaign, presented by Swiffer®. The goal is to find loving homes for as many animals as possible during the holiday campaign, which runs until Dec. 25 at Ontario SPCA animal centres across the province. To see animals available for adoption, visit iadopt.ca  
If you're not in a position to adopt, you can still change a life by donating. As a registered charity, the Ontario SPCA and Humane Society depends on the generosity of donors to provide care and shelter to animals as we prepare them to find a loving forever home. 
To give an animal in need the gift of a loving forever home, or to donate, visit iadopt.ca. 
How is the Ontario SPCA funded?
 The Ontario SPCA and Humane Society is a registered charity that relies on the generosity of our supporters to operate. The Ontario SPCA and Humane Society does not receive any government funding.  
What's the difference between a Non-Profit and a Registered Charity?
 Registered charities are charitable organizations, public foundations, or private foundations that are created and resident in Canada. They must use their resources for charitable activities and have charitable purposes.  
Non-profit organizations are associations, clubs, or societies that are not charities and are organized and operated exclusively for social welfare, civic improvement, pleasure, recreation, or any other purpose except profit. 
Categories
Testimonial
Thank you for your dedication
Thank you for your dedication to helping the animals.  Every animal deserves a loving home and to be treated royally.  Just imagine a day without animal cruelty.  What a wonderful day that would be!
-Joan
Sign up for news and updates
Thank you for joining our online community.