Get Fit for Felines: Sweat for Pets 2020
by Ontario SPCA and Humane Society | Campaigns Sweat for Pets | July 27, 2020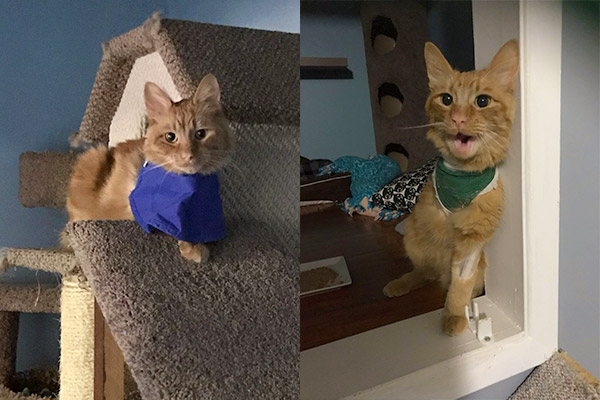 Entering Week 6 in our Sweat for Pets campaign and we're feline fit, but it's not too late to join in on the fun! This week we are sweating (or cat-napping) for the kitties, like Colonel Catnip!
Get Fit for Felines
Colonel Catnip was brought into our care after being struck by a car. He suffered from road rash on his face, a bruised mouth and his front right leg was broken beyond repair. This handsome boy had his leg amputated and went through a few rough weeks of recovery. With hefty medical bills—we needed help to cover these large, unexpected costs but because of your support the only concern we had was finding Colonel Catnip a forever home. With a full recovery, Colonel quickly found a loving family!
There's Still Time to Get Involved
The Ontario SPCA's fun new Sweat for Pets virtual fundraiser is a 10-week campaign that kicked off on June 22. Each week you receive a new challenge that is exciting and suitable for all ages and activity levels. Last week participants were challenged to race their dog! Register today to join our community of supporters and you'll still have access to last week's challenge!
Second Chances for Cats in Need
Second chances for thousands of felines are made possible because of our supporters. You too could help animals like, Colonel by getting active and raising funds for neglected, abused and homeless animals across the province. 
Categories
Testimonial
Hats off to you
To all kind-hearted and hard-working people at SPCA: hats off to you. I love animals and admire the work you do.
Kellie
Sign up for news and updates
Thank you for joining our online community.