Get ready for your chance to WIN the Ontario SPCA Draws for Paws 50/50 Lottery!
by Ontario SPCA and Humane Society | Campaigns Interesting | March 20, 2023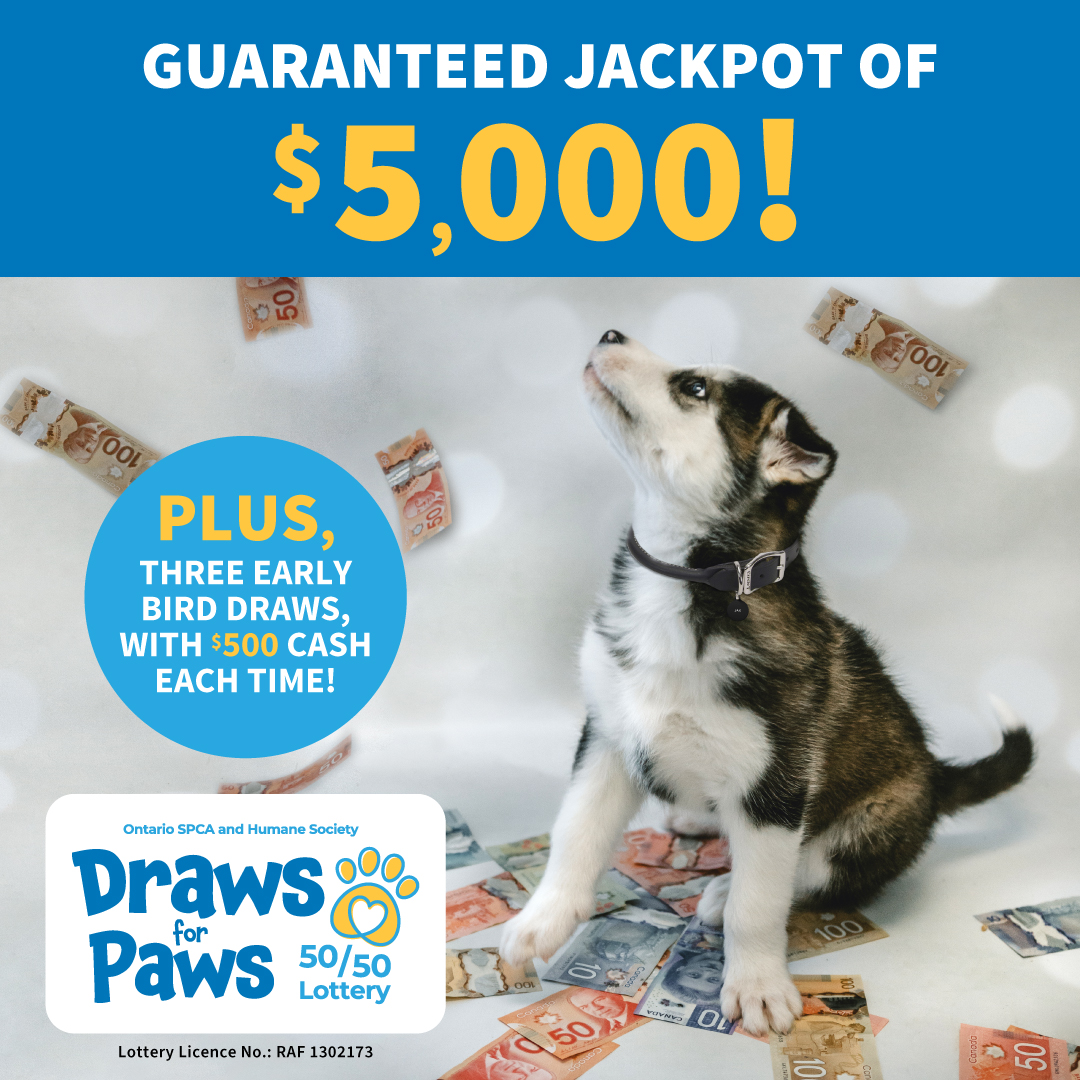 Whether you play to win or just play to help animals in need, there's a whole lotto reasons to play the Ontario SPCA and Humane Society's Draws for Paws 50/50 Lottery running until April 28. It's a rewarding way for people across the province to make a real difference in the lives of animals who need our help – plus, you might just be our lucky grand prize winner!
There is a guaranteed jackpot of $5,000, but the more tickets sold, the higher the jackpot will grow. Read to the end of the blog to find out how much the winner of our inaugural 50/50 lottery won. Spoiler alert; it was big!
Are there extra op-purr-tunites to WIN?? WOOF YEAH! Get your tickets early to be entered into the Early Bird Draws taking place March 30, April 6 and April 20, and you could be the lucky one to fetch $500 in winnings! Imagine how many treats or toys you could buy your favourite furry friend with that extra spending money!
Every time you play, you'll be helping animals in need.
Changing lives, one ticket at a time
The Ontario SPCA is a registered charity that does not receive annual government funding. We depend on generous supporters to change the lives of vulnerable animals. The Draws for Paws 50/50 Lottery puts the fun in fundraising! It's a new way for us to raise the necessary funds to provide urgently needed care and shelter for homeless animals at our 13 animal centres, and support animals in communities across Ontario through mobile spay/neuter programs, animal transfers, pet food distribution and humane education.
Best of all, it's easy to get involved. Tickets are purchased online at ontariospcalottery.ca That's it! It's easier than convincing your dog that his game of fetch is over and it's time to come inside.
You'll get the excitement that comes with the chance of winning a BIG cash prize, plus you'll feel good knowing your ticket purchase will change the lives of animals in your community.
A note from the last lottery's winner
Joanne and her 13-year-old brown tabby Twil were the winners of a woofing $63,235 as the result of our first ever 50/50 Lottery in November 2022.
Joanne has been a cat parent her whole life and has been a donor/supporter of the Ontario SPCA for quite some time! She was very excited as this was her first time ever winning a prize.
"My favourite thing about my cat is that he seems to always say 'I go where you go, Jo' and is always with me…not on my lap, but always near me," she says. "I have always loved cats and have had them my whole life."
Lottery License No. RAF1234110
Categories
Testimonial
I stand behind SPCA with my monthly gift
I stand behind SPCA with my monthly gift. I am so happy there are folks like you to care for those who can't help themselves.  My family and I have had animals all our lives and know what a comfort they are.  Thank you SPCA.
-Dorothy
Sign up for news and updates
Thank you for joining our online community.