Get to know Ontario SPCA and Humane Society RVTs this month!
by Emily Cook | Interesting | October 2, 2020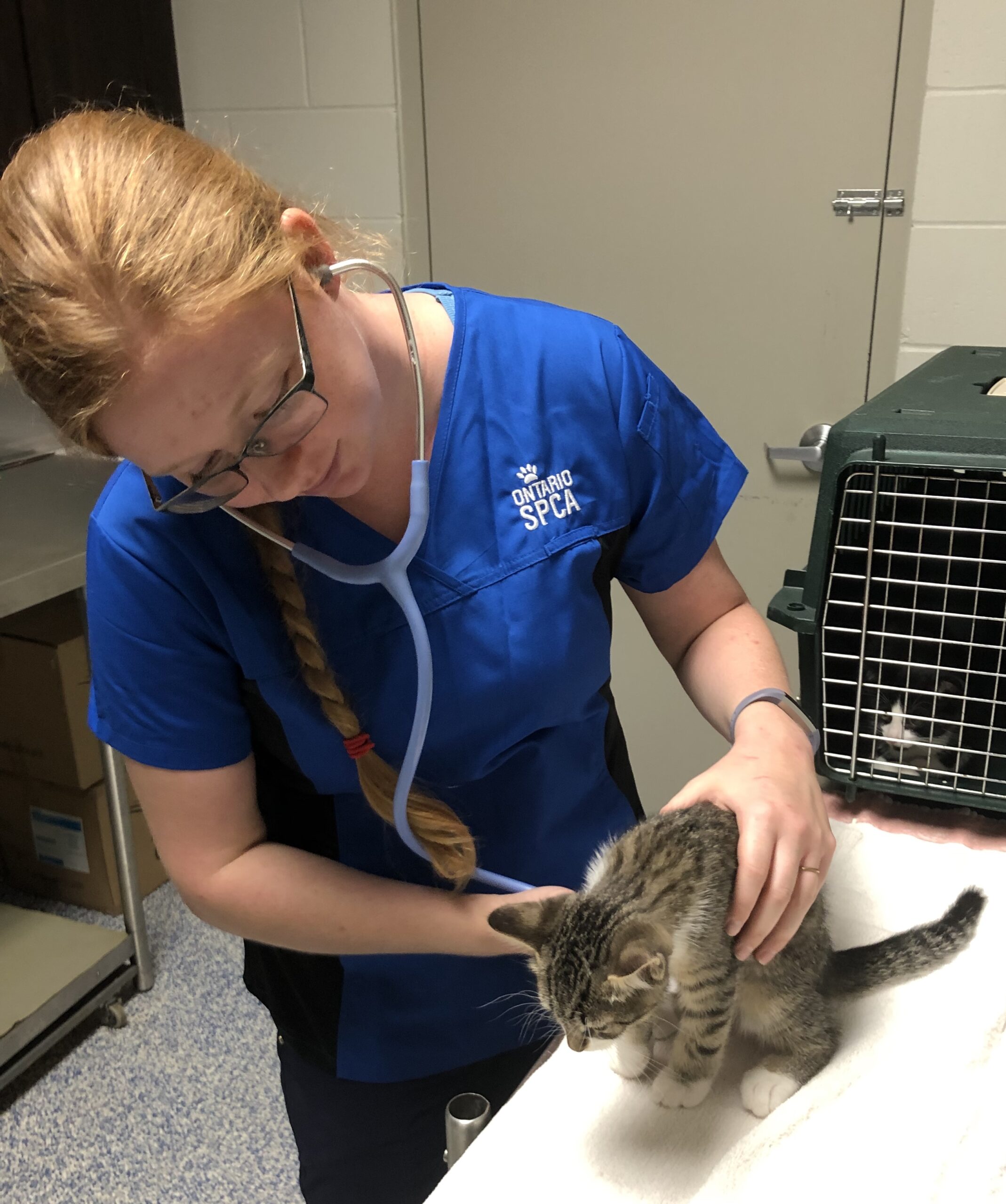 October is Registered Veterinary Technician (RVT) Month! Throughout the month we are recognizing all the dedicated RVTs who work with our animal centres across the province. Our RVTs are an important part of our animal health care team and we want to celebrate them! We hope you'll join us in this celebration!
What role do RVTs play at our animal centres?
RVTs are an integral part of the Ontario SPCA and Humane Society team. They help make a plan for each individual animal during their entire stay with us-from the time they arrive to the moment they find their forever homes. RVTs monitor both the physical and behavioural health of all animals in our care and continually reassess plans to help keep the animals happy and healthy!
The role of an RVT in an animal centre is to:
Perform daily assessments, where RVTs look at the physical and behavioural wellbeing of the animals, ensuring that the 5 freedoms are being met for each animal every day.
Identify early signs of illness and follow veterinary direction to treat animals requiring medical care.
Conduct intake exams (physical examinations) when animals arrive at our centres, identifying abnormal signs and triaging to ensure animals are receiving proper veterinary care.
Implement and schedule daily enrichment activities for all animals which includes games, training, and so much more.
Join us in the celebration
To celebrate RVT month, we've got some exciting opportunities coming up. You'll get to meet the team, go behind the scenes to see how animals are cared for, and learn some tips and tricks to improve the lives of the animals you love!
Here's what you can expect:
Introducing our RVTs: Every Monday, we'll be sharing a video on our social media pages highlighting a different RVT from across the province.
Instagram takeovers: On Wednesdays, follow our Instagram page and watch our stories for a behind-the-scenes look at a day in the life of a shelter RVT and how they care for animals.
Fear Free Fridays: On Fridays, we'll be sharing blog and video content highlighting how the Fear Free Program is used in our animal centres to improve the quality of life for animals in our care. This info you can use at home with your own fur babies!
Did you know? There are over 9,000 RVTs across Canada. Visit rvtmonth.ca to download the app and send a message to an RVT.
Join us in celebrating and thanking all of our hard-working RVTs out there making a difference!
If you'd like to become part of this innovative, exciting, and engaging RVT team with the Ontario SPCA, please contact Mary Pecarski at mpecarski@ospca.on.ca.
Categories
Testimonial
Thank you so much for all you do
Thank you so much for all you do every day to rescue animals in need. I can't imagine the terrible situations that you see every day.  It is great that you have the heart to help. Keep up the good work.
-Betty
Sign up for news and updates
Thank you for joining our online community.