Gifts that make a difference for animals
by Ontario SPCA and Humane Society | Interesting | December 1, 2022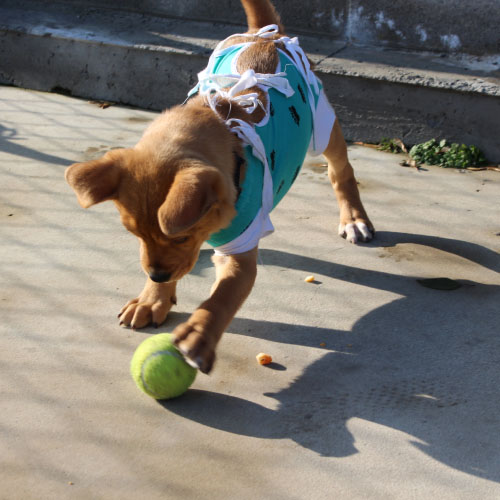 The holiday season is upon us, which means hustle and bustle around the animal centres, holiday themed treats, warm cozy beds, and best of all, the gift of adoption. It's also the time of year when people want to lend a helping hand and make a difference in the community, and for that, we are extremely grateful.    
As a registered charity that does not receive annual government funding, Ontario SPCA animal centres rely on the generosity of donors to provide comfort and compassion to animals in need in communities across Ontario. If you are looking for ways to make a difference and support the work we do for  animals, there are many ways to get involved. Here are just a few of the ways you can make tails wag over the holidays and all year long: 
Social Media: Sharing our appeals, messages, tips etc. helps animals get adopted quicker, reunites lost animals with their families, raises urgent funds for animals in need and so much more. Follow us on Facebook, Instagram and Twitter to help spread the word. 
Wish List: Each animal centre has a wish list of needed items. Things like cat/dog toys, gift cards, cat litter, and general shelter supplies are always appreciated. 
Shop Paws & Give™: It's a win-win! The Ontario SPCA's Paws & Give™ online giving store provides a variety of gifts for the animal lover in your life. From holiday apparel to candles and toys, as well as symbolic gifts to help animals in our care, there's a gift idea at every price point. And the best part, every Paws & Give™ purchase gives back to animals in need. 
Hosting Fundraisers: Third Party events are pivotal in raising funds for animal care. From barbecues to garage sales, golf tournaments to paint nights, or donating a portion of proceeds from a product or service, the animals are grateful for your support! Learn more. 
Volunteer: The gift of time is so valuable to the animals and the animal centre teams. There are many volunteer opportunities available, from fostering and animal enrichment, to humane education support, and everything in between. 
Donate: Monetary donations help us provide care for the animals in our centres and support animals in our communities. As a registered charity that does not receive annual government funding, donations are critical to help us change lives.  
Adopt: The ultimate gift is a loving home. If you've been thinking of adopting, iAdopt for the Holidays is the perfect time to welcome a new furry friend into your life. With many people spending time at home with family over the holiday season, you can help your new furry friend adjust.  Our goal is for every adoptable animal to have a loving home. Plus, there are many benefits to the adopter as well, like companionship and unconditional love. 
There are so many ways you can help an animal in need this holiday season, and we appreciate all gestures small and large. The team at Ontario SPCA is always happy to discuss custom projects that benefit the animals in our care. Visit our How You Can Help page for more ideas.  
Categories
Testimonial
I stand behind SPCA with my monthly gift
I stand behind SPCA with my monthly gift. I am so happy there are folks like you to care for those who can't help themselves.  My family and I have had animals all our lives and know what a comfort they are.  Thank you SPCA.
-Dorothy
Sign up for news and updates
Thank you for joining our online community.