Happy Easter! Safety tips, bunny adoption, and animal-grams
by Ontario SPCA and Humane Society | General Pet Care | March 29, 2018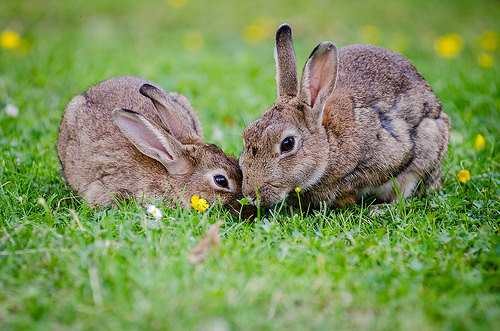 Easter is just around the corner! As you get ready for a weekend with family and friends, here is some information you may find useful.
Top Four Easter Hazards for Pets
Chocolate. According to the APCC, most exposures to chocolate they get calls for happen around holidays like Halloween, Christmas and Easter. The dangers of chocolate include; gastrointestinal upset, pancreatitis, stimulation to the nervous





system (hyperactivity, tremors and seizures) and elevation in heart rate. The darker the chocolate is, the lesser the likelihood it will harm your pet. Other ingredients the APCC suggests to keep out of your pet's reach include raisins, macadamia nuts, xylitol and alcohol.

Plastic Easter Grass. Pets aren't able to absorb plastic Easter grass, so when consumed, the material can lodge in their gastrointestinal tract and cause serious problems. Signs for concern the APCC notes includes vomiting, diarrhea, decrease in appetite, lethargy, and stomach pain.
Adopting a bunny
If you are considering adopting, it's important to remember that a pet is a long-term commitment, and your whole family needs to be prepared for it!
Here are some tips from our blog, 9 Things to know before adopting a bunny – to give you an idea of things you need to think through with your family:
1. Rabbits aren't the best starter pets for young children
Rabbits are quite delicate and frighten easily. If a rabbit isn't handled correctly, the rabbit may kick, bite or scratch out of fear. When being picked up, rabbits need full support on their front and hindquarters, otherwise they can seriously injure their spine. Never pick up a rabbit by their ears as this is very painful and cruel.
2. Not all rabbits get along
Before getting a second rabbit, it's important that the two rabbits meet on neutral ground to make sure they get along. Most shelters have an area where you can introduce the two animals. Rabbits that are housed in the same cage need to be spayed/neutered to reduce aggressive behaviour and mating.
See tips 3-9 on the full blog post.
Animal-grams that give back!
This Easter, spread the love by sending someone you care about one of these adorable animal-grams!
Personalize your very own bunny, kitten or puppy-gram e-card to send to family and friends. By making your donation, you're giving an animal in need a second chance at a happy life! Visit pawsandgive.ca to send yours today.
Categories
Testimonial
We have supported the OSPCA since 1951
We have supported OSPCA since our arrival in Canada in 1951.  Keep up the greatest  T.L.C. for animals.
-Paul & Des
Sign up for news and updates
Thank you for joining our online community.