Have fun and lose weight with your dog!
by Emily Cook | Dog Care | November 5, 2012
Spending time running, walking and playing with your dog is a great way to enjoy the outdoors together. A fitness group in the U.S. has recently taken things a step further, and created a class that caters to owners who want to lose weight and enjoy time with their furry friends.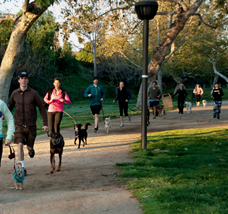 Thank dog! Bootcamp incorporates obedience training for dogs and circuit training for their owners in this exciting program. Many pet owners who are looking to lose weight may not enjoy spending their free time after work away from their dog again by going to a gym. This type of program is a great way to combine weight loss alongside their pet!
If you're interested in learning more about the Thank dog! Bootcamp, they have two  locations in Milton and Burlington for pet owners. Click here for more information.
Categories
Testimonial
Wish to thank everyone involved
I wish to thank everyone involved in the care and rescue of animals, especially volunteers.
Agnes
Sign up for news and updates
Thank you for joining our online community.