Heartworm Awareness Month
by Emily Cook | General Pet Care News | April 16, 2013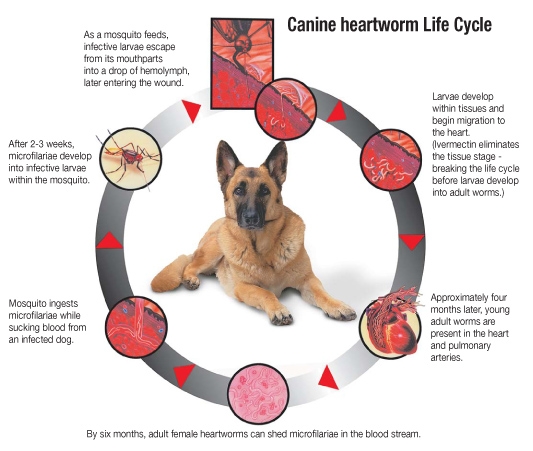 As many pet owners know, the spring marks the time for annual vaccinations, veterinary check-ups and reviewing your pet's heartworm and flea/tick prevention program. We know that heartworm prevention is critical to your pet's health, but many owners don't fully understand what it is, why is is dangerous and how to prevent it. The AVMA recognizes April as National Heartworm Month to help raise awareness about heartworm.
Heartworm is a disease that can be fatal if left untreated. It is spread by an infected mosquito who bites the dog, an after exposure it takes approximately seven months for the larvae to mature into adult heartworms. They reproduce in the lungs, heart and blood vessels, and have a substantial life span of 5-7 years.
Signs of heartworm can include coughing and your pet becoming increasingly winded by exercise. Lack of oxygen will cause a decrease of blood supply to the brain, becoming fatal.
Thanks to simple and inexpensive preventative medication, heartworm is easily preventable. This can include a chewable tablet or topical liquid that is administered once a month (or as directed by your veterinarian).
Check out the AVMA's informational video on heartworm and heartworm prevention below!
Categories
I stand behind SPCA with my monthly gift
I stand behind SPCA with my monthly gift. I am so happy there are folks like you to care for those who can't help themselves.  My family and I have had animals all our lives and know what a comfort they are.  Thank you SPCA.
-Dorothy
Sign up for news and updates
Thank you for joining our online community.