Highlighting Friends for Life! Walk Fundraisers – Lee from Sudbury!
by Ontario SPCA and Humane Society | Campaigns | June 28, 2018
The Ontario SPCA is able to do the work we do because of incredible supporters across the province. Lee is one such advocate.
Lee has been supporting the Friends for Life! Walk™ in Sudbury since 1993.
"I saw an ad in the local newspaper that said if you raise $75 you got a t-shirt and well, I really wanted that t-shirt," recalls Lee.
In her first year, she raised an incredible total of $610. Fast forward 24 years and Lee is still an active participant for the walk in the Sudbury area. For the past 8 years, Lee has been the Top Fundraiser in the province, raising a total of over $79,000. In 2017 she raised an incredible amount of $8,693.90, making her the top fundraiser for the past 9 years!
THANK YOU Lee and to all those who stand with you, fundraising for animals across the province.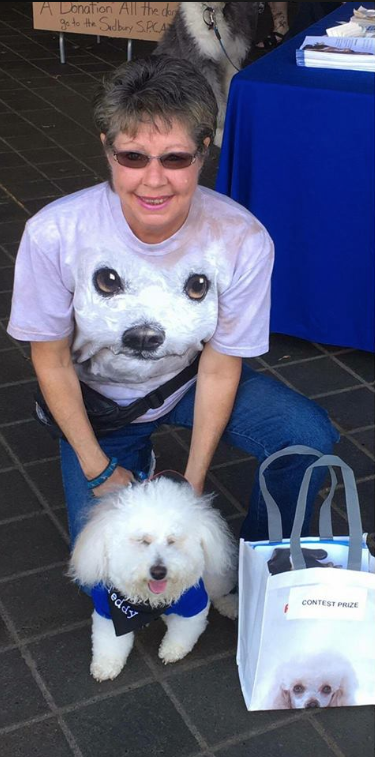 Find a Friends for Life ! Walk™ near you!
Walks are held on both September 22 and 23rd, so be sure to check with your local participating SPCA or Humane Society for their specific walk details. Whether you bring your furry friend or not, it's sure to be a fun time.
More than just a fundraising walk, the Friends for Life! Walk™ is a fun-filled day that offers something for everyone. From barbecues and live music to pet vendors and activities for the kids, it's the purr-fect way to spend a day with friends and family who share a love of animals.
This event is your opportunity to help the thousands of animals at the Ontario SPCA, who are waiting to find their own friend for life!
Categories
Testimonial
Your dedication and support
It is with and because of your dedication and support that helpless animals are being saved. Thank you for everything.
-Wendy
Sign up for news and updates
Thank you for joining our online community.