Hip replacement doesn't slow puppy down
by Ontario SPCA and Humane Society | Interesting | September 7, 2023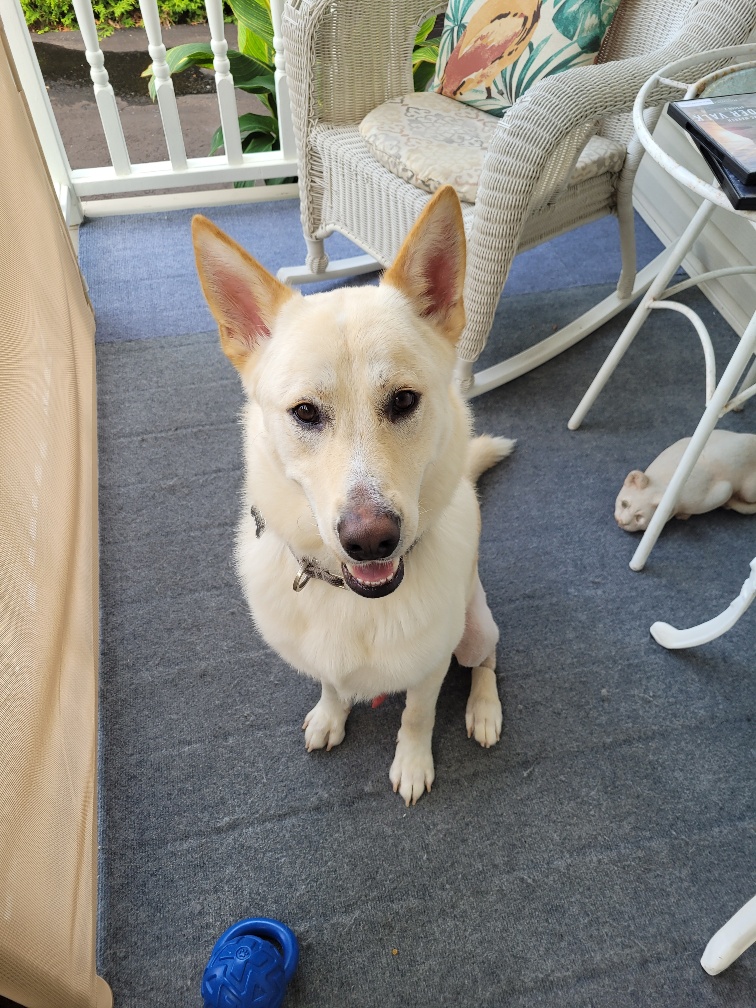 Skylar came into the care of the Ontario SPCA and Humane Society in need of veterinary care to treat a serious injury to his left hip.  His family made the difficult decision to ask us to help care for their puppy and find him a loving home, as they knew they wouldn't be able to meet his long-term needs. 
Once in the care of our animal centre, the dedicated team promptly had Skylar examined by a veterinarian. X-rays showed that both of Skylar's hips were in serious condition. The year-old Shepherd cross was diagnosed with severe hip dysplasia in both hips. His left hip was so affected that it was luxated, which is essentially a dislocated hip. The left hip was the first priority; Skylar would need a complete hip replacement.   
Astounded by X-ray results
Both the veterinarian and animal centre team were astounded by the X-ray results. Other than his unusual gait and loss of hind muscle mass, it would have been difficult to detect that he had problems with his hip joints. Skylar is an extremely happy and active pup who loves to run and play, despite the pain he had obviously been enduring. 
As both hip surgeries are major procedures, the veterinarian recommended that they be done separately with time between to recover. With the left hip replacement booked the animal centre team began searching for his perfect foster-to-adopt family.  
They found a match in Cindi, who had ironically adopted a dog named Skye a few years earlier from the Ontario SPCA. Sadly, Skye had since crossed the rainbow bridge, so Cindi was looking for another canine companion. 
Skylar meets his match
"It wasn't just the similar names, but the facial expressions, the feel-good vibes and the knowledge that Skylar, just like my earlier Skye, needed to be treated just like any other dog," says Cindi.   
Despite his upcoming medical needs, she had no doubts or worries about Skylar being the right dog for her. 
"Bionic" hip will help Skylar regain 90% joint function 
Skylar underwent his first surgery on July 12. He now has a new left hip, which is expected to help Skylar regain 90% joint function! He will remain in the loving care of Cindi during his eight-week recovery period. At that point, he will return to the veterinary clinic for follow-up x-rays to determine whether additional treatment is needed for his other hip. 
"The surgeries, the work involved in his recoveries, and administering his medications is fine," says Cindi. "I accepted doing what is required because with one look at Skylar, I knew he was my dog! Besides, I have two shoulder replacements so we can be 'bionic' together! I also know all about rehabilitation, so we are a perfect fit!"  
Providing Skylar with a mobile and pain-free life would not be possible without our incredible animal care team, the dedication of fosters and adopters like Cindi, the amazing care provided by Skylar's veterinarian, and our generous donors who make these life-saving stories possible.  Together we are changing the life of this special dog and ensuring that he gets the happy future he deserves. 
Looking to adopt?
Looking to change a life by adopting? Check out the animals currently ready for adoption to find your perfect companion.  
If you're not in a position to adopt, please consider making a donation to give more animals like Skylar the second chance they deserve. Donate today.  
Categories
Testimonial
Three cheers for the volunteers!
Three cheers for the volunteers! Keep doing wonderful work, thank you!
Doreen
Sign up for news and updates
Thank you for joining our online community.