Holiday Safety Tips
by Emily Cook | General Pet Care | December 13, 2013
The holidays are an exciting time for people and pets alike. While this is indeed a super busy time for everyone – with all the holiday shopping, house decorating and meal making – it's essential to take the time to consider how the holidays may affect your pets.
Here are some pet precautions you can take to ensure both you and your pet can enjoy the holidays to it's fullest:
Avoid tinsel where possible. Cats and dogs are attracted to this and if swallowed it could cause harm.
If you're giving gifts to your pets, choose gifts that are safe for pets. Some pets like to eat the stuffing found in toys. If this is the case with your pet, it's best to avoid these types of toys.
Is your Christmas tree secure? If it falls over and pets happen to be in the area, it could cause serious injuries. Make sure it's sturdy and consider fastening it to the wall.
Holiday plants and flowers add lots of atmosphere to any home. But did you know, Holly can cause pets to suffer nausea, vomiting and diarrhea? Mistletoe and poinsettia can cause stomach upset. It's bets to choose alternatives to these when decorating your home in order to keep it pet-friendly.
We bet your holiday meal smells delicious! Remember: it also smells delicious to your pets! They may be tempted to sneak a bite or two of their own so consider keeping pets in a separate and comfortable room while serving and eating your holiday meal.
Alcoholic drinks also pose dangers to pets. Like human food and chocolate, alcoholic beverages are not meant for pets.
Keep wires, batteries and glass or plastic ornaments out of pet's reach. These items pose hazards to pets. Also be sure not to leave lot candles unattended around pets.
For more pet safety tips for the holidays, visit our fact sheet here or consult the ASPCA's fact sheet.
Still searching for the perfect holiday gift? Our Paws & Give™ online catalogue has many great options.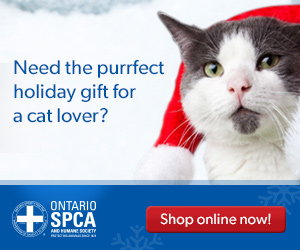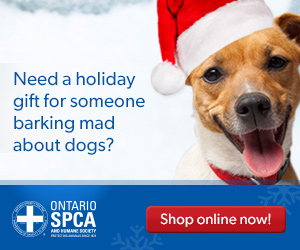 Save an animal's life while crossing names off your holiday shopping list with Paws & Give™. 
Categories
Wish to thank everyone involved
I wish to thank everyone involved in the care and rescue of animals, especially volunteers.
Agnes
Sign up for news and updates
Thank you for joining our online community.