Homeless dog gets a second chance to help others
by Emily Cook | Happy Tails | July 2, 2020
From being rescued from a Quebec shelter on the verge of capacity, to being adopted into a loving home and becoming a certified therapy dog, Nigel the Spaniel has quite the story to tell.
Nigel was brought into a Quebec shelter as a stray and, sadly, he was never claimed. As the shelter reached its capacity, they knew they needed help to find him a home. That shelter contacted the Ontario SPCA and Humane Society for assistance, and a transfer was organized to bring Nigel to the Ontario SPCA Stormont, Dundas & Glengarry Animal Centre in Cornwall.
When Nigel met his forever family, we knew he was about to live his best life. And like so many animals, particularly those who have endured hardship, we knew Nigel was also going to change the lives of his adopters.
When Nigel met his forever family, we knew he was about to live his best life.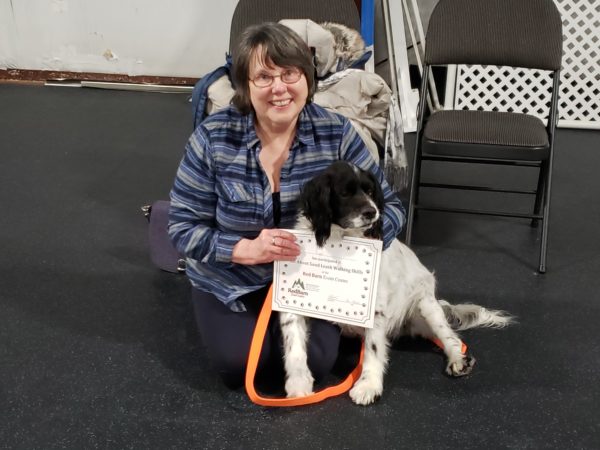 Christine and Bruce Melrose are active volunteers at the Ontario SPCA Midland & District Animal Centre. They walk dogs and help with animal transports through the Ontario SPCA's Support the North Program. After their 15-year-old dog sadly passed away last fall, the Melroses had been searching the Ontario SPCA's adoption site for a new furry friend. That's where they stumbled upon Nigel.
"First of all, it was his photo – photos are important, and he ticked all our boxes," says Christine.
When the Melroses called the Ontario SPCA Stormont, Dundas & Glengarry Animal Centre to learn more about Nigel, centre manager Carol Link described their perfect companion. The couple jumped in their car and drove five hours and more than 500 kilometres from their home in Tiny, which is located near Midland, to meet Nigel in Cornwall.
"We were going to change his name to Miles, because of the distance, but he responded to Nigel, and Nigel is a good name," says Christine.
Love at first sight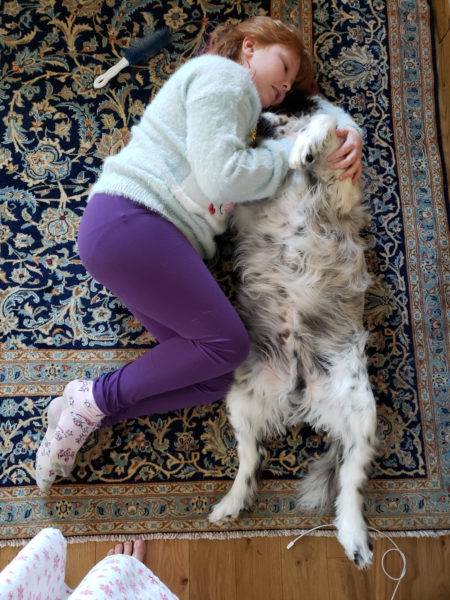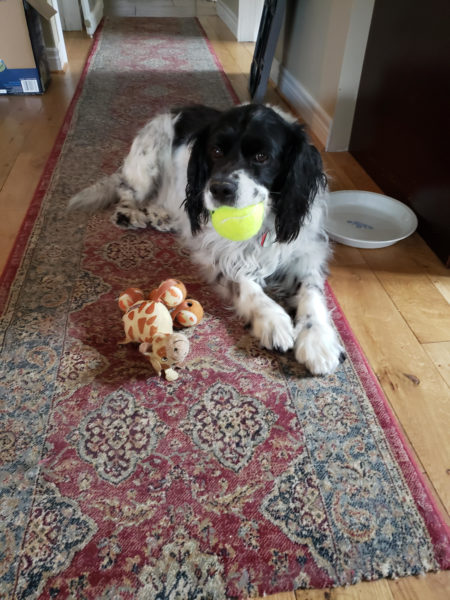 Christine says they fell in love with Nigel right away. "He was affectionate and playful; what a find!" she says.
Now in their 70s, Christine and Bruce were looking for an older, mature dog. They also wanted a dog with the potential to become a therapy dog. As a retired nurse, Christine wanted to be able to volunteer her time at schools, hospitals and nursing homes to share the benefits of animal companionship.
"The sky is the limit for the amount of volunteering he and I can do," says Christine. "He's a cuddler and so playful. He was made to be a therapy dog too. He loves people."
Nigel gets along well with Christine and Bruce's eight-year-old Lab-Shepherd cross, who was depressed after his late fur sibling passed away. The new addition to their family has brought joy and healing to his fur sibling, and happiness to the Melroses and their grandchildren. Plus, Nigel will continue to touch lives as a therapy dog.
"He fit in with our family immediately, like he belonged here," Christine says. "He's had a positive effect on all our moods, especially with staying in (due to COVID-19). He makes us laugh 10 times a day with his antics. It's such good canine energy."
Categories
Testimonial
Your dedication and support
It is with and because of your dedication and support that helpless animals are being saved. Thank you for everything.
-Wendy
Sign up for news and updates
Thank you for joining our online community.