How local businesses are keeping pets safe this summer
by Ontario SPCA and Humane Society | Campaigns | July 31, 2023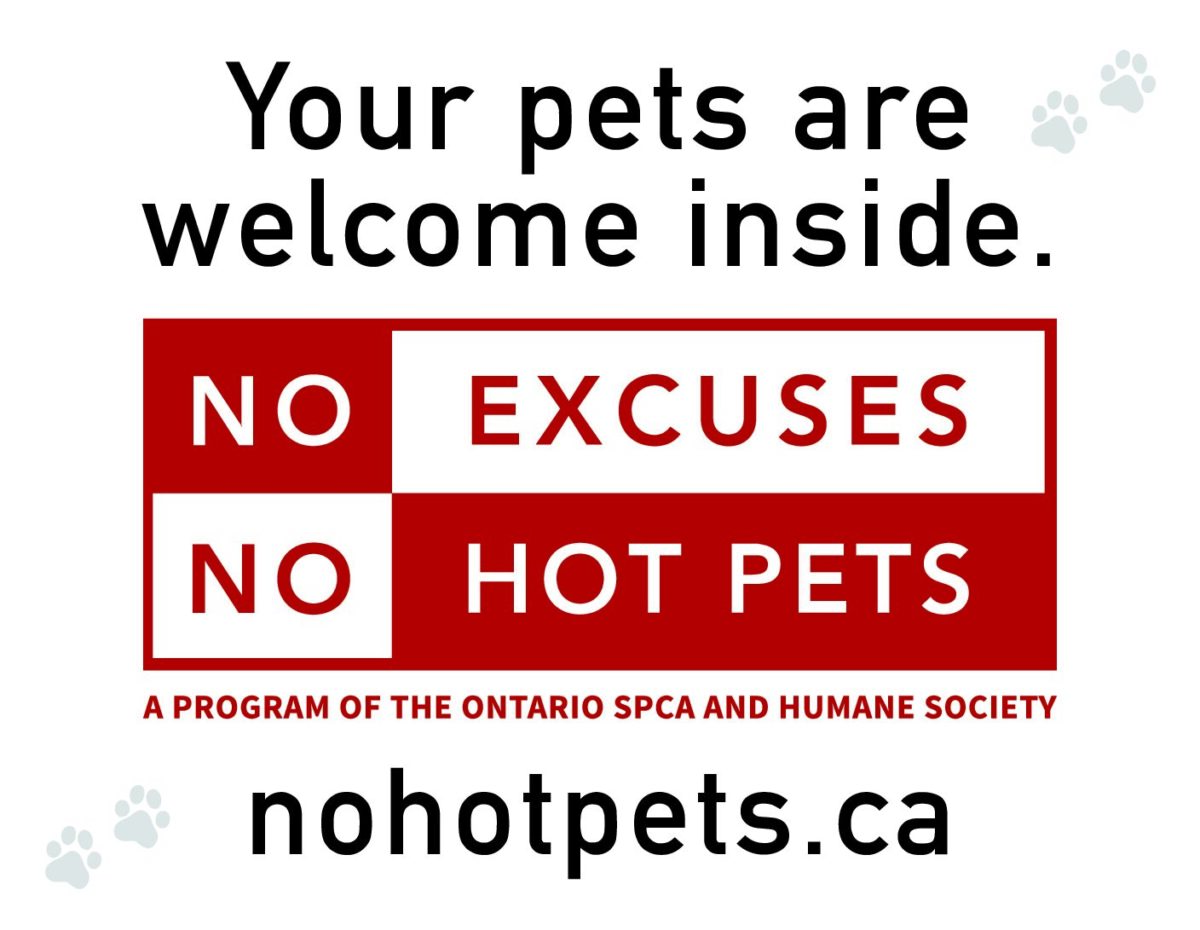 Keeping pets safe during the summer months is a whole community effort. If you're a local business looking to promote keeping pets safe this summer, we have a great way for you to get involved! 
Parked cars can quickly reach deadly temperatures, even on relatively mild days with the car parked in the shade and the windows open. This summer, the Ontario SPCA and Humane Society and participating SPCAs and humane societies across the province are asking you to help keep animals safe. As a local business, you can participate by signing up for a free window poster to display at your store letting customers know their pets are welcome in your store. CLICK HERE. 
What local businesses have to say
We already have a number of businesses who have signed up for their poster this year. Some businesses, such as RONA in North Bay, have participated yearly in the campaign. 
"We have always been supportive of the No Hot Pets cause and have been doing this for many years and have received much positive feedback. The customers are relieved that they are able to bring their fur babies in the store and browse with no worries. We even supply their companions with healthy treats," says Jeanne Ranger of RONA. "We have a long list of regular, happy pets who are very excited when they enter our parking lot and we can hear their happy cries. We have become their second family!" 
Both large stores like RONA and small shops like George & Alice Antiques & Collectibles in Windsor agree being pet-friendly supports their business and their customer experience. 
"We always allow pets in our store no matter what season. This has impacted our store immensely by people just walking their fur babies, not expecting to shop, but they stop in and help increase the sales," says Larry & Judy Trealout of George & Alice Antiques & Collectibles. 
How can you get involved?
Visit nohotpets.ca and fill out the online form to receive a free No Hot Pets poster to display in your window, letting your community know your business is pet friendly.  
We also invite you to take the pledge! Visit nohotpets.ca to pledge that you will never leave an animal unattended in a vehicle and receive a free decal for your car window, while supplies last. If you can't take your animal with you, leave them at home where they are safe. 
You can also help save an animal's life by sharing the No Hot Pets message on social media using the hashtag #nohotpets, asking your municipality to enact a bylaw to prevent animals from being left unattended in vehicles, and supporting businesses that welcome animals in their store. Visit nohotpets.ca to learn how you can get involved. 
Categories
Testimonial
Dogs only ask for your love and attention
Dogs only ask for your love and attention, nothing else. Thank you for everything you do!
Christine
Sign up for news and updates
Thank you for joining our online community.