How to bake 'Pupcakes' for animals in need
by Ontario SPCA and Humane Society | Campaigns | February 7, 2019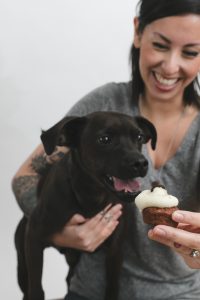 Get out your apron, measuring spoons, and mixing bowls – it's that time of year again! The sweetest day of the year is almost here: National Cupcake Day™ for SPCAs and Humane Societies is coming up on Monday, Feb. 25 and you're invited to help "bake" a difference for animals in need by hosting a Cupcake Day Party for your animal-loving friends anytime throughout January or February.
The seventh annual National Cupcake Day is the most delicious way to show your support for animals in need!
You can register today (it's free) and start planning your own Cupcake Day party in support of our furry friends who have been abused, abandoned, or are in need of new homes.
All you have to do is whip up (or buy) some delicious treats (for pets or humans), and invite your co-workers, friends and family to attend in exchange for a donation to your local SPCA or Humane Society.
Here are some dog-friendly "pup-cake" recipes to get your baking juices flowing:
1. Treat your pup with these dog-friendly Peanut Butter Pup-Cakes, by Damn Delicious, filled with pumpkin, applesauce and carrots topped with a peanut butter frosting!
2. Spoil the special pooch in your life with this Apple Cheddar Dog Cupcake recipe, by Food Fanatic.
3. How about some puppy-approved Banana Pup-Cakes by Morsels and Moonshine?
4.  These Grain-Free Mini Dog Cakes, from A Cozy Kitchen, will help you celebrate in style.
5. Or what about the full-size Spoiled Dog Cake Recipe from Love from the Oven?
Get involved and "bake a difference"! Visit nationalcupcakeday.ca to register to host a Cupcake Day Party on a date that's convenient for you.
Here's how you can get involved:
Register for FREE at

nationalcupcakeday.ca

Download your host kit online or self-pledge $25 to receive a host kit in the mail.
Customize your Personal Fundraising Centre online and ask your friends, family and colleagues to support your fundraising efforts.
Send your friends and family an email through your participant centre, encouraging them to show their support by donating online.
Plan your National Cupcake Day Party for home, work, school or wherever you think people would love to eat cupcakes.
Hold your National Cupcake Day Party on Monday, Feb. 25 or any day in January or February that works for you.
Bake, decorate and eat!
Save a puppy, kitten or pony and make everyone's day a little brighter with a scrumptious treat. What could be sweeter?
Categories
Testimonial
I stand behind SPCA with my monthly gift
I stand behind SPCA with my monthly gift. I am so happy there are folks like you to care for those who can't help themselves.  My family and I have had animals all our lives and know what a comfort they are.  Thank you SPCA.
-Dorothy
Sign up for news and updates
Thank you for joining our online community.