How to Choose a Pet Sitter
by Emily Cook | General Pet Care | August 24, 2015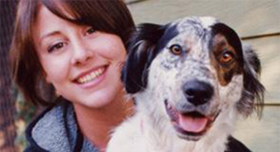 We think a lot about who to hire as a sitter for our children – but what about for our pets?
If you're going away, you may want to consider the benefits of a pet sitter, for both you and your pet.
What should I look for?
It's important to get information about your prospective sitter before they take the job. What qualifications do they have? Or services do they offer?
You can interview the pet sitter before they start with you and find out the following:
Can the pet sitter provide written proof that they have commercial liability insurance (to cover accidents and negligence) and are bonded (to protect against theft by a pet sitter or their employees)?
What training have they received?
Will the pet sitter record notes about your pet, such as their likes, dislikes, fears, habits, medical conditions, medications, and routines?
Is the pet sitter associated with a veterinarian who can provide emergency services?
What will happen if they experience car trouble or become ill? Do they have a backup?
Will the pet sitter provide related services such as in-home grooming, dog walking, dog training, and play time?
Will the pet sitter provide a written service contract spelling out services and fees?
If the pet sitter provides live-in services, what are the specific times they agree to be with your pet? Is this detailed in the contract?
How does your pet sitter make sure that you have returned home?
Will they provide you with the phone numbers of other clients who have agreed to serve as references?
If this is all good, it's still important for the pet sitter to meet your pet in your home. See if they feel comfortable with your pet, and if your pet likes them. Try the sitter out while you're away for just a short time so you can see how things go before leaving on a longer trip.
This is a snippet from the Ontario SPCA's 'Choosing a Pet Sitter' fact sheet, to learn more, see the full sheet HERE!
Categories
Thank you so much for all you do
Thank you so much for all you do every day to rescue animals in need. I can't imagine the terrible situations that you see every day.  It is great that you have the heart to help. Keep up the good work.
-Betty
Sign up for news and updates
Thank you for joining our online community.