How to successfully move homes with your pet
by Ontario SPCA and Humane Society | General Pet Care | June 18, 2018
Moving homes can be a very stressful experience, but it doesn't mean you have to leave your pet behind! Here are some great tips from the ASPCA to help make your transition as stress-free as possible for you and your pet.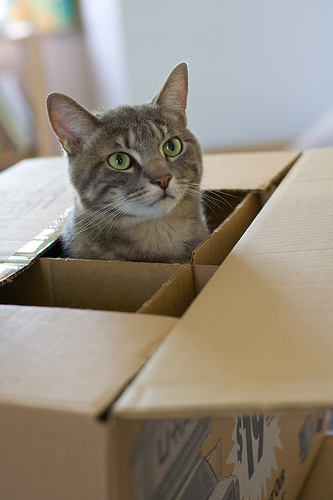 Choosing a New Neighbourhood, House or Apartment
The ASPCA advises you check out the neighbourhood before picking out your home to determine if it seems safe for your pets. Here they say you can also be on the lookout for neighborhood dogs that seem aggressive or are left unattended.
Looking at the square footage of your home – cats and dogs need different things:
For cats – the ASPCA advises you have space to build vertically to create shelving for them to explore.
Dog needs are more case-by-case, the ASPCA says: "Older dogs, puppies and dogs with house training issues will need to go outside often, which might be difficult in an apartment building with lots of stairs or a house without a yard."
Packing Up Your Home
ASPCA tips for packing your home include bringing in moving boxes early, and keeping your pets in a familiar room that you plan to pack last.
When the moving day arrives, they say to keep pets in a quiet room with the door shut, or at a friend's house. The last thing you want is for your pet to get scared and get out of the house while movers are loading the truck.
Planning Your Road Trip
You can prepare your pets for a road trip by gradually acclimating them to their crates. For information how to do this well, read the full article.
Pet-Proofing Your New Home
Once you've moved, the ASPCA says to look around your home and pet-proof it.
"Tuck away electrical cords, plug up nooks where your pet could get stuck, make sure that all windows have secure screens, remove any poisonous houseplants and confirm that no pest-control poison traps have been left anywhere in the house."
Settling In
A new space can be overwhelming for your pet to experience all at once. Here are some tips from the ASPCA for settling into your new home.
Start by allowing them to adjust to one room—their "home base"—which should include their favorite toys, treats, water and food bowls and litter box for cats.
When they seem comfortable, gradually introduce them to other rooms in the house, while keeping some doors shut.
You can relocate your cat's litter box from the "home base" room to a more permanent location by moving it slowly over time. Try moving the litter box one foot forward each day.
For more great pet tips, visit the ASPCA's website!
Categories
Testimonial
Thank you so much for all you do
Thank you so much for all you do every day to rescue animals in need. I can't imagine the terrible situations that you see every day.  It is great that you have the heart to help. Keep up the good work.
-Betty
Sign up for news and updates
Thank you for joining our online community.