Caring for community cats in winter
by Ontario SPCA and Humane Society | Interesting | October 16, 2023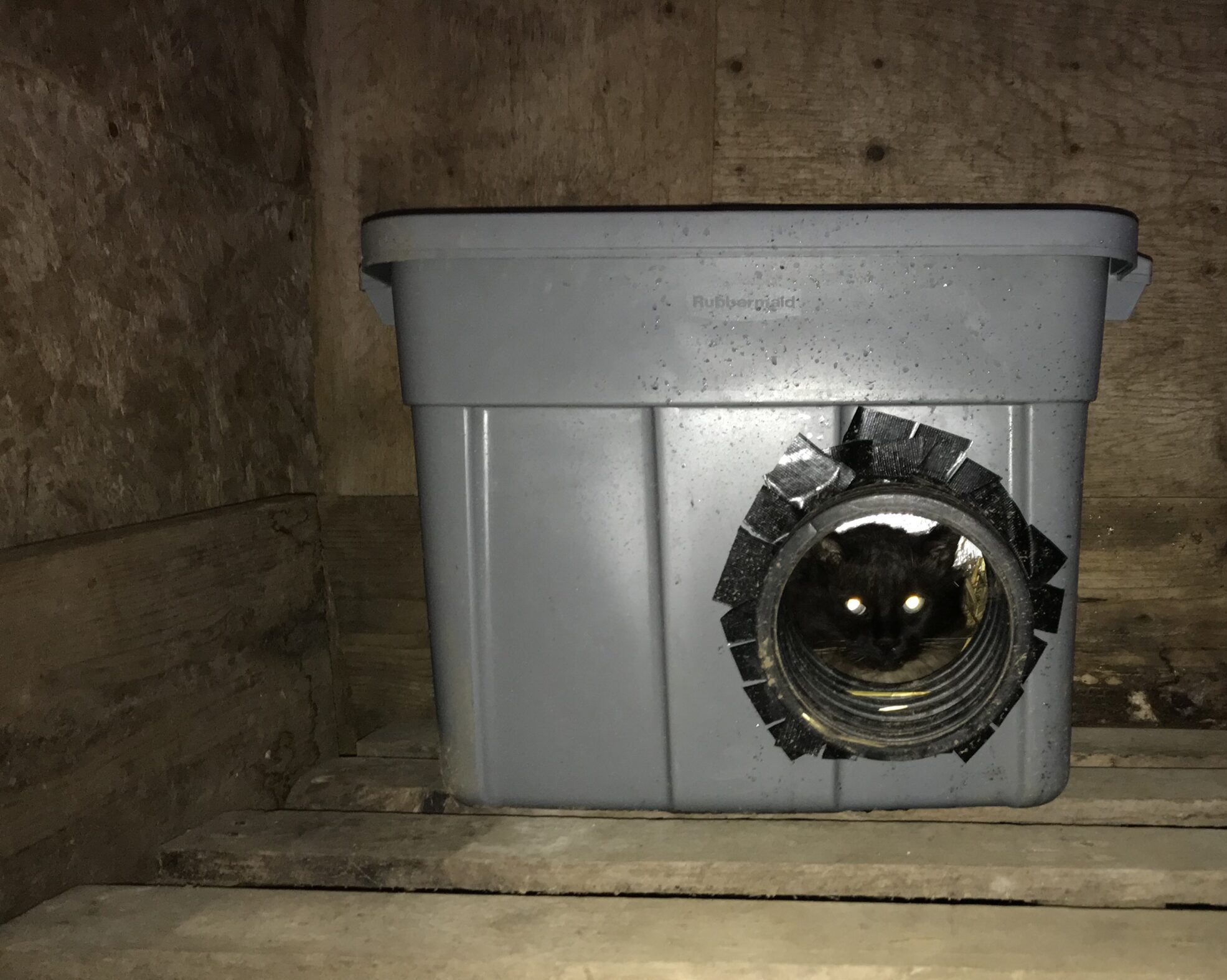 When the temperature drops, you may wonder what happens to the community cats that may live in your neighbourhood, which some people refer to as feral cats. While community cats are adept at surviving outdoors, the harsh winter months can make it very difficult for them to find food, water and shelter. Extreme winter weather can lead to frostbite and, sadly, some cats perish from the cold. 
If you'd like to support community cats in your neighborhood, one way is to provide them with a shelter to give them a safe, warm place during our harsh, cold winters. 
Feral cat shelters
Winter shelters are critical for feral cats living in frigid climates and can help them survive. A good shelter is one that's properly sized, well insulated, and waterproof. During heavy snowfall, make sure the entryway is cleared of snow so that cats can come in from the cold. 
Size:

During colder temperatures, feral cats may huddle together within a shelter to stay warm. The Ontario SPCA shelters are 76L totes and can house 1-2 cats.

 

Insulation:

Straw works best for insulation because it allows cats to burrow. Replace materials regularly to make sure insulating materials aren't moist or dirty. Avoid using blankets, towels or folded newspapers, since they absorb body heat. Hay is also to be avoided, as it can cause irritation and absorb moisture.

 

Building materials: There are several options for building materials, including wood, heavy cardboard or storage bins. If you would prefer to make your own shelter, you can follow the instructions in our

how-to video

. For detailed written instructions on building your own feral cat shelter see our

DIY – Step by Step: How to Build a Feral Cat Shelter

.

 
Location:

The shelter should be placed somewhere quiet and away from noise and traffic. An ideal location is somewhere where the cats will feel safe from predators. You may want to place it close to a wall to provide some protection from the wind.

 
Pick up a shelter today
Select Ontario SPCA and Humane Society locations are selling feral cat shelters this year for $20 each. Call your local animal centre to ask if they are participating in this program. 
Learn more about our feral cat support programs here. 
Categories
Testimonial
As an animal lover all the work you do
As an animal lover all the work you do to help ensure that every dog and cat can find their forever home that is filled with love is greatly appreciated.
-Louie
Sign up for news and updates
Thank you for joining our online community.