Improving the lives of animals one classroom at a time  
by Ontario SPCA and Humane Society | AnimalSmart Campaigns | September 1, 2023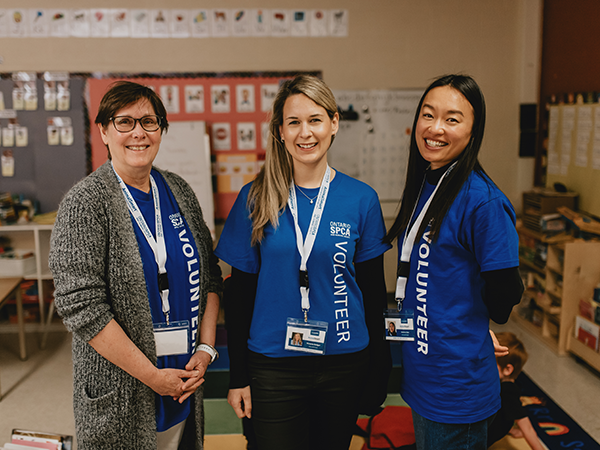 It's back to school time, which means the Ontario SPCA and Humane Society will be visiting classrooms across the province with its AnimalSmart™ humane education program. Our goal is to foster empathy, promote responsibility and inspire a connection with animals.  
Education is one of the most important ways we can improve the lives of animals. Through AnimalSmart™, we offer free presentations for elementary grades, featuring themes centered around animal well-being and animal emotions.  
What is AnimalSmart™? 
AnimalSmart™ is a student-centred, interactive humane education program aimed at fostering meaningful conversations about animals through discussions, videos and activities that connect with current school curriculum themes. 
We aim to ignite a passion for lifelong learning by empowering individuals with the knowledge and skills to make informed choices that positively impact the lives of animals. We believe in the power of education to inspire positive change and drive collective action towards a more compassionate future for animals! 
Get involved by becoming a volunteer 
As a registered charity, the Ontario SPCA depends on the support of volunteers to make programs like AnimalSmart possible. In celebration of the Society`s 150th anniversary, we want to recruit 50 new volunteers this month.   
If you're passionate about animals, want to make a difference in your community and enjoy working with, and inspiring children, please consider joining our volunteer team. Visit animalsmart.ca to learn more about becoming a volunteer 
This past year alone, Ontario SPCA educators have visited over 90 schools, conducted more than 200 presentations, and helped over 6,000 students connect with the animal world. To meet the goal of maximizing the reach of the AnimalSmart™ program, presentations are offered free of charge to elementary grades in schools in our animal centre communities.   
Stay up to date on AnimalSmart™ 
Sign up here to receive updates on AnimalSmart™ and other humane education information. 
Visit animalsmart.ca to learn more, become a volunteer, or book a presentation. Together, we can create a brighter future for animals! 
Categories
Testimonial
As an animal lover all the work you do
As an animal lover all the work you do to help ensure that every dog and cat can find their forever home that is filled with love is greatly appreciated.
-Louie
Sign up for news and updates
Thank you for joining our online community.