Meet Delilah – Our spunky, October Second Chances Calendar Star!
by Ontario SPCA and Humane Society | Happy Tails | October 1, 2018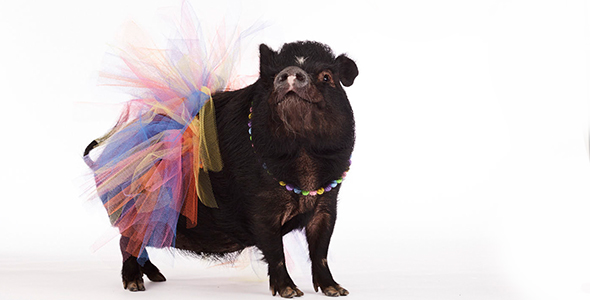 Meet Delilah, the lovable pig who loves belly rubs. Delilah came into the Ontario SPCA Orangeville & District Animal Centre after being found wondering alone on the side of the road. Her fur-mom was looking to add another pig to their family, when they found her adoption post online and knew it was fate.
Jessica her fur-mom says, "she loves to spend time outside or playing with treat puzzles, but really her favorite thing is to be with her family – whether they're watching TV or curled up with a book, she's always nearby hoping for a belly rub."
Will you support animals just like Delilah? Join as a monthly supporter today!
Delilah is now happily living out her days thanks to caring individuals like you, watch her video here.
Categories
Testimonial
I stand behind SPCA with my monthly gift
I stand behind SPCA with my monthly gift. I am so happy there are folks like you to care for those who can't help themselves.  My family and I have had animals all our lives and know what a comfort they are.  Thank you SPCA.
-Dorothy
Sign up for news and updates
Thank you for joining our online community.