Meet Owen – Adopt Me!
by Laura Therrien | Interesting | November 9, 2012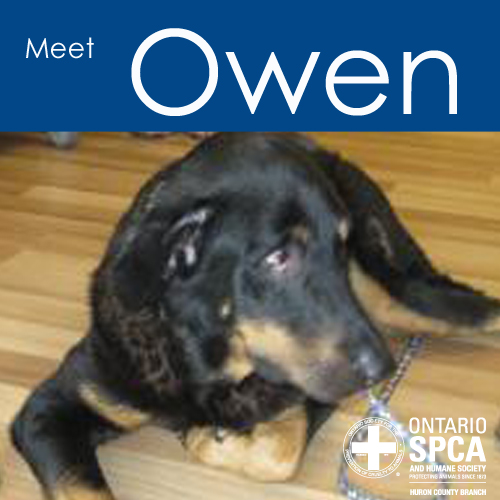 Owen is one of the most fantastic dogs that have come through the Ontario SPCA Huron County Branch's doors in a long time.   All the staff and volunteers have fallen completely in love with him.   However, Owen's story had a tough beginning.  He was picked up by Animal Control and taken to the poud.  The Animal Control Officer stated that the dog had severe aggression issues and should be put down.   He was emancipated, had hair missing on his back and around his eyes (due to a condition called Mange), and was quite weak and starving.
However, once Owen was in the shelter, he was soon labeled as a big softie and recovered from his malnutrition quickly.   It was apparently that someone once loved him as he was neutered, knew his commands and was house trained.   Owen is a gentle and loving dog who loves to be around people.
A foster family took him in and Owen has since been thriving as he waits for his permanent home.   He lives with other dogs and cats and a 3-year old child, whom he adores and sleeps by her bed every night.   He loves to play and fetch rocks in the water, but you will also find him curled up on the couch where he likes to take his naps.
This boy is around 5-years old, great teeth and in very good health.  He needs a place where he will be embraced by his new family, go places with them, go for lots of walks, sleep by their beds and be treated like part of the family.
For more information on Owen, please contact the Ontario SPCA Huron County Branch at 519-440-0250 or visit www.huroncounty.ontariospca.ca.
Categories
Thank you so much for all you do
Thank you so much for all you do every day to rescue animals in need. I can't imagine the terrible situations that you see every day.  It is great that you have the heart to help. Keep up the good work.
-Betty
Sign up for news and updates
Thank you for joining our online community.