Microchips Prove Their Worth… Again!
by Ontario SPCA and Humane Society | General Pet Care | March 23, 2015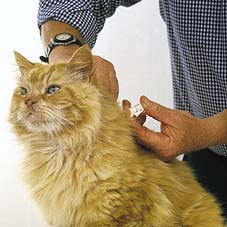 The importance of microchips seems to be underestimated, but once again they have proven their worth!
A client at one of our spay/neuter services brought her cat in to be spayed recently and when staff scanned her for a chip (which is done for all animals) she was not only chipped but was already spayed – by our Ontario SPCA Muskoka Animal Centre!
The cat had been found by an Ontario SPCA staff member in a snow bank last January and was adopted to a loving home in May but became lost again in June.
This lucky cat found her way to another loving home,and that is where everyone has agreed she will stay. The original adopters are happy to hear she is well cared for and her new family is thrilled to keep her! The mystery of what happened to her was solved with a happy ending and all because she was microchipped.
If your pet isn't already microchipped, seriously consider doing so. If your pet already has a microchip, make sure you keep the microchip company updated on your contact information.
The next time you find a stray animal, take it to your closest shelter or veterinary clinic and have them scan the animal for a microchip so you can help reunite them with whoever is missing them.
For more information on microchips, click here.
Categories
Testimonial
Thank you for looking after these animals
Thank you for looking after these animals — I would love to have them all in my house!
Ulla
Sign up for news and updates
Thank you for joining our online community.