Never give up hope – Ritchie and Scooter's story
by Ontario SPCA and Humane Society | Interesting | October 1, 2021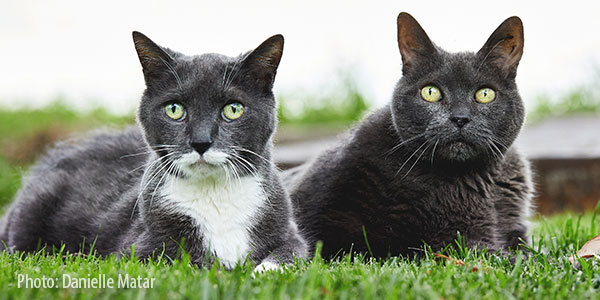 Ritchie had given up hope. Born with a deformity that left him unable to straighten his leg, he just wasn't catching the eye of adopters.
But when David and Fran came across Ritchie, they saw beyond his imperfections — they saw a beautiful soul with a lot of heart and a lot of love to give.
So as they finalized their adoption of Ritchie's brother, Scooter, they asked if they could make Ritchie a part of their family too.
That's all it takes sometimes – a look, a connection, a chance taken. Now Ritchie and Scooter are living out their golden years in their forever home with the family of their dreams – including a younger adopted brother, Ernie!
These two sweet cats had the opportunity to find their forever home, because of support from compassionate people like you. Sign up to contribute monthly and give more animals like Ritchie and Scooter hope that their forever family is on their way.
Interested in adoption? Visit our website to see available animals.
Categories
Testimonial
For every animal you save
For every animal you save, every animal who feels loved in their last moments, and for everything else you do; thank you and God Bless.
-Stephanie
Sign up for news and updates
Thank you for joining our online community.