New Dental Suite at the Ontario SPCA Centre Veterinary Hospital in York Region
by Ontario SPCA and Humane Society | Interesting | December 26, 2022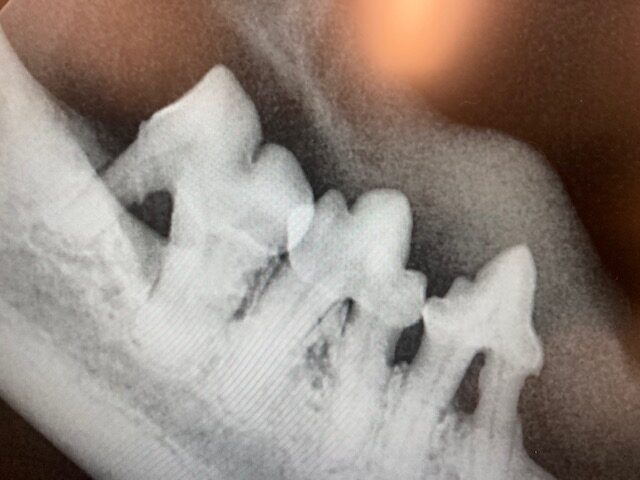 Daisy Mae is not feeling any more pain thanks to the new dental suite at the Ontario SPCA Centre Veterinary Hospital in York Region. On June 25, this sweet cat was the very first patient to be treated on-site. Daisy Mae had severe gingivostomatitis, an infection of the mouth and gums that leads to swelling and sores and needed to have all her teeth removed to help her live a healthy and comfortable life. 
Thankfully, she was able to get the care she needed quickly so she could find her loving forever home as soon as possible. Daisy Mae is one of the many animals who come into our care each year with dental disease, which can be extremely painful and have detrimental effects on their quality of life if not treated. Dental disease occurs when bacteria builds up above and below the gumline. This is most often evident to pet parents when they see plaque or their animal's breath starts to get worse. This can lead to gum disease and tooth abscesses. 
Hoagie receives care for dental disease
Hoagie was another cat who arrived at the Ontario SPCA and Humane Society in need of dental care. Hoagie was also suffering from dental disease and needed surgery to extract all but four of his teeth. Luckily, he too was able to get the care he needed through the new dental suite. Hoagie is still waiting for his forever home. 
"We often have animals surrendered into our care that have not had any dental care their entire lives," says Dr. Stephanie Black, Chief Veterinary Officer with the Ontario SPCA. "Dental care is a greatly needed service." 
Providing individualized care 
The Ontario SPCA recognized the need for an on-site dental suite to help lower the cost of care to prepare animals for adoption and ultimately help more animals in the province. Luckily, Ruth a generous donor, stepped forward with a donation in memory of her husband to make that dream a reality. 
Thanks to their substantial donation, the dental suite took shape at the Ontario SPCA Centre Veterinary Hospital located in York Region. Anesthetic gas lines were installed, the plumbing and electrical work was completed, and the digital dental x-ray unit set up. Everything was in place to welcome the first patients. 
Each animal that arrives at the Ontario SPCA receives an individual care plan. Now, when an animal needs dental work they can get it done quickly, which allows them to find their loving forever home as quickly as possible. Reducing adoption wait times means more space at Ontario SPCA animal centres to help other animals in need of sheltering and support. "Being able to do dental work within our organization has allowed us to help more animals," explains Dr. Black. "It is wonderful that we are now able to alleviate their dental pain quickly while also managing our costs of care  because we can now do it on-site." 
Animals needing dental work are put under anesthesia, their teeth and gums are assessed, and their teeth are thoroughly cleaned. Animals with problem areas are radiographed and affected teeth are extracted, if needed. Once the animal gets a clean bill of health, they are prepped for adoption. 
The dental suite at the Ontario SPCA Centre Veterinary Hospital has been a real game changer for the animals in our care. To date, our veterinary care team has completed 60 surgeries to help animals in need just like Daisy Mae and Hoagie and look forward to being able to help many more. 
Dental disease can be prevented. Check out some of the resources available on the Ontario SPCA Blog to help maintain your animal's oral health.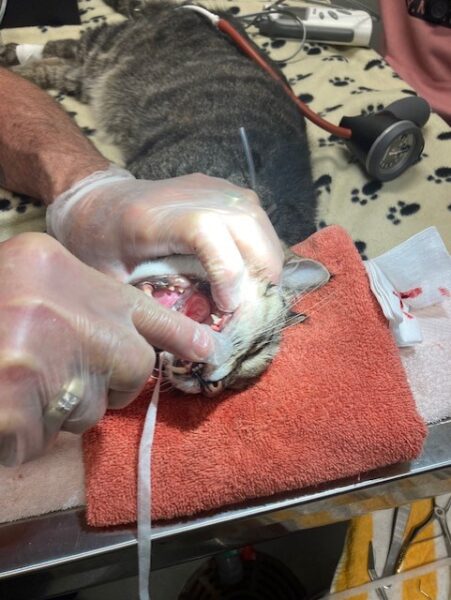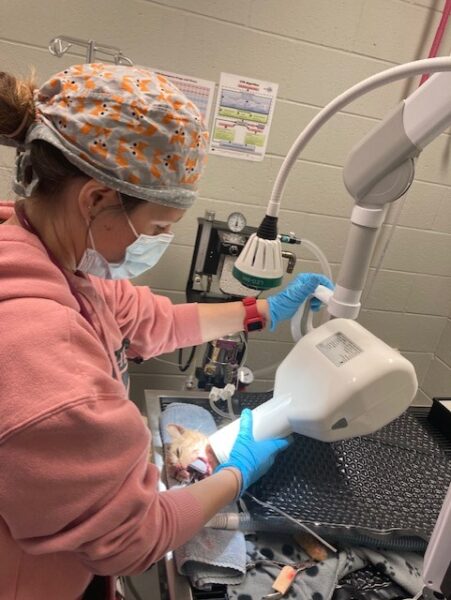 Categories
Testimonial
Totally rock
All of your wonderful staff & volunteers totally rock. The amazing compassion and work you provide on a daily basis is incredible.
Laura
Sign up for news and updates
Thank you for joining our online community.