Northern partner makes $75,000 donation to help animals in need
by Ontario SPCA and Humane Society | News Northern projects | December 9, 2019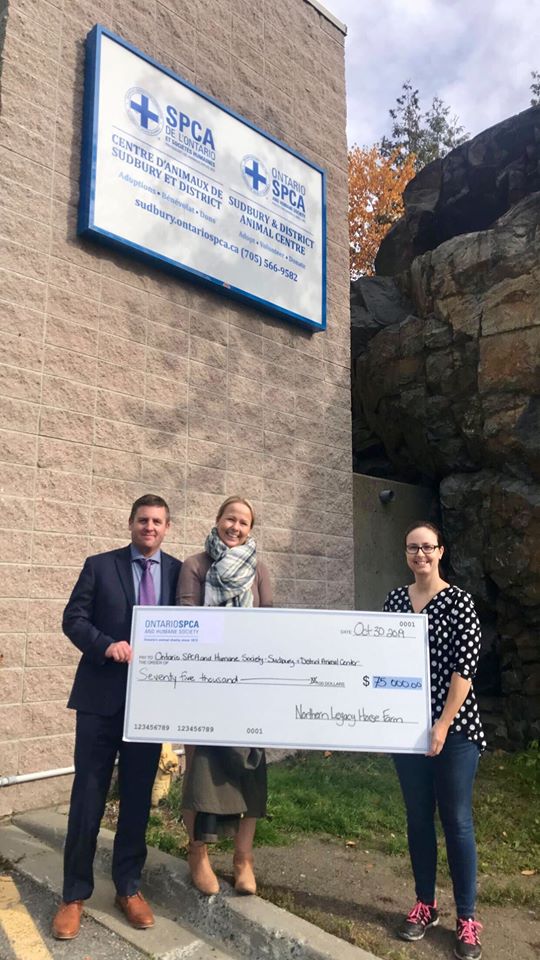 The Ontario SPCA and Humane Society has some very special Northern friends who recently gave an incredible gift of $75,000 to the Ontario SPCA Sudbury & District Animal Centre!
The generous donation by Northern Legacy Horse Farm, which is based in Whitefish, Ontario, near Sudbury, will help us continue our life-changing work in Northern Ontario.
"We just have such a love of animals. We wanted to help out in some small way," says Katriina Ruotsalo, who co-owns Northern Legacy Horse Farm with her partner Craig Fielding.
"If it makes [the dogs] arrival here that much more comfortable, then we've done what we set out to do," says Ruotsalo.
Dogs in need of homes are transported from Northern communities aboard Northern Legacy Farm's "Bark Bus." Fielding and Ruotsalo generously provide the large horse trailer to the Ontario SPCA to help move dogs south to find homes in parts of the province where there is a greater demand for adoptable pets. The trailer is outfitted for the comfort of the canine travelers to keep them happy and healthy on their long journey to find homes. Since 2018, they've helped us transport close to 1,000 animals in need of homes.
Ruotsalo says they love going on these transport trips and feel so connected to everyone involved.
"It's a small family that goes up there. You get to know everyone, and it's a very exciting experience," she says.
These transports wouldn't be possible without the Northern Legacy's many dedicated volunteers, according to Ruotsalo. From driving the truck, to waiting in a parking lot at 3 a.m. to help unload dogs for their rest stop – they are a dedicated and enthusiastic group of people.
"We're grateful that we're allowed to be part of this," says Ruotsalo. "It just makes us feel good about what we're doing and that we're helping to make some kind of impact, and a step towards hopefully a bigger impact in the future."
Thank you to Northern Legacy Horse Farm for this very generous gift and for being a champion for animals!
Categories
Testimonial
Dogs only ask for your love and attention
Dogs only ask for your love and attention, nothing else. Thank you for everything you do!
Christine
Sign up for news and updates
Thank you for joining our online community.