PET HEALTH CORNER: The Basics of Lyme Disease – Guest blog
by Emily Cook | General Pet Care | September 22, 2017
By: Guest blogger Dr. Ryan Llera
You hear about Lyme disease everywhere – the news, your doctor, your local public health unit, and your veterinarian. That's a lot of places to get information from and some of it is targeted towards people, not necessarily pet owners (except from your vet of course!). Lyme disease is so prevalent and it's only getting worse every year.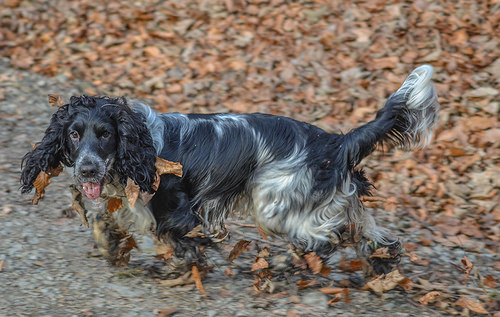 Lyme disease has origins in Lyme, Connecticut and is a bacterial organism properly known as Borrelia.  The tick responsible is the Ixodes tick, better known as the deer tick or black legged tick.  Due to the issues of climate change and migratory patterns, these ticks have spread out from this region and each year are making new inroads especially in Ontario.  Ticks will travel on birds, deer, rabbits, and other mammals. Opossums are one of the more commonly know predators of these deer ticks so their presence should be embraced in any ecosystem.
A large majority of dogs who get bit by these ticks and subsequently infected may actually remain asymptomatic.  The most common presenting symptom is a lameness that can rotate, or shift, between different legs.  This joint pain arises from the body's immune system reacting to the bacteria as it moves through the body.  Fortunately, a less common form is one that affects the kidneys, essentially leading to their failure.  By the time we see the latter patients, they've stopped eating, they are vomiting, losing weight, dehydrated, and lethargic.  Personally, I've never seen one of the Lyme nephropathy dogs recover or survive long term.
How do you treat or prevent Lyme disease?
If you suspect your dog may have Lyme disease, there are some simple and even more advanced tests your veterinarian can do.  The simple 4Dx test takes minutes and if your pet is showing signs, a positive result would be enough for most vets to treat.  More advanced testing can be done if the test comes up positive in routine screening but is not showing signs.  Treatment for Lyme disease involves your pet taking antibiotics for an extended course over a month.  If the kidney form is unfortunately present, more intense therapy can be tried and involves hospitalization.
But why treat, when you can prevent?  It's simple, easy, and effective.  Options for prevention include a vaccine and also a variety of topical or oral preventatives available from your veterinarian.  It's important to have an open discussion with your veterinarian to see which way of addressing ticks or the threat of Lyme disease will work best for you.  There are pros and cons to each method.  Because of the simplicity of prevention, it's heartbreaking to see these cases show up at the clinic.
If you've noticed, I haven't mentioned cats.  That's because Lyme disease is not seen in our feline friends.  As the years go on, I expect that the threat of Lyme disease will continue to spread.  It is becoming more important than ever to protect your pets and you from ticks, so make sure you have that conversation with your veterinary health care team.
Dr. Ryan Llera is a small animal veterinarian living & working in Kingston, Ontario where he has been an associate vet at the Kingston Veterinary Clinic since 2012. He is a 2006 graduate of the University of Illinois College of Veterinary Medicine. Though originally from Florida, he married a Canadian (who is also a vet!) and made the trek up north. He & his wife, Jennifer, share their home with 3 cats, 2 dogs, and 2 horses.  Find more of Ryan's blogs at www.drryanllera.com. Or see what else he is up to on Facebook or Twitter @DrRyanLlera or Instagram @drryanllera
Categories
Testimonial
Speaking for the ones who can't speak for themselves
Keep up the good work speaking for the ones who can't speak for themselves. A society who cares for their animals is a better society.  Thanks for your good work!
-Suzali
Sign up for news and updates
Thank you for joining our online community.