Pride Parade fun with furry friends
by Ontario SPCA and Humane Society | General Pet Care | June 24, 2021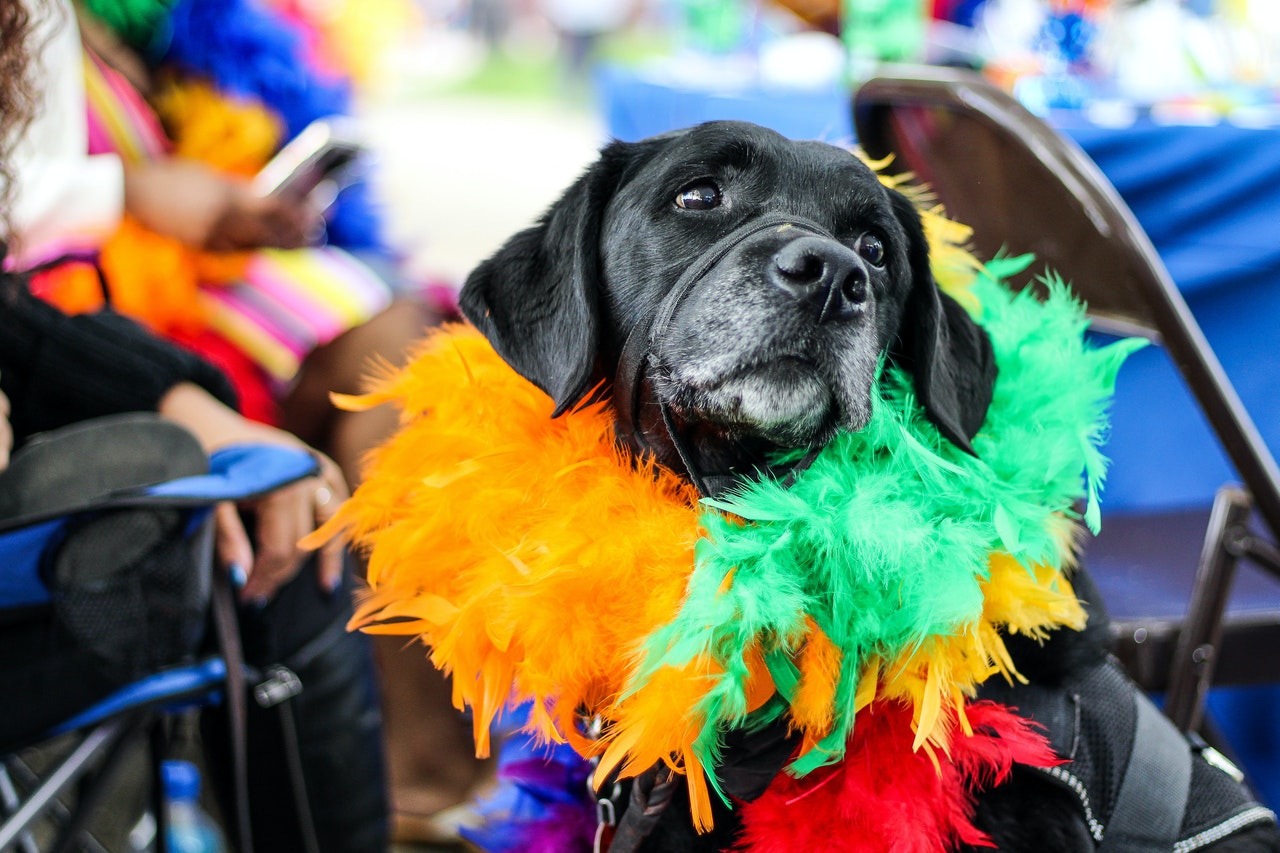 The Pride Parade in Toronto, a 40-year tradition celebrating the LGBTQ2S+ community, will be held virtually on June 27 from 2 to 3 p.m., as the culminating celebration of Pride Month. If you're thinking about donning a costume with your furry friend to celebrate, here's what you need to know. 
Prepare to party
Ensure your animal companion is comfortable in a costume and enjoys wearing one. Safety and comfort are the top concerns. Your animals may not want to get dressed up and that's okay! You can still have fun in a costume of your own. 
With a little patience and practice, many animals will wear a costume comfortably. Ensure the costume experience will be a positive one by taking your time and making sure your four-legged friend is comfortable dressing up. 
Have a dress rehearsal
A week or a few days before the event, bring out the costume, and let your animal smell and explore it. Reward them with a treat. Then try wrapping a towel, cape-style around your critter and see how they do. Reward them and keep your tone light and relaxed.  
Listen to their feedback
Animals often don't feel comfortable with items on their head, or around their neck. Constant shaking, scratching or rubbing to dislodge the item indicates your animal doesn't like the idea. You may need to modify your costume ideas accordingly. 
Avoid human hair dye products
Do not use human hair dyes on your animal. They are toxic to animals! Glitter is also something to avoid when creating a costume for your furry friend. 
Safety and security for your animal should be your primary concern at all times. You don't want your animal tripping, or ingesting pieces of the costume. If you plan on taking your dog for a walk with the costume on, you need to be sure their leash or harness can still be worn comfortably and securely. 
If not, you may just want to share pictures or a video of your furry friend from the comfort of your home. Then, you can enjoy a lovely walk with your animal, without the constraints of a costume. 
Parade Day
On parade day, get dressed up and have fun! Document the process of getting in costume, FaceTime a friend or take selfies with you and your costumed critter, as you watch the parade and celebrate Pride. Learn more about event details here:   https://www.pridetoronto.com/event/pride-parade/ 
What better way to celebrate love than with your four-legged friends? 
Categories
Testimonial
Speaking for the ones who can't speak for themselves
Keep up the good work speaking for the ones who can't speak for themselves. A society who cares for their animals is a better society.  Thanks for your good work!
-Suzali
Sign up for news and updates
Thank you for joining our online community.